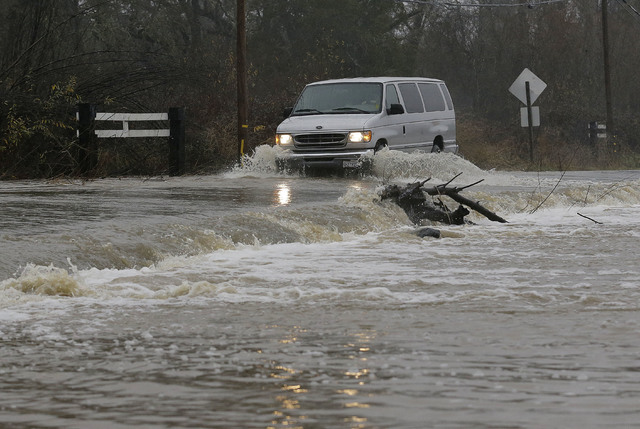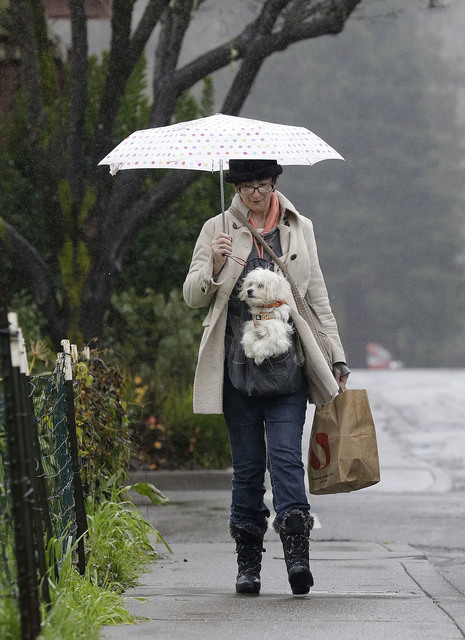 SAN FRANCISCO — Here's the latest on winter storms in California:
5 p.m.
A winter storm pummeling Northern California with heavy rain and gusty winds is uprooting trees, delaying flights and causing road closures and traffic chaos.
Toppled trees crashed against cars and homes or blocked roads Sunday in the San Francisco Bay Area as the first of several storms forecast for this week moved into Northern California.
Earlier Sunday, a homeless man was rescued after being pinned by a toppled tree in Golden Gate park. On Saturday, a woman talking a walk in a San Ramon golf course was killed after a falling tree struck. Officials say winds with gusts of up to 60 mph have uprooted dozens of trees.
San Francisco Airport is reporting delays of more than four hours because of the storm.
At least two fatal accidents possibly linked to the storm were reported in the East Bay Sunday, including a man whose taxicab plunged into the estuary near Oakland International Airport.
The San Francisco Chronicle reports the other crash victim died on northbound Interstate 880 in Fremont.
12:15 p.m.
Stranded motorists were pulled from cars stuck on flooded roads as heavy rains from a massive winter storm moved into Northern California.
Authorities reported rescues in Marin and Sonoma counties, including an operation along U.S. 101 where several people were plucked from submerged vehicles. No injuries were reported.
Officials urged residents to avoid driving through standing water and to stay off rural roads, where rescues could be difficult.
Crews cleared trees and debris following mudslides caused by steady rain accompanying the system that could dump 15 inches in foothill areas as it gains strength throughout the day. Several feet of snow is expected in the Sierra Nevada.
Rangers at Yosemite National Park have closed all roads leading to the park's valley floor.
Authorities were watching rising water levels of several rivers, including the Cosumnes, Truckee, Merced, American and Russian.
The Merced River is nearing 10 feet (flood stage). It's forecast to reach 11.8 ft at 10 pm. More photos/videos soon! #CAStorm #CAFlood pic.twitter.com/y57n3juljZ

— Yosemite National Pk (@YosemiteNPS) January 8, 2017
Merced River currently 8.5 ft; forecast to peak at 12.1 ft. Still expect significant flooding in Yosemite Valley. #CAStorm #CAFlood pic.twitter.com/VjjJnGFeo7

— Yosemite National Pk (@YosemiteNPS) January 8, 2017