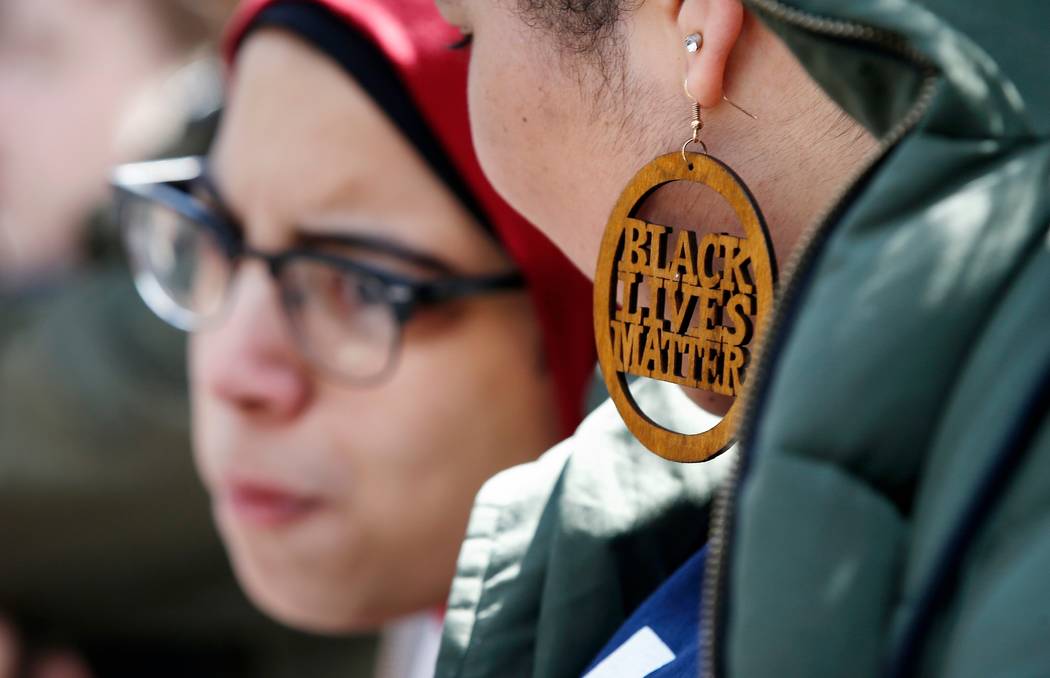 Students across the country walked out of their classrooms Friday for the second time in two months to demonstrate against gun violence following the school shooting deaths in Parkland, Florida.
The national walkout also coincided with the 19th anniversary of the Columbine High School shooting in Littleton, Colorado that shocked the country nearly two decades ago when two students meticulously planned and carried out a massacre of fellow classmates.
Organized demonstrations took place in many major cities, including Las Vegas, Denver, New York and Washington, where a march attracting hundreds of thousands of protesters packed the National Mall in a call for gun control measures.
"We know we have to do something. It's our lives on the line," said Coral Kendall, 17, of Norfolk, Virginia.
Kendall traveled five hours by bus to demonstrate in front of the White House. Her school, Lake Taylor High School, observed 17 moments of silence for the Parkland victims.
Many of the students who joined demonstrations across the country turned their attention to upcoming elections as they pressed for tougher gun laws and politicians who will enact them. Scores of rallies turned into voter registration drives, and students took the stage to issue an ultimatum to their lawmakers.
"We want to show that we're not scared. We want to stop mass shootings and we want gun control," said Binayak Pandey, 16, who rallied with dozens of students outside Georgia's Capitol in Atlanta. "The people who can give us that will stay in office, and the people who can't give us that will be out of office."
All told, tens of thousands of students left class Friday for protests that spread from coast to coast. They filed out at 10 a.m. to gather for a moment of silence honoring the victims of gun violence. Some headed to nearby rallies. Others stayed at school to discuss gun control and register their peers to vote.
Organizers said an estimated 150,000 students protested Friday at more than 2,700 walkouts, including at least one in each state, as they sought to sustain a wave of youth activism that drove a larger round of walkouts on March 14. Activists behind that earlier protest estimated it drew nearly 1 million students.
Shortly before the walkouts, news spread that there had been another shooting at a Florida school. Authorities say one student shot another in the ankle at Forest High School in Ocala early Friday. A suspect was taken into custody. Activists said it underscored the urgency of their work.
Aaron Ky-Riesenbach, 15, of Washington Lee High School in Arlington, Virginia, protested at the National Mall in Washington with a placard that said: "Am I next."
"I'm hoping to show that we as students want gun control," Ky-Riesenbach said. "We will protest for our lives."
President Donald Trump was away in Florida for the week, and most members of Congress returned to their states and districts after votes were taken Thursday.
Although Congress has passed legislation to tighten reporting requirements in the FBI database used for background checks on gun buyers, lawmakers have not scheduled action on legislation that would ban assault-style rifles, raise the age limit on gun purchases from 18 to 21 or restrict sales of bump stocks, devices used in the Oct. 1 shooting in Las Vegas.
Contact Gary Martin at gmartin@reviewjournal.com or 202-662-7390. Follow @garymartindc on Twitter. The Associated Press contributed to this report.
RELATED
Student wounded in shooting at Florida school
Clark County students taking part in gun violence walkout
Las Vegas Valley students join walkouts over gun violence