Top 3 officials, 9 staff put on leave after NY prison escape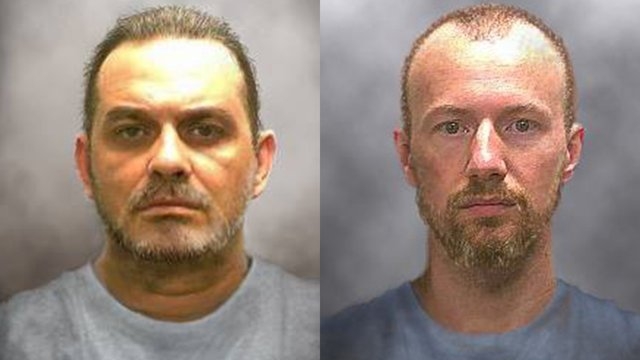 Three members of Clinton Correctional Facility's executive team, along with nine security staff employees, have been placed on administrative leave as part of the review of two convicted murderers' escape, according to the New York State Department of Corrections and Community Supervision.
Superintendent Steven Racette, Deputy Superintendent Stephen Brown are among the executives on leave, a state official told CNN on Tuesday. The other is First Deputy Superintendent Donald Quinn, according to a source familiar with the investigation.
The official had been briefed on the convicts' elaborate escape from the maximum security lockup. For about three weeks, searchers combed terrain in upstate New York trying to find them. On Friday, Richard Matt was shot and killed. David Sweat was shot and captured Sunday.
The FBI is investigating possible broader corruption at the prison, law enforcement officials briefed on the case said Monday. Agents are looking into whether drug trafficking or other criminal behavior among employees and inmates took place, officials said. Some employees who have been questioned told investigators that there was heroin use among prisoners and an alleged drug trade involving employees.
Earlier, New York Gov. Andrew Cuomo said that the inmates had a plan: A prison worker, Joyce Mitchell, would pick them up after they broke out, kill her husband, and then the three would head to Mexico.
That's what Sweat told investigators from his hospital room in Albany, Cuomo said.
"They would kill (Joyce) Mitchell's husband, and then get in the car and drive to Mexico on the theory that Mitchell was in love with one or both of them," Cuomo told "The Capitol Pressroom" radio program. "And then they would go live happily ever after."
Sweat's condition was upgraded to fair Tuesday, according to a statement on Albany Medical Center's Facebook page. Medical director Dennis P. McKenna says he will remain in the hospital for "at least a few days."
A photo showed him shot in the top of the head, spattered with blood, lying on the ground in a wooded area.
Mitchell is in jail, charged with aiding Matt and Sweat.
Clinton County District Attorney Andrew Wylie has said that she smuggled hacksaw blades and other tools embedded in meat through the prison's main gate and placed it in a freezer in the tailor shop where another prison employee, Gene Palmer, took the meat to an area where the inmates would be.
Palmer faces one count of promoting dangerous prison contraband, two counts of destroying evidence and one count of official misconduct, a misdemeanor.
On Tuesday, Mitchell's attorney told CNN that she told him she was "ecstatic both that the manhunt has ended and also that it appears no harm came to any other person."
"She has been praying for this and she believes her prayers were answered," said Steve Johnston.
Shortly after the inmates broke free, Mitchell, who was supposed to be their getaway driver, hadn't shown up, Cuomo said.