Tropical Storm Idalia descends on North Carolina after pounding Florida, Georgia and South Carolina
August 31, 2023 - 5:48 am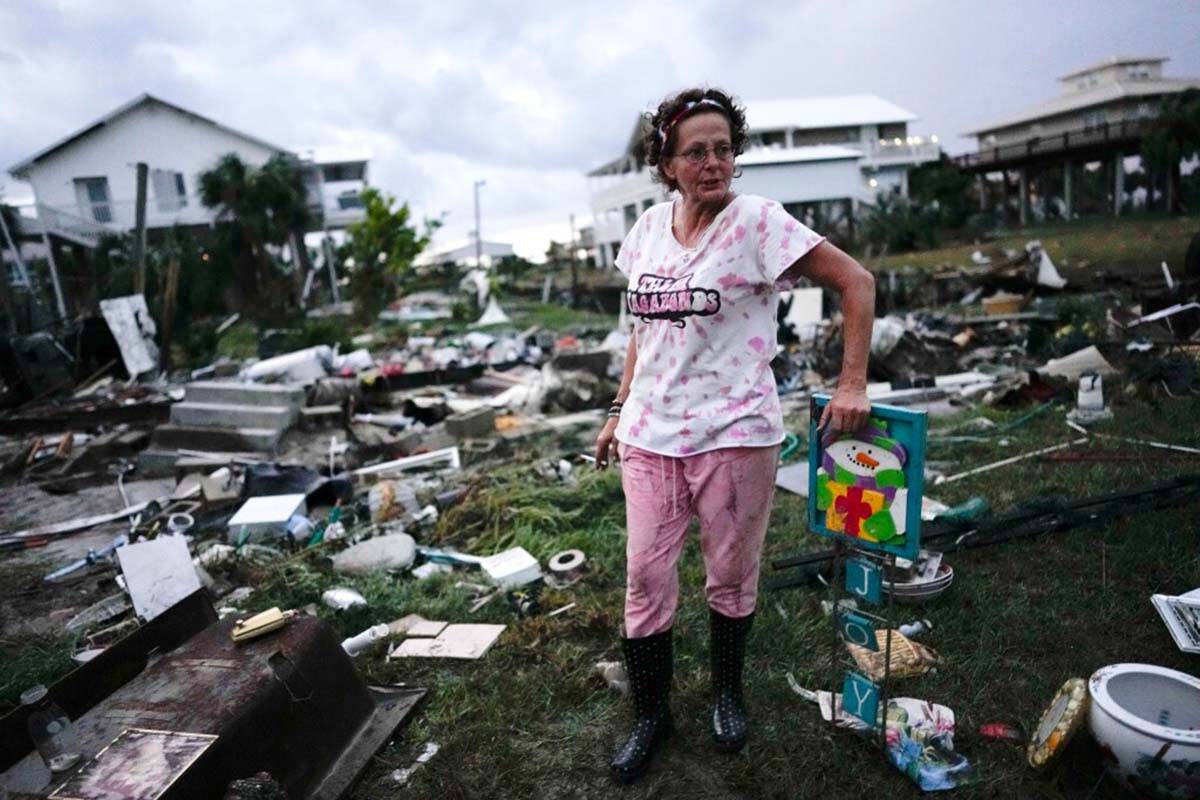 PERRY, Fla. (AP) — Tropical Storm Idalia descended on the Carolinas on its way out to the Atlantic Ocean on Thursday, leaving a trail of flooding and destruction throughout the Southeast that stretched back to its landfall as a hurricane in Florida.
Rescue and repair efforts continued in the areas the storm passed Wednesday and there was no immediate word on the toll from the ferocious winds and inundating waters, but authorities counted at least one death.
The storm left as many as a half-million customers without power in Florida and other states at one point as it ripped down power poles and lines. Still, it was far less destructive than feared, providing only glancing blows to Tampa Bay and other more populated areas as it came ashore with 125 mph (201 kph) winds in rural Florida.
The weakening storm still packed winds of up to 60 mph (96 kph) as it reached coastal North Carolina on Thursday morning. Tropical storm-force winds were extending outward up to 185 miles (295 kilometers). Idalia was expected to travel just off the North Carolina coast Thursday without losing much of its strength and gradually weaken as it rolls off into the ocean through the weekend. Swells were expected to affect the southeastern coast, likely causing life-threatening surf and rip current conditions into the Labor Day weekend.
North Carolina Gov. Roy Cooper, who declared a statewide emergency earlier this week as Idalia approached, had warned residents in coastal and eastern inland counties to prepare for heavy rainfall and localized flooding and urged them to stay off roads covered by water.
In South Carolina, the storm coupled with king tides to send seawater flowing over sand dunes and spilling onto beachfront streets. In Charleston, a surge from Idalia topped the seawall that protects the downtown, sending ankle-deep ocean water into the streets and neighborhoods where horse-drawn carriages pass million-dollar homes and the famous open-air market.
Preliminary data showed the Wednesday evening high tide reached just over 9.2 feet (2.8 meters), more than 3 feet (0.9 meters) above normal and the fifth-highest reading in Charleston Harbor since records were first kept in 1899.
Bands from Idalia also brought short-lived tornadoes. One flipped a car in suburban Goose Creek, South Carolina, causing minor injuries, authorities said. No major damage was reported.
After traveling across the Gulf of Mexico, Idalia came ashore Wednesday morning near Keaton Beach, pummeling Florida's remote and lightly populated Big Bend region with powerful winds.
The area, where the Florida Panhandle curves into the peninsula, saw streets turned into rivers that submerged cars and homes, while the howling winds tore off roofs, snapped tall trees, sent sheet metal flying and shredded homes.
"All hell broke loose," said Belond Thomas of Perry, a mill town located just inland from the Big Bend region. Thomas fled with her family and some friends to a motel, thinking it would be safer than riding out the storm at home but the roof was torn away and debris showered onto her pregnant daughter, who fortunately wasn't injured, Thomas said.
No hurricane-related deaths were officially confirmed in Florida, but the state's highway patrol reported two people killed in separate weather-related crashes just hours before Idalia made landfall.
Even so, Idalia appeared to be far less destructive than first feared. It avoided large urban regions, striking only glancing blows to Tampa Bay and other more populated areas while focusing its fury on the rural Big Bend section.
However, damage there was likely to be extensive.
At Horseshoe Beach in central Big Bend, Jewell Baggett picked through the wreckage and debris of her mother's destroyed home, finding a few pictures and her mother's pots and pans.
Her grandfather built the home decades ago and it had survived four previous storms, she said.
"And now it's gone," she said. "Nothing left. A few little trinkets here and there."
Baggett, whose mother had left before the storm hit, said at least five or six other homes also were destroyed.
In Tallahassee, the power went out well before the center of the storm arrived, but the city avoided a direct hit. A giant oak tree next to the governor's mansion split in half, covering the yard with debris.
State officials, 5,500 National Guardsman and rescue crews went into search-and-recovery mode, inspecting bridges, clearing toppled trees and looking for anyone in distress. More than 30,000 utility workers gathered to repair downed power lines and poles.
Idalia had weakened to a tropical storm by late Wednesday afternoon but it still packed a punch as it advanced into Georgia, where a man in Valdosta died when a tree fell on him as he tried to clear another tree out of the road, Lowndes County Sheriff Ashley Paulk said.
Two others, including a sheriff's deputy, were hurt, he said.
Officials in Bermuda warned that Idalia could hit the island early next week as a tropical storm. Bermuda on Wednesday was being lashed by the outer bands of Hurricane Franklin, a Category 2 storm that was on track to pass near the island in the north Atlantic Ocean.
President Joe Biden called the governors of Florida, Georgia, North Carolina and South Carolina on Wednesday and told them their states had his administration's full support, the White House said.
___
Associated Press writers Mike Schneider in St. Louis, Missouri; Curt Anderson in Orlando, Florida; Laura Bargfeld and Chris O'Meara in Tampa, Florida; David Fischer in Miami Beach; Russ Bynum in Savannah, Georgia; Jeff Amy and Jeff Martin in Atlanta; Lisa J. Adams Wagner in Evans, Georgia; Jeffrey Collins in Columbia, South Carolina; Kathy McCormack in Concord, New Hampshire; Christopher Megerian in Washington; and Julie Walker and David Koenig in Dallas contributed to this report.