Trump, North Korean leader arrive in Singapore for summit
Updated June 10, 2018 - 1:29 pm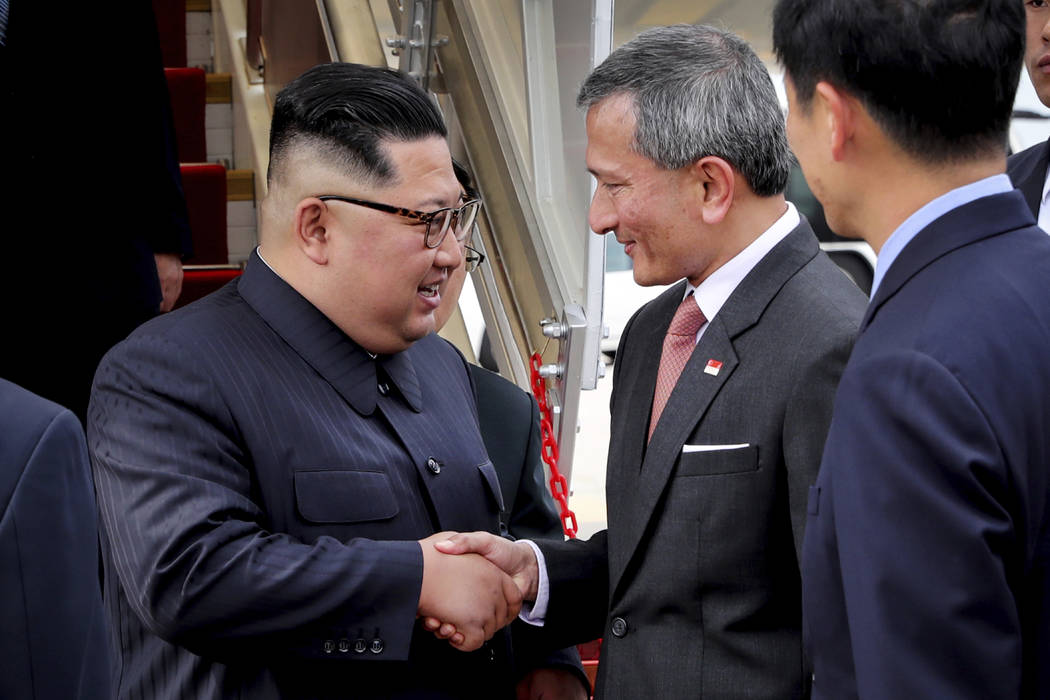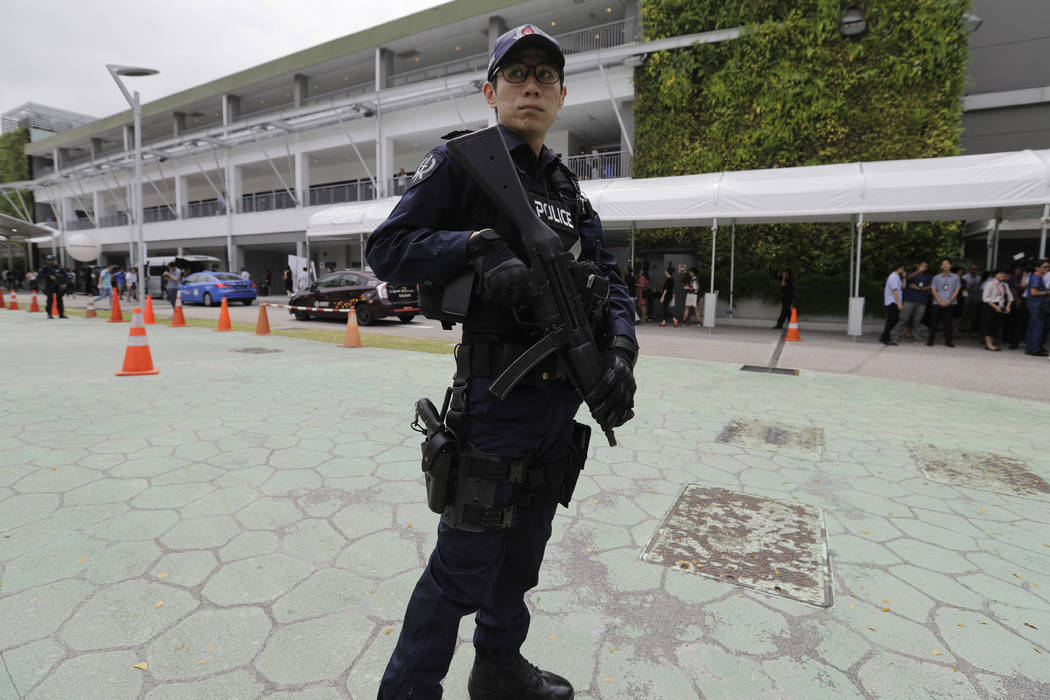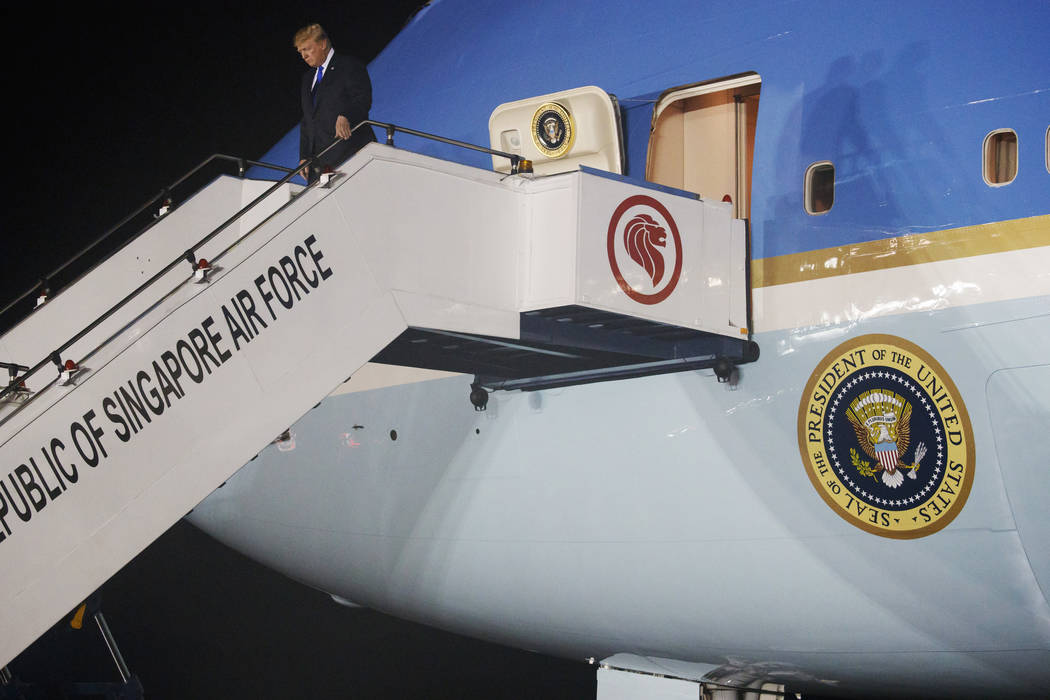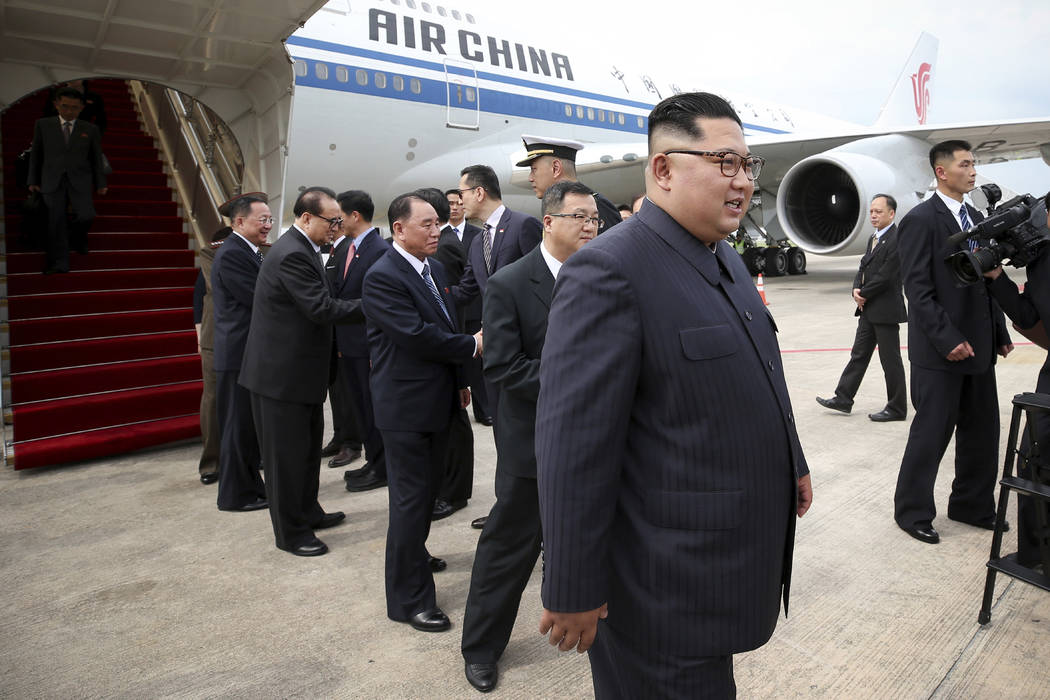 SINGAPORE — President Donald Trump arrived in Singapore late Sunday ahead of a historic summit on Tuesday where he hopes to broker an end to North Korea's nuclear program.
Air Force One touched down in Singapore's military Paya Lebar Air Base hours after North Korean leader Kim Jong Un's Air China plane landed at the city-state's Changi airport.
Singapore Foreign Minister Vivian Balakrishnan led a delegation that greeted Trump on the tarmac. Trump is set to meet with Prime Minister Lee Hsien Loong on Monday at Istana Palace, where Lee met with Kim on Sunday.
Trump and his foreign policy team headed for Singapore right after he departed a rocky Group of Seven meeting in Canada, where the leaders of six of America's chief allies expressed opposition to his administration's tariffs on aluminum and steel.
Trump had further aggravated the group by suggesting that it should re-admit Russia, which had been expelled from the G-8 in 2014 after it annexed Crimea.
Before leaving Canada on Saturday, Trump told reporters that his relationship with the other G-7 leaders would rate 10 out of 10, even though his participation in the summit was hardly full-throated or well-received by fellow world leaders.
The office of German Chancellor Angela Merkel later tweeted a photo that showed Merkel standing, with her hands firmly planted on a table, staring down at Trump, who is seated with his arms folded and eyes glaring. Japanese Prime Minister Shinzo Abe stands next to Trump, also with folded arms, as French President Emmanuel Macron leans in next to Merkel.
Shortly afterward, the White House issued a separate photo showing a sitting Trump speaking as Merkel, Abe and Canadian Prime Minister Justin Trudeau listen.
The G-7 summit participants managed to patch over their disagreements and agree to disagree on some issues in a joint final statement. Yet after leaving the summit, Trump tweeted that he would instruct U.S. officials not to endorse the G-7 statement, after objecting to comments from summit host Trudeau.
Council on Foreign Relations president Richard Haass warned on Twitter that the outcome of the G-7 summit could increase pressure on Trump heading into the Singapore meeting with Kim.
"The unraveling of the G-7 summit works in NK's favor as @realDonald Trump will not want to bust up 2 summits in a row lest people conclude he is the problem," Haass tweeted.
Former Obama Undersecretary of State Ellen Tauscher told the Review-Journal, "Yes, trip not off to an auspicious start with the unprecedented Trump-initiated mess at G6" — a reference to the other six nations at the summit in Canada.
However, Olivia Enos, a policy analyst with the conservative Heritage Foundation, argued that "The president's decision on the G-7 commitments is emblematic of his tendency to seek deals that he sees as optimal and advancing U.S. interests and to forego those he does not. The G-7 is only an indicator for the summit insofar as it is indicative of Trump's willingness to forego a half-baked deal with North Korea if he thinks Kim Jong Un is not negotiating in good faith."
The summit is scheduled to begin Tuesday morning at the Capella Hotel in Singapore's resort-rich Sentosa island. Trump is staying at the Shangri-La Hotel Singapore.
Trump's talks with Kim will mark the first face-to-face meeting between an American president and North Korean leader.
Trumprecently told reporters he expected to know within a minute whether the summit will result in a good deal. If not, he previously has stated, he is willing to walk away.
Foreign policy solons are watching to see if the two sides can come to an agreement on denuclearization — as Pyongyang and Washington have very different visions of what that entails — but Trump has framed the negotiations in starkly personal terms.
"People don't know much about him," Trump said Saturday. "I think he's going to surprise, on the upside, very much on the upside."
Contact Debra J. Saunders at dsaunders@reviewjournal.com or 202-662-7391. Follow @DebraJSaunders on Twitter.