USA Gymnastics doctor pleads guilty to sexual assault charges
November 22, 2017 - 7:53 am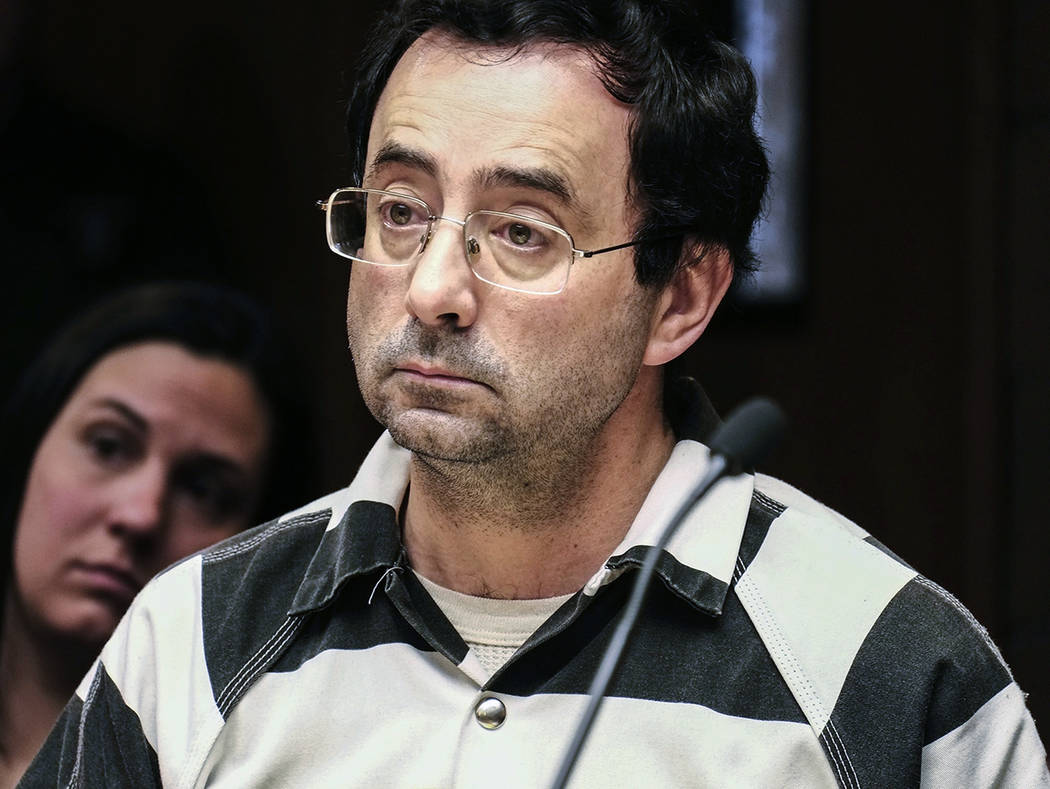 LANSING, Mich. — A sports doctor accused of molesting girls while working for USA Gymnastics and Michigan State University pleaded guilty Wednesday to multiple charges of sexual assault and will face at least 25 years in prison.
Dr. Larry Nassar, 54, was charged with molesting seven girls, mostly under the guise of treatment at his Lansing-area home and a campus clinic. All but one of his accusers was a gymnast. He faces similar charges in a neighboring county and lawsuits filed by more than 125 women and girls.
Olympic gymnasts Aly Raisman, McKayla Maroney and Gabby Douglas are among the women who have publicly said they were among Nassar's victims.
Some of his accusers attended the hearing Wednesday in a packed Ingham County courtroom.
The plea deal in Ingham County calls for a minimum prison sentence of 25 years, but a judge could set the minimum sentence as high as 40 years. In Michigan, inmates are eligible for parole after serving a minimum sentence.
The girls have testified that Nassar molested them with his hands, sometimes when a parent was present in the room, while they sought help for gymnastics injuries.
"He convinced these girls that this was some type of legitimate treatment," Assistant Attorney General Angela Poviliatis told a judge last summer. "Why would they question him? Why would they question this gymnastics god?"
Separately, Nassar is charged with similar crimes in Eaton County, the location of an elite gymnastics club. He also is awaiting sentencing in federal court on child pornography charges.
The Michigan criminal cases against Nassar followed reports last year in the Indianapolis Star about how USA Gymnastics, which trains Olympians, mishandled complaints about sexual misconduct involving the doctor and coaches. Women and girls said the stories inspired them to step forward with detailed allegations of abuse, sometimes when their parents were in the exam room at Michigan State.
Gabby Douglas speaks
Douglas, the 2012 Olympic all-around champion and a three-time gold medalist, wrote in an Instagram post Tuesday that she waited so long to reveal the abuse by Nassar because she was part of a group "conditioned to stay silent."
Douglas included the revelation in an apology for comments made on social media last week that suggested women dress modestly to help prevent abuse. Douglas said her comments, which she later deleted, were taken out of context.
"I didn't view my comments as victim shaming because I know no matter what you wear, it NEVER gives anyone the right to harass or abuse you," Douglas wrote.
The 21-year-old Douglas is the latest high-profile gymnast to come forward against Nassar, who spent nearly two decades as the national team doctor for USA Gymnastics before being fired in 2015. Two-time Olympic teammate Raisman wrote about alleged abuse by Nassar in her autobiography "Fierce," released earlier this month. Two-time Olympic medalist McKayla Maroney disclosed abuse by Nassar in October.
Jamie Dantzscher, a bronze medalist on the 2000 U.S. Olympic team, was part of the initial wave of lawsuits filed against Nassar in 2016 following reporting by the Indianapolis Star that highlighted chronic mishandling of abuse allegations against coaches and staff at some of USA Gymnastics' more than 3,500 clubs across the country.