Veterans pass barriers at closed WWII Memorial
October 1, 2013 - 2:28 pm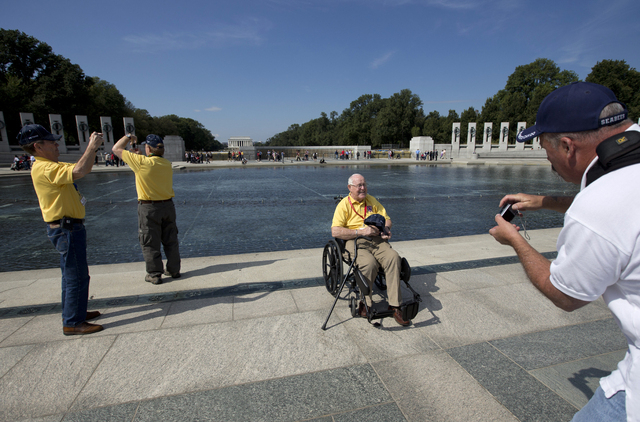 WASHINGTON — Dozens of veterans barricaded outside the closed World War II Memorial because of the government shutdown were escorted past the barriers Tuesday by members of Congress so they could see the monument.
More than 125 veterans from Mississippi and Iowa arrived for a previously scheduled visit to the memorial Tuesday morning to find it barricaded by the National Park Service. Several members of Congress escorted them inside after cutting police tape and moving barriers that blocked the memorial.
John Kleinschmidt, 87, of Ames, Iowa, said the barriers were opened enough for his group to walk through freely by the time he arrived. Kleinschmidt trained as a flight engineer during World War II but was never deployed abroad.
"It's unfortunate that this is what happens when they know that there are busloads of veterans coming down here, and they don't have the good sense to say keep the damn thing open," he said. "These are the guys that created it."
The Honor Flight Network brings groups of World War II veterans from across the country for free to visit the memorial built in their honor on an almost daily basis.
Wayne Lennep, a volunteer with the Mississippi Coast Guard Honor Flight group, said the trip had been planned for months for a group of 91 veterans as well as family members and escorts. Their chartered plane left Gulfport, Miss., on Tuesday morning.
The veterans were met at the memorial by Sen. Roger Wicker and Reps. Steven Palazzo, Alan Nunnelee and Gregg Harper, all Mississippi Republicans. Other lawmakers joined as well. Lennep said Wicker and Palazzo have met the veterans on previous trips.
Palazzo told the Mississippi Press of Pascagoula that he moved the barricades.
"We cannot deprive our veterans of coming here," Palazzo said of moving the barricades. "This is their day.
Rep. Michele Bachmann was out walking in her shorts and long-sleeved t-shirt when she got a panicked email from another member of Congress, she said. She came to the memorial and began taking pictures. Another lawmaker cut the tape, and the lawmakers escorted the veterans in, Bachmann said. Several lawmakers plan to continue coming to the memorial to ensure veterans can visit, she said.
"I couldn't believe my eyes," Bachmann said. "It was big buses and a narrow strip of sidewalk, and there were all these veterans standing here behind police tape and they're prevented from going in to see the memorial."
Lennep said blocking off the memorial seemed excessive.
"I don't really understand why they would have barricaded veterans out of their own memorial anyway," he said. "If there are people there guarding it to keep people out, they could watch people as they visit."
National Park Service spokeswoman Carol Johnson said park rangers enjoy greeting the veterans. The memorial was closed, she said, because of an order to close all park service grounds to protect the sites and keep visitors safe while more than 300 workers are furloughed.
"This is not something the park service wanted to do. We'd like to get back to work," Johnson said.
Charles Ricketts, a veteran from Ames, Iowa, blamed Congress, not the National Park Service, for nearly ruining his group's trip.
"I'm not impressed with Congress' ability or the president," he said. "They're not showing us much leadership and judgment. It's all political."
———
Associated Press writer Jeff Amy in Jackson, Miss., contributed to this report.
———
Follow Brett Zongker on Twitter at https://twitter.com/DCArtBeat .