Wildfire blazes through Arizona Havasu wildlife refuge, grows to 1,200 acres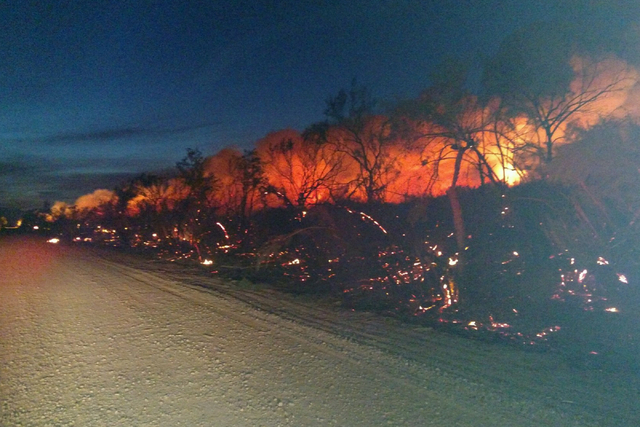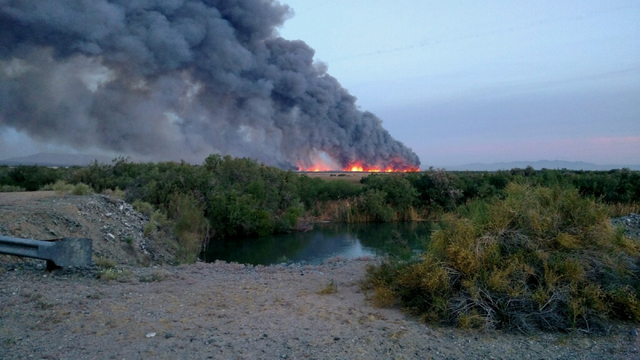 Strong winds rapidly expanded the size of a wildfire chewing through heavy brush on both sides of the Colorado River in Arizona and California on Wednesday.
The South Fire first reported at 25 acres in size at 4:30 a.m. grew to more than 1,200 acres by midafternoon.
The "suspicious fire" broke out in the Havasu National Wildlife Refuge in Arizona before leaping the river and spreading into eastern California south of Needles, according to the Mohave Valley Fire District.
The Pirate's Cove and Park Moabi recreational vehicle parks were evacuated and the Topock Marina was threatened by the fire.
Bureau of Land Management spokeswoman Dolores Garcia said a portion of the Pirate's Cove Restaurant, a hot spot for the boating public along the river, was damaged but not destroyed by fire.
She said personnel from multiple agencies are battling the blaze, with air support from two helicopters.
Garcia said no injuries have been reported and there is no projection for containment of the fire.
This is a developing story. Check back for updates.