Wrongful death lawsuit filed in Grand Canyon helicopter crash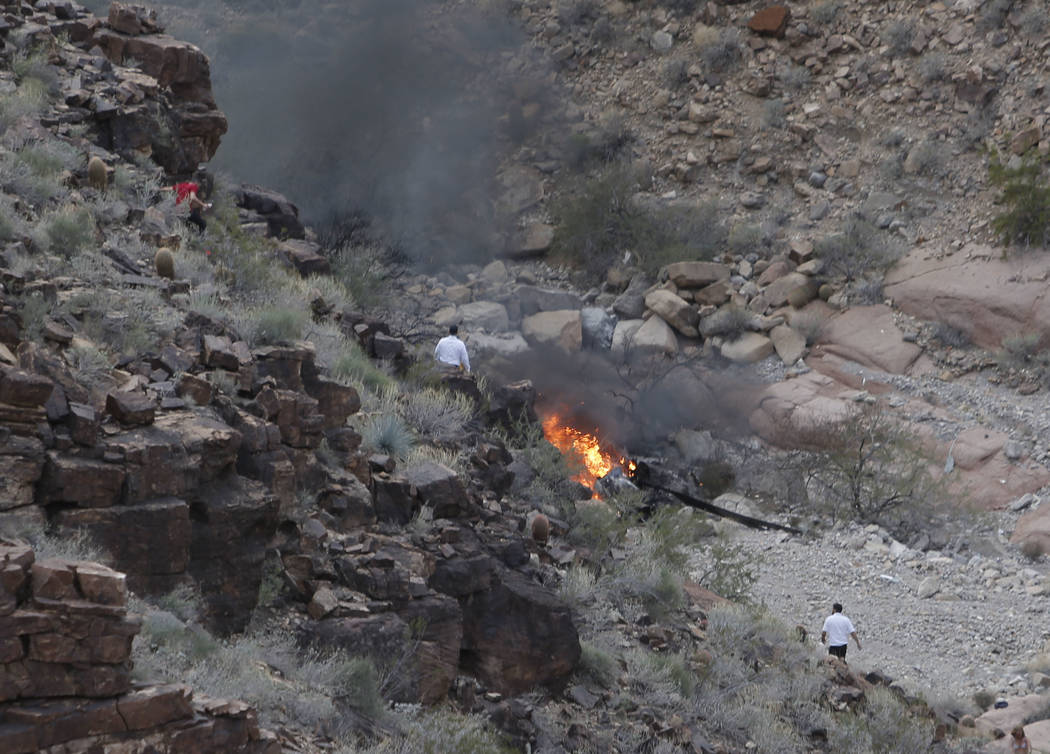 A wrongful death lawsuit has been filed after a deadly helicopter crash last month in the Grand Canyon.
The lawsuit, the first filed since the Feb. 10 crash near Quartermaster Canyon on tribal land in Arizona, accuses Boulder City-headquartered Papillon Grand Canyon Helicopters of neglecting to outfit its copters with crash-resistant fuel systems.
Had Papillon done so, the lawsuit alleges, 31-year-old Jonathan Udall would have survived injuries suffered when the 2010 Eurocopter EC130 B4 he was riding on with five other British tourists crashed.
Three of the seven people aboard — Becky Dobson, 27; Jason Hill, 32; and Stuart Hill, 30 — died at the scene. Three other passengers, along with the pilot, were hospitalized in critical condition at University Medical Center. Two of the passengers, Udall and his wife, Ellie Milward, died of their injuries in the weeks since.
The lawsuit blames a faulty tail rotor, failed weather checks and pilot inexperience for causing the plane to spin out of control and crash into the canyon.
Longtime helicopter crash attorney Gary Robb filed the lawsuit Friday in Clark County district court on behalf of Udall's parents. It asks for unspecified damages.
A call to a Papillon company spokeswoman wasn't returned Friday night.
Other defendants named in the lawsuit are Airbus Helicopters, Papillon president Geoffrey Edlund, Papillon directors Brenda and Elling Halvorson and the pilot, Scott Booth.
A National Transportation Safety Board preliminary report showed the helicopter, operated by Papillon, landed about 300 feet from the planned landing site near Quartermaster Canyon.
The helicopter spun 360 degrees toward the left twice, according to the report.
"That, to me, is the hallmark of a malfunctioning tail rotor," Robb told the Las Vegas Review-Journal last month. Robb has litigated numerous cases involving tail rotor issues.
At the time of the release of the preliminary report last month, federal investigators had not determined if the helicopter that crashed was equipped with a crash-resistant fuel system.
A 1994 FAA regulation requires all newly designed helicopters to be equipped with such a system, but a loophole allows manufacturers to skirt this requirement. In the two decades after the regulation was written, only 15 percent of new helicopters had the safer fuel system, a National Transportation Safety Board official wrote in a letter to the FAA.
The EC130 model that crashed Feb. 10 was built in 2010, records show. A crash-resistant system was not standard equipment on that particular helicopter, Airbus Helicopters said.
Papillon announced earlier this week it would retrofit its fleet with crash-resistant tanks.
Contact Mike Shoro at mshoro@reviewjournal.com or 702-387-5290. Follow @mike_shoro on Twitter.