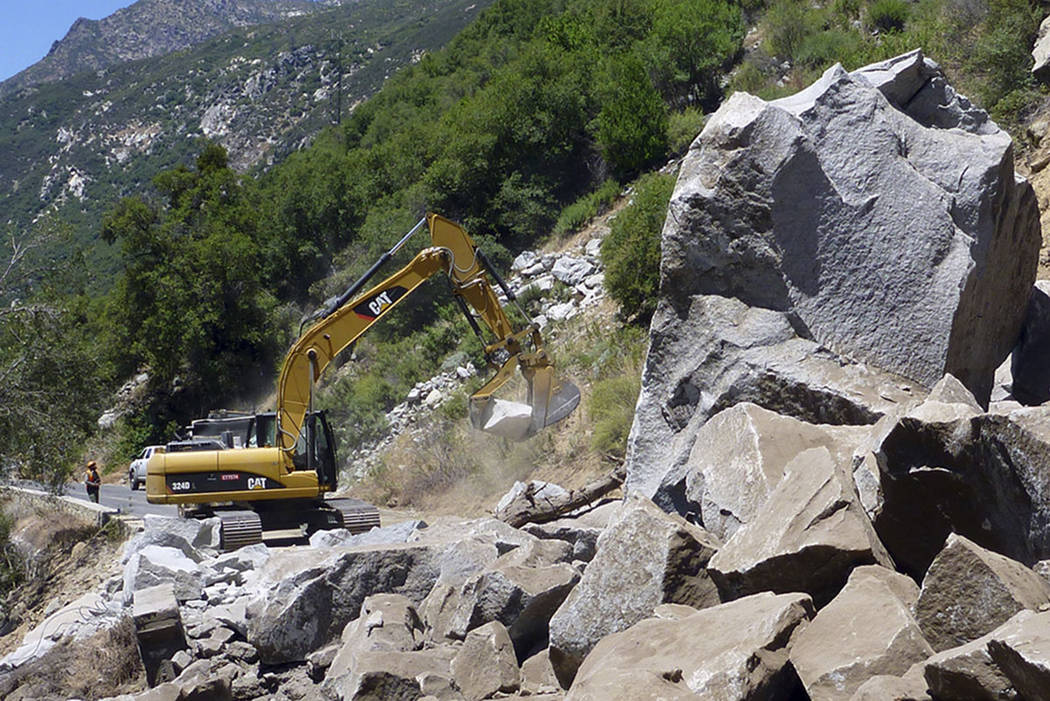 FRESNO, Calif. — A rockslide at Yosemite National Park has created a commuting headache for hundreds of park employees and thousands of tourists who are forced to drive around the roadblock, pushing a typically short drive past gushing waterfalls and towering granite cliffs into a hourslong slog.
On most days, it takes 29-year-old Miranda Criche a half-hour to get from her home in a small community on the park's fringe into Yosemite Valley, where she cleans carpets in park hotels.
But since the rockslide the size of a two-story house came crashing down Monday, she has been forced to take one of two alternate routes around the troublesome rock pile, adding many miles to her commute.
"It took me three hours to get home," Criche said. "It's a hassle."
The 4,000-ton rockslide blocked one of three popular routes into Yosemite.
An estimated 5,000 park visitors use the Arch Rock Entrance on Highway 140 each day and will have to take the detour, Yosemite spokesman Scott Gediman said. He reported hearing few complaints from tourists, who understand the powerful forces of nature at play.
The road will be closed through this weekend, maybe longer if it requires major repairs.
The rockslide tumbled down from hundreds of feet up the mountainside. The slab first slid down the cliff and then hit a ledge, shattering into pieces, rangers said.
Shards of rock fanned out and knocked down part of a rock wall along the road. Park geologists estimate the largest boulder that landed on the road weighed 130 tons, rangers said.
Luckily, nobody was hurt. A road crew is using dynamite to blast away debris that's hauled off by dozens of big trucks, he said.
Until the work is done, up to 500 park employees who live in the communities of El Portal and Mariposa are working from home, staying overnight in the park or driving the long detour to two other entrances, Gediman said.
But Yosemite is open. Rangers are guiding tours, and hotels and campgrounds are running in the park that had more than 5 million visitors last year.
"Rock falls occur," Gediman said. "It's something that happens, and we make adjustments."
Big snowfall still blocks Highway 120
The only road through Yosemite, Highway 120, remains closed at the park's eastern entrance as crews dig out from snows that topped 20 feet and drifted well over 50 feet.
On a recent day, the eastern entrance station at 9,945-foot high Tioga Pass was buried in snow.
Caltrans had begun inching its way up the treacherous road more than two months ago when it seemed more like winter. It snowed on and off throughout the spring, with a late-season storm hitting last weekend.
The air is clean and views are stunning, but working here is not for the faint of heart as drivers maneuver large machines along narrow ribbons that feel suspended above an abyss. Helicopter footage shot this spring for Caltrans showed the small margin for error in places where the road clung to cliffs and then vanished under a white blanket where the path was obscured.
Rockslides pose a threat even after workers use charges and other methods to release snow slides to alleviate the danger. Slides and the crushing weight of the snowpack damaged guardrails in some places that serve as the lone barrier between the road and a precipitous drop that plunges hundreds of feet east of the park entrance.
A Yosemite plow driver was killed by an avalanche in 1995 and now maintenance workers in the park complete avalanche safety courses to work on the road, park spokesman Scott Gediman said.
The park's official map notes that the eastern entrance atop the state's highest automobile pass is typically closed through May, but it usually opens later after a snowy winter. There's no date yet to open the road through the park.
— Rich Pedroncelli and Brian Melley of The Associated Press contributed to this report.
Related
Las Vegan reaches top of Yosemite's El Capitan without ropes