National park is gateway to citizenship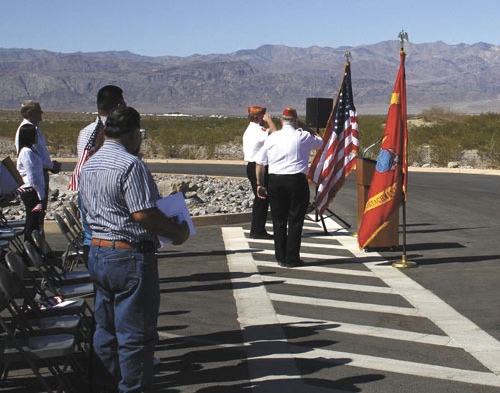 With sand dunes and snow-capped peaks as their backdrop, 13 people were sworn in as U.S. citizens Wednesday in the first naturalization ceremony ever held in Death Valley National Park.
The emotional event was held at the foot of the Mesquite Sand Dunes at the heart of Death Valley, about 150 miles northwest of Las Vegas, as part of a partnership between the park service and U.S. Citizenship and Immigration Services.
The goal is to boost the stature of citizenship ceremonies by moving them out of offices and courtrooms and into some of America's most picturesque spots.
The two agencies teamed up in 2006 and renewed their partnership last April during a special naturalization ceremony at the Lincoln Memorial in Washington, D.C.
Several citizenship events have been held at Yosemite and Sequoia national parks in California.
Death Valley National Park Superintendent Sarah Craighead said she was proud to join the tradition of welcoming new citizens to the park system they can now call their own.
"These national parks are now yours. It is your privilege to enjoy them and learn through them. It is now your responsibility to protect them for future generations," Craighead said. "These places make our country stronger and richer by remembering important stories and protecting our heritage."
Though remote, the setting for the ceremony also saved the participants an even longer drive.
For residents of Inyo and Mono counties on California's eastern edge, the nearest immigration office is across the Sierra Nevada in Fresno.
Wednesday's group of new citizens included nine people from Mexico and one each from Iran, Panama, Vietnam and the Philippines.
The ceremony was a festive affair with a host of family members in attendance, but the desert setting may have brought back unpleasant memories for one of the new citizens.
In the early 1980s, a young Jesus Lugo Herrera left his home in Sinaloa, Mexico, for the United States, in search of work to help support his parents and six siblings back home.
He gave $300 to a coyote, a human smuggler, who led Lugo Herrera and a dozen other Mexicans through the desert into California. The trip took three days.
"I have never been so hungry, so thirsty, in my life," Lugo Herrera said.
Thirty years later, Lugo Herrera, now 54, finally realized his decades-long dream of becoming a U.S. citizen.
"I am so proud and so excited," he said in Spanish Tuesday from his home in Mammoth Lakes, Calif. "I have been here so many years, I'm more American than anything."
Over the years, Lugo Herrera worked odd jobs, sending much of his paycheck home. He's now married and has five children. Only his youngest child, a now 16-year-old daughter, was born in Mexico, while her pregnant mother was there for a family emergency.
Lugo Herrera has long been a lawful permanent resident of the U.S. He speaks English but is more comfortable talking in his native language. For the past decade, he has been employed as a hospital janitor.
Raising children here while helping support his remaining family in Mexico made it difficult for Lugo Herrera to come up with the money to apply for citizenship. He decided it was time to finally move forward in part to help his youngest daughter in her own quest to become a U.S. citizen.
Lugo Herrera said he is grateful for the many opportunities life in the United States has provided.
"I'm so happy to have been able to work and provide for my family," he said. "I'm so thankful I will now be a citizen."
The family rented a mini-van for the 200-mile trip to Death Valley. It was Lugo Herrera's first visit.
"It better be pretty," he joked Tuesday. "I want it to be a good memory."
Contact reporter Henry Brean at hbrean@reviewjournal .com or 702-383-0350.