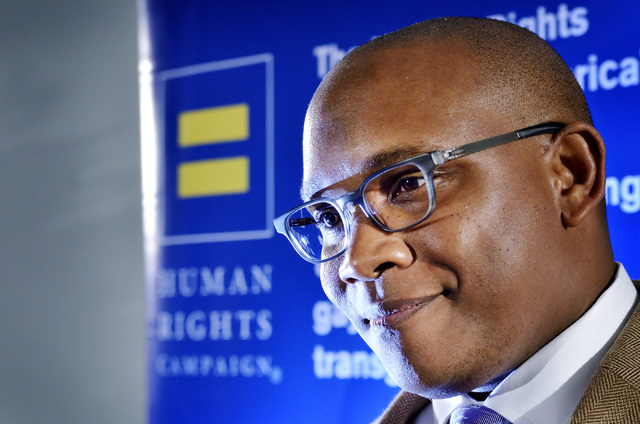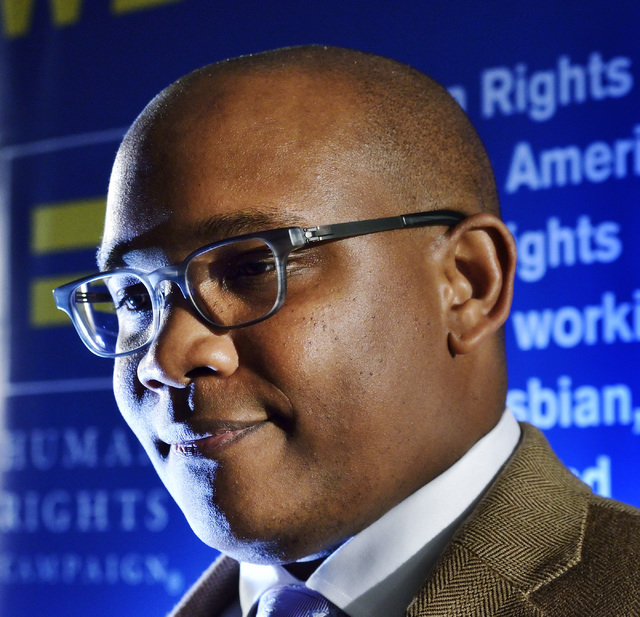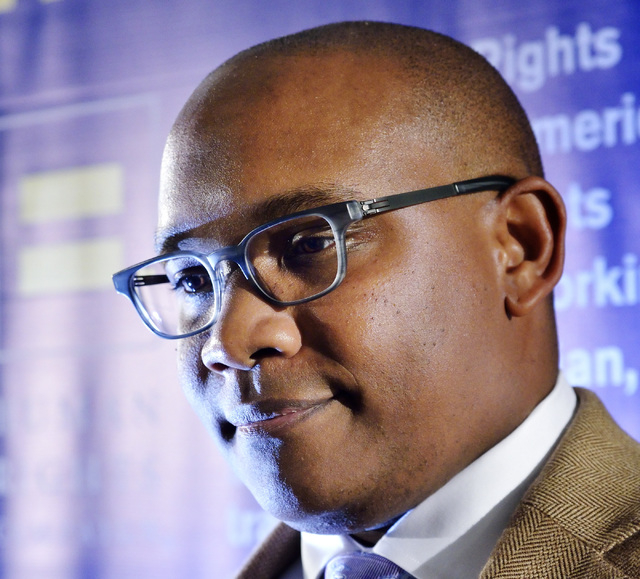 Tony Johnson can't tell you much about what he does. But he has a lot to say about who he is.
He's a gay black man who grew up in Las Vegas and married his husband, Juan, in October. They live in Washington, D.C., with their dog, Tiger.
"You have to own who you are," Johnson said Friday night at Cambridge Recreation Center, where he was a speaker at the Salute to Black History show.
"For people of color who are also gay or lesbian, it's important for us to be seen and heard and have a voice to break down the cultural barriers we face," he said in an interview before the show.
The event, sponsored by the Human Rights Campaign-Las Vegas and the Abundant Peace United Church of Christ, focused on the theme, "Exploring the Differences Among Us."
The show's program describes Johnson, 41, as "an experienced national security policy professional" who is a member of the Institute for Defense Analyses, a nonprofit corporation. His research interests include national security policy and strategy and "innovation and adaptation" of U.S. special operations forces.
A graduate of Western High School, he continued his education at Norwich University, a four-year, private military college in Vermont. He graduated with honors in 1994 with a bachelor's degree in international studies.
He then joined the Navy "to see the world. I always wanted to serve my country," he said.
Johnson was commissioned as a cryptology officer but his active-duty Navy career was cut short in 1997 because he said he was "forced to resign because of 'don't ask, don't tell.' " Someone told authorities at his duty station that he was a homosexual, a fact he wouldn't deny.
During a 10-year span after his resignation, he found his way back into his profession in the private sector, working for a management consulting firm. As a civilian he worked on technology transition projects that included the Defense Advanced Research Projects Agency. Because his job was shrouded in secrecy, he declined to say specifically what his work for the agency entailed other than he "was a contractor and was able to do a lot of things that support the defense community and armed services."
The military's "don't ask, don't tell" policy was repealed on Sept. 20, 2010, allowing gays, lesbians and bisexuals to serve openly. And last year, on June 26, the U.S. Supreme Court struck down provisions of the Defense of Marriage Act, paving the way for same-sex married military spouses to receive benefits beginning Sept. 3 that were retroactive to the date of the decision.
"I was a casualty of policy," Johnson said. "I'm glad it's gone. When the ban was lifted I was at the Pentagon and got to see both sides of it. Lesbian women and gay men were very happy."
Contact reporter Keith Rogers at krogers@reviewjournal.com or 702-383-0308. Follow him on Twitter @KeithRogers2.