Natural Arch suddenly collapses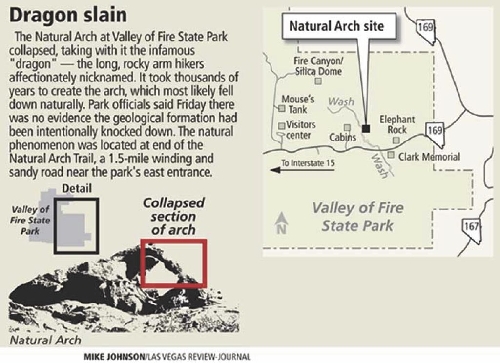 It took Mother Nature thousands of years to create the most recognizable Natural Arch at Valley of Fire State Park.
It most likely only took her seconds to knock it down.
The sandstone arch, which once resembled a dragon feeding its young, has transformed into more of a crescent. The long rocky arm that some hikers affectionately nicknamed the "dragon" is no longer.
It's as if someone took a bite out of the reddish rock about 40 feet off the ground. The geological formation was about 5 feet wide and stood nearly 6 feet tall.
The natural phenomenon was about 1.5 miles along the Natural Arch Trail near the park's east entrance.
About five to six feet below are three piles of crumbled, powdery red remains that fell on the mountain's northwest side. A larger chunk of rock settled into the trail's soft white sands.
Though it is unclear exactly when and why the arch fell apart, it appears the rock naturally broke along its weak points, according to park officials.
It was one of more than 300 natural rock arches located throughout the state's largest park.
Horseback riders reported the damage on Wednesday.
But it's safe to say that none of the park's 500,000 annual visitors had anything to do with the collapse.
There's no evidence of vandalism, no tool marks and no proof that someone intentionally tried to knock the landmark down, said Jim Hammons, park supervisor.
"Maybe someone tried to take a picture on the rock, which we don't recommend, but there's nothing here that proves this was done on purpose," Hammons said.
The arches form when hollows inside the rock are exposed by erosion — both wind and water. Sandstone is a soft rock that cracks easily, and its weak points often times fill with rainwater, which causes it to soften even more. The Natural Arch had several weak points and Hammons pointed out more on Friday afternoon.
"It's not a strong rock," said Hammons, who crushed a large rock with his bare hand. "That's why we don't really have rock climbing out here. After enough water this stuff can break like a dirt clod."
It could take only a quarter of an inch of water, Hammons added.
In the past few weeks, wind gusts from the south have reached 40 to 60 mph, and the park has received more than 5 inches of rainfall since the beginning of the year, according to the National Weather Service.
Both elements could have contributed to the collapse of the delicate arch, Hammons said.
About 10 years ago, Mosquito Rock, another natural arch near the western part of the park, fell down after a combination of wind and rain during a storm.
Park officials are trying to get volunteers to walk the trails and record the shifts and changes throughout the park, Hammons said.
"Now we're going to have to change the name of the trail," Hammons joked.
Contact Kristi Jourdan at kjourdan@reviewjournal.com or 702-383-0279.