Navy recognizes sailor who grew up in Las Vegas
December 25, 2013 - 4:39 pm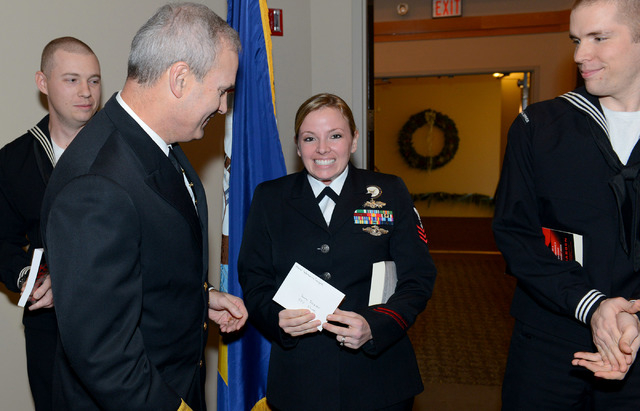 A Cheyenne High School graduate and decorated Navy counselor beat 135 shore-based candidates in the Pacific Northwest for the coveted Sailor of the Year honor.
Petty Officer Sara Dozier, who moved to Las Vegas when she was 8 years old, was named Shore Sailor of the Year earlier this month at Naval Submarine Support Center Bangor, near Seattle.
She then competed against the other Pacific Northwest shore command stations and won.
"It's a big achievement for me and my family," Dozier said.
She will advance to take on decorated sailors from other submarine divisions in San Diego this February. If she sinks the competition there, she will head to Hawaii to compete against the other departments, such as aviation and special warfare, for the prestige of being U.S. Pacific Fleet Shore Sailor of the Year.
She hopes to continue to take the national title in Washington, D.C., and the promotion that comes with it.
Candidates for Sailor of the Year have to appear in a formal hearing where a board questions them and judges their military bearing.
"Hopefully I can make it that far. That's a big deal for me, making chief," Dozier said.
But even with her recent milestones, Dozier's proudest moments come from her family, her support system and the work she does as waterfront career counselor. She is responsible for providing guidance to two submarine squadrons and 20 submarine crews.
"To watch them go forward in their careers with the tools I've given them, it's really rewarding," she said.
"Just being in the Navy for 10 years is an achievement," Dozier said. She plans to stay in the service for 10 more years.
Dozier has been deployed to Iraq as well as Japan, and she has done a humanitarian mission drilling for water in Kenya.
Her numerous decorations include the Rifle Sharpshooter Badge, Iraq Campaign Medal, three Good Conduct Medals and three Sea Service Deployment Ribbons.
Dozier met her husband in the service in 2004. Their family has grown to include two daughters to keep them busy, a 3-year-old and a 1-year-old.
"If it wasn't for the Navy, I don't know where I'd be," she said.
It is hard to be away from her family during deployment, but she manages to keep a positive attitude that she will see them soon. It helps that her husband was in the service and understands, Dozier said.
Though women are a minority in all of the military branches, she does not feel like it gives her a handicap at all. They're all sailors, and the Navy takes care of all of its sailors, she said.
Two of Dozier's grandparents were also in the Navy, which is part of the reason she was drawn to it. And she wanted to be by the water.
"I've had my fair share of the sun," she said.
Contact reporter Wesley Juhl at wjuhl@reviewjournal.com and 702-383-0381. Follow him on Twitter @WesJuhl.