Nearly 18,000 cast ballots in Clark County as early voting begins
October 16, 2010 - 11:00 pm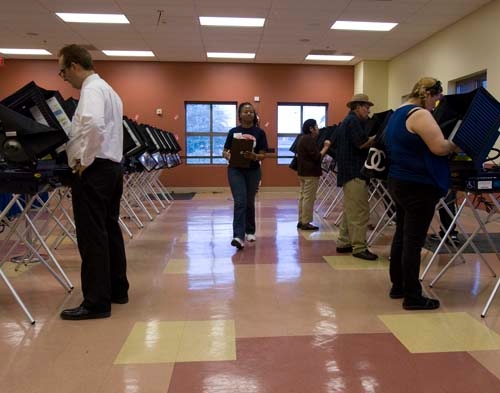 Saturday's opening day of early voting went relatively smoothly, election officials said.
Registrar of Voters Larry Lomax said 17,000 to 18,000 people voted Saturday throughout Clark County. Those figures fall short of the 2008 presidential election, in which 25,000 in Clark County cast ballots on the first day of early voting.
Delayed delivery of sample ballots did prevent some voters from casting ballots Saturday, Lomax said.
There are 299 different versions of the ballot in this election, and voters in a handful of zip codes did not receive them in time, Lomax said.
Voters should receive them this week. Early voting ends Oct. 29.
"I'm sure voters will say that we had all this time to mail them out because the primary was in June," Lomax said. "But we can't begin addressing and labeling them until after the Oct. 2 registration because we're getting thousands of new people who update their addresses. You have to be careful that you're sending the right version of the ballot to the right voters."
A total of 710,000 sample ballots were mailed out, however post offices reported being overwhelmed with election mail and campaign fliers.
"The two hiccups for the post office were Columbus Day fell in there — they weren't working that day — and they don't have a day shift anymore," Lomax said. "I'm not blaming the post office. There are a large number of ballots and a holiday fell in there. We did the best we can. They did the best they can."
Candidates canvassed neighborhoods valleywide to get the county's 736,663 registered voters to the polls.
About 100 supporters rallied for Sen. Harry Reid Saturday afternoon at Roy W. Martin Middle School in a "get out the vote" event targeting Hispanics.
Veronica Rodriguez, 36, said she attended the event because she was undecided about who to vote for in the highly contentious U.S. Senate race between the Senate majority leader, who is seeking a fifth term, and GOP challenger Sharron Angle, a former state assemblywoman.
"Obama made promise after promise, and he's made changes," Rodriguez said. "He's trying, but nothing is happening. I just want to hear what (Reid) has to say."
The Las Vegas resident said she works as a teacher's assistant at John F. Miller Special School and that the state's education system is her top priority when she votes. And as the state's unemployment hovers near 15 percent, she said the candidate who has ideas to get jobs to Nevada will earn her vote.
Election officials at the nearby East Las Vegas Community/Senior Center added five more voting machines, for a total of 20, in anticipation of the Reid event.
Maria Zaldivar-Vaught, an election official who runs that voting site, said she "definitely noticed it's busier than the primary."
She enforced the state's electioneering law more than once as eager candidates and volunteers clad in campaign T-shirts and buttons tried to talk to voters too close to the polling place. She pointed to distance markers, which set a 100-foot perimeter for campaigns to stand behind.
There are 84 early voting sites at grocery stores and malls throughout the county. All registered voters may vote before Election Day in federal and state elections. Early voting continues daily through the Friday before the Nov. 2 election.
All early voting sites use touch-screen voting machines that provide ballots and instructions in both English and Spanish. The least crowded time to vote is in the afternoon during the first week of early voting.
Contact Kristi Jourdan at kjourdan
@reviewjournal.com or 702-383-0279.