Needy households get gift of indoor climate control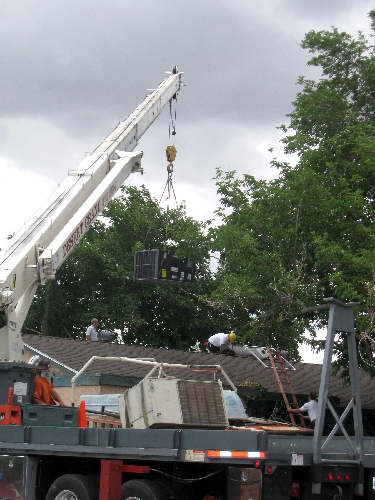 Three valley families that endured harsh season changes without a heater or air conditioner have a cool summer ahead thanks to the sixth annual Mission Cool Off program.
Northwest resident Denise DeLisse and Martin and Rosa Castro live in two of three households that were selected to have new units installed courtesy of the Nevada State Contractors Board and the Southern Nevada Air Conditioning Refrigeration Service Contractors Association .
The third recipient, Denise Toleu, lives in Henderson with her mother, Luz. Toleu was recently laid off and was struggling to aid her mother's respiratory issues. Their 20-year-old unit was in dire need of repair.
Recipients were selected based on special circumstances and needs, and the organizations limited the program to 100 applications.
DeLisse is physically disabled and lives with a caregiver, her son, his wife and their two small children. Castro is unable to work due to multiple sclerosis.
Both households had problematic air-conditioning units that were decades old and beyond repair, said Ranya Botros, spokeswoman for the Nevada State Contractors Board.
Mission Cool Off is a community service program that helps families such as the Castros and the DeLisses.
DeLisse's caregiver, John Bowman, spoke on her behalf and said they're thankful to have a respite from two years without heat or sufficient air conditioning in the house. The family got by on two window units in bedrooms, but Bowman said in the summer swelter, everyone was miserable.
"It was cooler to step outside," he said.
Energy bills fluctuated dramatically because of the air conditioning, he said.
The unit in their 40-year-old house was original, and DeLisse spent hundreds to repair it.
DeLisse applied for Mission Cool Off in March, and when the selection committee came to interview her, Bowman said he was moved by the household's situation.
"The guy came out, and he started laughing because he'd never seen a unit so old," he said. "He told us it had a mercury switch thermostat, and he hadn't seen that in 20 years."
Bowman said the new unit and installation, which included use of a crane to get it on the roof, were completed in about a day and cost about $7,500. All materials and labor were donated. The household is at ease now, Bowman said.
"When you're hot, everyone is cranky," he said. "Now everyone is so calm."
Martin Castro said he spends most of his time inside, which was unbearable in triple-digit temperatures.
Repairs to his 25-year-old air conditioner were out of the question, he said.
That's in the past now, he said.
"It's pretty nice (and) working pretty good," he said.
For more information, visit snarsca.com or nvcontractorsboard.com .
Contact Centennial and Paradise View reporter Maggie Lillis at mlillis@viewnews.com or 477-3839.