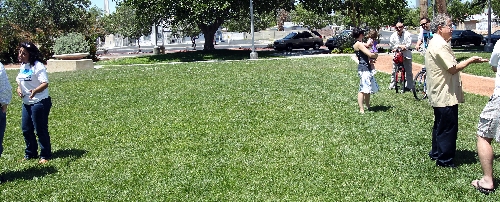 If you get your information about the Las Vegas city elections from television commercials and mailers, here's what you've learned:
■ Chris Giunchigliani is mean and nasty and wants to suck every dollar in the world into government coffers to further feather the nests of do-nothing government employees.
■ Carolyn Goodman loooooves foreclosures and thinks they're the best thing that's happened to Las Vegas except for her husband, Mayor Oscar Goodman, whose coattails she's riding even though she doesn't know what he's done.
■ Adriana Martinez is a lying liar who lies about things like where she lives, and as a city employee she's personally responsible for not shutting down more shady massage parlors.
■ Bob Coffin's best friends are probably pedophiles. He also supports prostitution so much that his name should be Pimp Mac Daddy McSuperfly.
Ah, civic discourse. Doesn't it make you proud to be an American?
Negative campaigning is as old as politics, of course. It persists because it works despite the complaints that people lodge election after election about sleazy accusations and inflated, out-of-context, misleading messages.
But such tactics probably will have a diminished effect in the Las Vegas mayoral and Ward 3 City Council races, experts say, because of the size and makeup of the electorate, which in a city election is smaller, older and often more engaged than voters in state and national elections. Plus, voters are more likely to be acquainted with the candidates, all longtime area residents who were in the public eye before running.
"The last-minute hit pieces like this have very little substantive value," said Mark Peplowski, a political science teacher at the College of Southern Nevada. "In a race like this where there's hardly any reason to go to the polls, people are either planning on voting or they're not.
"If they're not planning on voting, you're not going to get them to the polls with this stuff. If they're planning on voting, they've probably already made a decision."
Still, it's a well-developed tactic, said Kenneth Fernandez, a political scientist at the University of Nevada, Las Vegas. Campaigns use everything possible to win.
"Candidates don't want to lose an election and say, 'Boy, I wish I would have used that one piece of information,' " he said.
"You're trying to convince the people who have the least amount of information, who are on the fence."
QUOTES AND VOTES
In the mayoral race between Goodman and Giunchigliani, the turn toward the negative began in earnest in mid-May with a Giunchigliani ad that portrayed Goodman as having no skills except being married to the current mayor, Oscar Goodman. Carolyn Goodman founded the Meadows School and ran it until last year and had previous jobs in marketing and counseling.
A subsequent ad picked out quotes from Goodman's television appearances to make it appear Goodman was calling home foreclosures "wonderful." She was pointing out, as many have, that low real estate prices make Las Vegas an attractive place to invest.
Goodman responded with ads criticizing Giunchigliani's legislative and commission records, accusing her of raising taxes, wanting to raise them further and voting in pay increases for herself.
County commissioners, including Giunchigliani, approved salary increases in 2007 but have unanimously canceled cost-of-living raises for the last two years as a symbolic budget-cutting effort, and Giunchigliani voted yes on a pay cut this year.
The next mayor will be paid about twice as much as the current mayor, with a salary of around $130,000. The job also becomes full time, meaning the mayor no longer can accept other employment while in office.
As a legislator, Giunchigliani voted for the $836 million tax package in 2003 for schools and the state's budget — but so did many others, and a Republican governor signed it into law.
Goodman also wants to tar Giunchigliani as a potential tax raiser as mayor by noting the commissioner's support for more local control of city revenue sources, most of which is controlled at the state level now.
That's tricky ground for her, though, because as mayor, Oscar Goodman has called for the same power, bemoaning the fact that local governments are basically at the Legislature's mercy when it comes to revenue.
NEGATIVE EARLY, OFTEN
The Ward 3 race, meanwhile, has been nasty from the start.
For the entire campaign, Martinez has had to face the allegation that she didn't live in Ward 3 when she filed for office, which would make her ineligible to run. A challenge to her candidacy has been languishing in the Nevada Supreme Court since March awaiting a decision on technical issues. No one expects a ruling before Tuesday's vote.
She has fired back at Coffin for his remarks when he was a state legislator that he would be willing to discuss legalizing prostitution in Nevada's urban areas. Coffin said he doesn't support doing so but that elected officials should be willing to listen to proposals.
Martinez also tried to link a $330,000 sale of historical railroad documents by Coffin to the University of Nevada, Las Vegas in 1997 to the school's current financial woes. No tax money was used in that transaction, and Coffin received the blessing of the Nevada Ethics Commission before completing the sale.
The pedophile charge stems from an early debate. The discussion had turned to the possibility of predators lurking at city parks, and Coffin noted that "pedophiles certainly have rights."
In an academic sense, that's not controversial, said Fernandez, who moderated that debate. Everybody has those rights — to face their accuser, to due process, to a fair trial, and so on.
But the idea of child molestation provokes the kind of knee-jerk emotional response that's the reason for negative ads, even if the actual accusation is absurd.
Examples abound, but one of the most well-known comes from the 2000 presidential campaign. John McCain was surging in the GOP presidential primary when he was hit by a smear campaign in South Carolina that he had fathered an illegitimate black child. The falsehood is credited with derailing him in the state and handing victory to the originators of the smear — the George W. Bush campaign.
"Negative campaigning rarely backfires," Fernandez said. "It may not help you. But it's very, very rare to find a case where going negative, even really, really negative, is going to hurt you.
"Until people get punished (at the ballot box), that's how it is."
Contact reporter Alan Choate at achoate@reviewjournal.com or 702-229-6435.
ON THE WEB:
Anti-Goodman ads:
Some jobs, require skills. Chris G TV Spot
Carolyn Goodman says "Move up the foreclosures"
Anti-Giunchigliani ads:
Tax Payers
Chris G – UMC