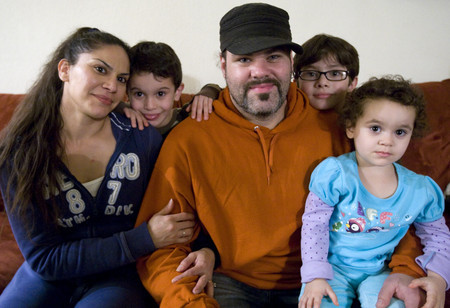 Police credit a 37-year-old man with intervening in a neighbor's desperate situation and saving the life of a 6-year-old boy Wednesday afternoon.
Brian Morace, an employee at a sign printing company, came home for lunch in time to save the boy and the boy's mother from their smoke-filled southwest valley condominium.
"He made the difference," Las Vegas police officer Jacinto Rivera said.
Morace leaves work at 12:40 p.m. each day and is home by 12:45 p.m., in time for lunch at the West Tropicana Condominiums, 5155 W. Tropicana Ave.
Wednesday was no different. But as he walked past his neighbor's second-floor unit, he heard a faint alarm coming from the apartment.
"It sounded like an alarm clock," he said.
Morace began eating lunch, and his wife, as she does every day, drove one of their children to school. When she returned 15 minutes later, she thought something was wrong next door. She asked her husband to check it out.
Morace knocked on a window and received no response. He knocked on the door. A minute later, a woman cracked it open a few inches.
Smoke billowed through the doorway, and Morace could see the woman's face was caked with soot. She tried to close the door, but he barged in.
"There was no way I was going to let her shut that door on me," he said.
He saw the woman's 6-year-old son sitting silently on the living room floor, hands in his shirt, his face also covered in soot. Morace asked the woman where the fire was. "Kitchen," she said.
A charred blanket was on the kitchen floor. The fire was already out, so Morace began opening windows.
His wife called the fire department, and he asked the boy if he was OK. The boy told Morace he wanted to be in school. The woman was distraught and wide-eyed. She kept trying to get back into the apartment.
"She wasn't all there," he said.
Police said the woman, who has a history of mental illness, was home alone with the boy. Her husband was at work.
The woman, 36-year-old Wahmui Zhang, used the gas stove to light the blanket on fire in an attempt to kill the boy, Rivera said.
In the process, she suffered second- and third-degree burns and was hospitalized. Zhang was booked into the Clark County Detention Center in absentia on an arson charge. Police said they planned to charge her with attempted murder.
The boy was hospitalized for smoke inhalation but is expected to be fine, Rivera said.
The couple's older son, who was in school, was placed in the care of child protective services. The boy was not given to his father because authorities questioned the man's judgment in leaving their younger child in the woman's care, Rivera said.
Rivera said it was Morace's intervention that saved the boy and his mother.
On Wednesday evening, Patricia Morace gazed at her husband lovingly in their living room.
"I always said he was my hero," she said.
Brian Morace just smiled sheepishly and shook his head.
Contact reporter Lawrence Mower at lmower@reviewjournal.com or 702-383-0440.