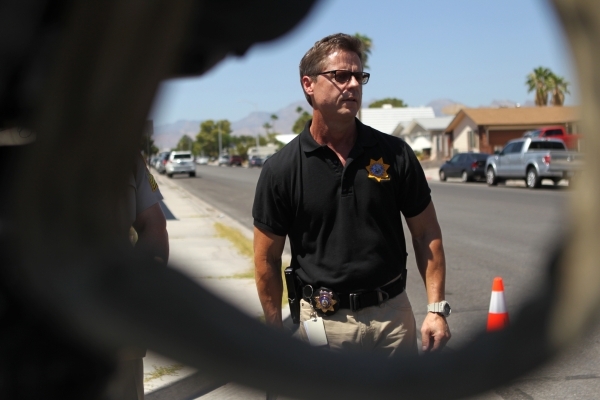 A SWAT negotiation turned deadly Sunday morning when a rifle-wielding man was fatally shot by officers in a west valley neighborhood, according to Metro.
Neighbors who witnessed —€" and recorded — the event said the man was shot by multiple police snipers who were staged on nearby rooftops after he pointed his rifle at officers.
Police first received a call about gunshots in the 400 block of Lakehurst Road, near the Alta Drive and Antelope Way intersection, at approximately 7:30 a.m., Metro spokesman Sgt. John Sheahan said. Police arrived less than 10 minutes later.
A screaming man carrying a rifle was coming in and out of his home, Metro Capt. Matt McCarthy said Sunday afternoon. That's when officers called for a SWAT unit and began to evacuate some homes in the neighborhood.
Property records show that William Lee Snider owns the house where police were called, and several neighbors identified the man who was shot as Snider.
Metro didn't identify the man who was shot, but if it was Snider, court records show that in 2003 he faced 51 charges —€" most of them felonies — that included sexual assault and lewdness with a victim under 14 and under 16.
Snider was found guilty in 2006 and he served time at High Desert State Prison, Clark County court records show. It wasn't immediately clear how long he was there.
Snider and the house on Lakehurst are registered in the Nevada Department of Public Safety sex offender registry, records show. He was classified a Tier Level 2, which implies moderate risk.
Some neighbors described Snider as a neighborhood problem, and some said he kept to himself. All of the neighbors who spoke to the Review-Journal said they felt police were justified in shooting Snider.
Allen Stewart, 54, lives next door and said Snider's erratic behavior prompted him to call 911. When it became clear that the man was not cooperating with police, the people at Stewart's house were told they should probably move further away.
People inside the man's house were also able to get out, McCarthy said.
Stewart said those people were Snider's roommates, who looked like they had no idea what was happening. Snider's family did not seem to be home at the time, he said. Officers used the nearby Helen Smith Elementary School as a command post and interviewed the people from Snider and Stewart's households there.
Over the next two hours, the man came in and out of the house several times while officers tried to talk him into surrendering, McCarthy said.
"They begged and begged and pleaded," neighbor Tim Sanderson, 29, said Sunday night.
About 9:40 a.m., the man came out of the house again, ignored negotiators' orders to drop the rifle, and "raised it" in officers' direction, McCarthy said. Several officers then fired at the man, police said.
Sanderson filmed the shooting on his cellphone from within his home and said one of the SWAT snipers was on the roof of his home.
The video showed Snider walking down the driveway and holding a hunting rifle. The man raises the rifle, as if to aim it, and is seen being shot down.
"It sounded like they threw a flash-bang," Sanderson said.
Another of Sanderson's videos of the standoff ends with officers dragging the man down the driveway by his ankles.
The medical response was immediate, but the man died at University Medical Center, McCarthy said.
Police initially said the shooting stemmed from a neighbor dispute.
Stewart said he had numerous run-ins with Snider in the past. Snider had accused Stewart of sabotaging his car and stealing shingles off his roof in the past.
Some neighbors heard the man might be losing his home and wondered if he intended to be killed by police.
"He came out and he knew what he wanted. He wanted them to do it," Sanderson said.
Metro's policy is to release the names of the officers involved in about 48 hours and hold a detailed press briefing after 72 hours.
Review-Journal writer Cassandra Taloma contributed to this report. Contact Ricardo Torres at rtorres@reviewjournal.com and 702-383-0381. Find him on Twitter: @rickytwrites Contact Wesley Juhl at wjuhl@reviewjournal.com or 702-383-0391. Find her on Twitter: @WesJuhl