Nellis Airman charged with murder in death of 3-month-old son
February 20, 2014 - 9:34 pm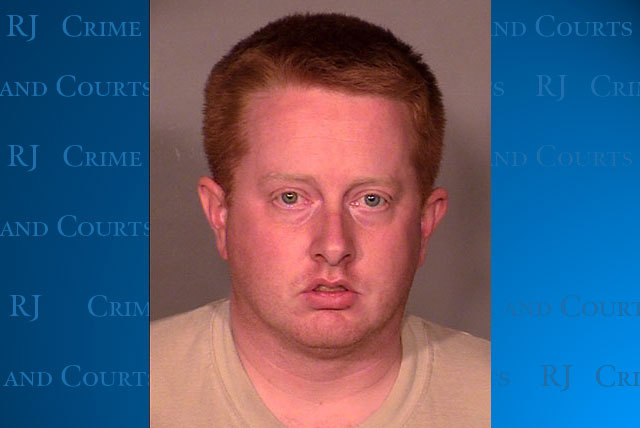 A Nellis Air Force Base staff sergeant was charged with murder for the death of his 3-month-old boy who authorities said suffered abusive head trauma at the hands of his father, Clark County prosecutors said Thursday.
Staff Sgt. Andrew Leach of the 99th Logistics Readiness Squadron faces one count of murder and two felony counts of child abuse, neglect or endangerment with substantial bodily harm for injuries his son Aiden Leach suffered on Feb. 1, court documents said.
Aiden died just before 9 p.m. Monday at Sunrise Hospital and Medical Center. The Clark County coroner's office has not yet determined the boy's cause of death.
During an interview with Las Vegas police, Leach said he dropped his son on a tile floor while testing the water for a bath he was preparing for the boy.
The boy spit up and his arms and legs stiffened, Leach told detectives. The infant then stopped breathing. The father ran around his home looking for a phone to call 911 before asking his neighbors for help.
"The defendant stated he believes Aiden's injuries could be from him shaking to revive him," Leach told detectives, according to his arrest report.
He also said he suffered from post-traumatic stress disorder, anxiety, suicidal thoughts, alcohol and drug dependency and depression, the report said. In January, he completed treatment for mental health issues.
His unit, the 99th Logistics Readiness Squadron, provides management for vehicles, fuel and supply operations when other Nellis units are deployed.
Leach said he has had two other accidents with his son, including one in which the boy slipped from his arms and fell in the bath.
"The defendant denied causing Aiden's injuries in any other manner than what he described," the report said.
The boy's mother, Kelly Leach, told detectives that when she left the home to go grocery shopping, Aiden was smiling and laughing. Andrew Leach had told her he dropped the boy on the floor while checking the bathwater, Kelly Leach said.
She added, "The defendant has always been 'rough with the baby' but she tries not to say anything. Kelly (Leach) denied she has ever seen the defendant be abusive with Aiden but described multiple domestic violence incidents between her and the defendant," the police report said.
Leach, who is being held at the Clark County Detention Center, is set to appear on Feb. 27 in North Las Vegas Justice Court on the new charges.
Contact reporter Francis McCabe at fmccabe@review journal.com or 702-380-1039.