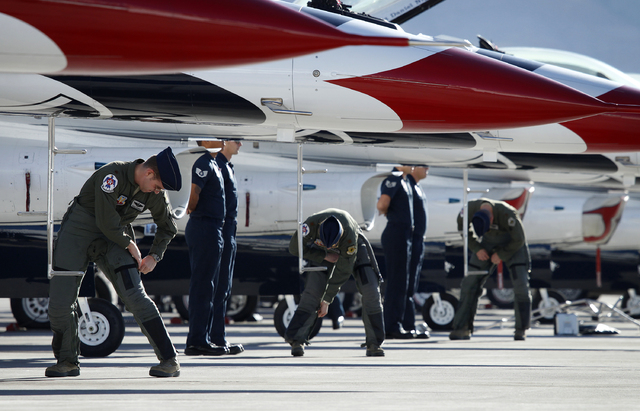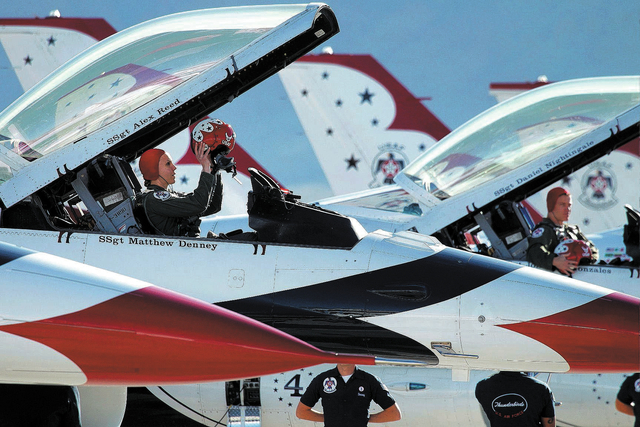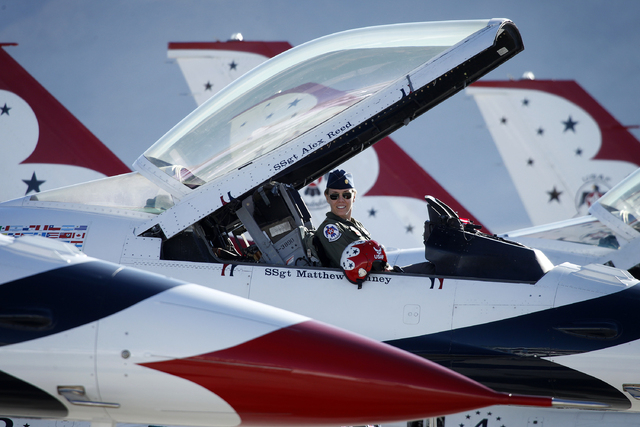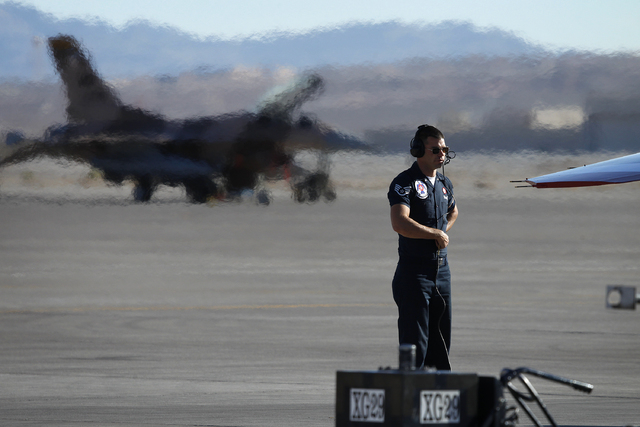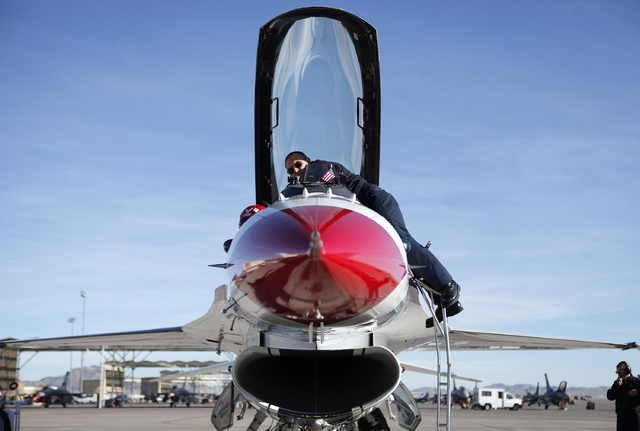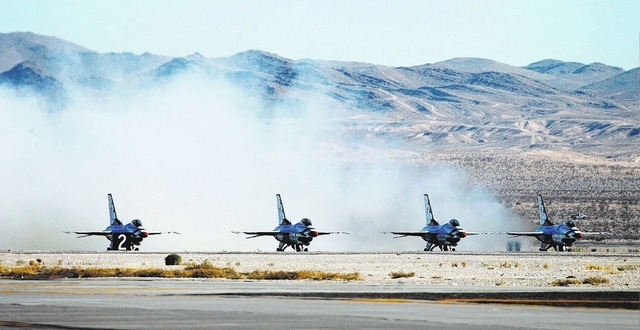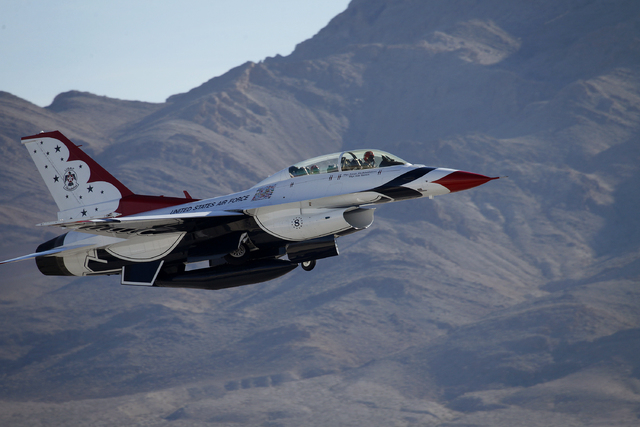 The Thunderbirds' red-white-and-blue F-16 jets roared over Nellis Air Force Base on Friday.
Their silhouettes disappeared into a partly cloudy sky as four of the team's Fighting Falcon jets made a diamond takeoff toward the Las Vegas cityscape then peeled off for Indian Springs, their practice area around Creech Air Force Base, 45 miles northwest of Las Vegas.
It was a beautiful sight for the Air Force demonstration team after its season was cut short last year because of budget constraints.
The pilots were practicing their usual breathtaking maneuvers for a season of 38 events that will begin Feb. 23 at Daytona Beach, Fla., and wrap up with final twin performances scheduled for Nov. 8-9 at Nellis.
"We're glad to be back," Lt. Col. Greg Moseley, the team's commander and lead pilot, said in a statement announcing the schedule. "While we're excited to know we'll be able to tell the Air Force story on the road, we're completely focused on ensuring we have a safe show season."
The team flew over the Tournament of Roses Parade in Pasadena, Calif., on New Year's Day, and will fly over Las Vegas Motor Speedway on March 9 for NASCAR weekend.
A Nellis spokesman said base leaders are hopeful that the public will again be able to attend a free Aviation Nation open house when the Thunderbirds fly at the base in November. The traditional two-day Aviation Nation air show was canceled last year because of budget cutbacks in the wake of the sequester law that took effect in 2013.
The two shows combined typically attract more than 100,000 spectators.
"We are on schedule for an air show performance in November by the Thunderbirds," said Master Sgt. Jason Edwards, a spokesman for the 99th Air Base Wing at Nellis.
"Obviously anything can happen between now and then," he said. "We're not 100 percent certain yet if it will be an open house like Aviation Nation. We are in the very early planning stages and we're hopeful for that."
Regardless whether the event is an open house, Edwards said the Thunderbirds' hourlong show performances on Nov. 8 and 9 will be open to the public "if it goes off as scheduled."
Maj. Darrick Lee, the Thunderbirds' public affairs officer, said even when the team doesn't fly "our mission never stops."
"We've been doing work continuously in community relations. We talk to schoolchildren and go out to the local community. We're doing everything we can to engage the local community to tell the Air Force story," he said.
From Lee's highly polished boots to the precision entry of the pilots and ground crew to even removing the chocks from behind the jets' wheels, the practice Friday — like all the team's practices and performances — was an effort of spit-shined perfection. For now, at least, they're back for another high-flying season.
Contact reporter Keith Rogers at krogers@reviewjournal.com or 702-383-0308. Follow him on Twitter @KeithRogers2.