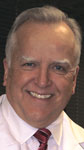 The 63-year-old head of the only hospital that focuses solely on cancer in Michigan has been named the Nevada Cancer Institute's new director and chief executive officer.
Dr. John C. Ruckdeschel, president and chief executive officer of the Barbara Ann Karmanos Cancer Institute in Detroit, will assume his new duties full time by July, according to Heather Murren, the Nevada institute's chairman of the board and co-founder.
Board-certified in internal medicine and medical oncology and consistently listed on "America's Top Doctors" and "Best Doctors" lists, Ruckdeschel completed his medical degree at Albany Medical College in New York, interned at the prestigious Johns Hopkins Hospital in Baltimore and served as a fellow at the National Cancer Institute in Washington, D.C.
In a statement released by the Nevada institute today, Ruckdeschel said his goal is to "ensure that the citizens of Nevada have a top tier cancer center available to them."
Murren, who has also served as the Nevada institute's interim CEO since last year when Sandra Murdock resigned to take a post in academic medicine in Texas, said Ruckdeschel's appointment allows the institute's first and only director, Dr. Nicholas Vogelzang, to concentrate on what he most enjoys: research and patients.
"Dr. Vogelzang was our director when we were only an idea and he did what he wanted to do — he gave us a solid foundation to build on," Murren said today.
Murren said she believes Ruckdeschel will play a large role in the Nevada institute reaching National Cancer Institute designation.
The United States has 63 NCI designated cancer centers, which are characterized by scientific excellence and the ability to bring a diversity of research approaches to bear on cancer.
In 2005 cancer surpassed heart disease as the leading cause of death of Americans under age 85.
Prior to his tenure at the Detroit cancer center, which holds the NCI designation, Ruckdeschel led the Moffitt Cancer Center in Tampa, Fla., to the classification in 2001.
Beside prestige for an institution and better access for patients to the latest therapies, the NCI designation carries with it renewable grants that add millions of dollars to research efforts.
Murren said Ruckdeschel's leadership in Detroit led to a fourfold increase in yearly NCI funding for the Karmanos Cancer Institute.
"Dr. Ruckdeschel is also great at recruiting great researchers," Murren said. "I am confident he will help make us a top tier cancer center."
Ruckdeschel has written or co-written 350 medical publications. His clinical and research interests include a focus on lung cancer.
Last year Nevada ranked 10th in the nation for lung and bronchus cancer incidence and 15th for lung and bronchus deaths.
Contact reporter Paul Harasim at pharasim@reviewjournal.com or 702-387-2908.