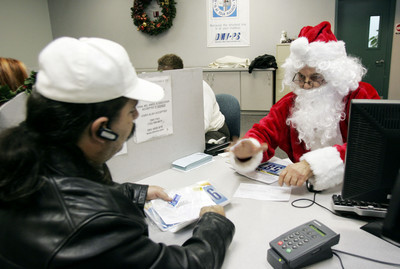 After decades at or near the top of the national heap, Nevada has tumbled to eighth on the list of fastest-growing states.
Nevada gained fewer than 46,000 new residents from July 2007 to July 2008, an increase of 1.8 percent, according to Census Bureau population estimates released Monday.
Utah tops this year's list with a 2.5 percent growth rate. Arizona is the second fastest-growing state, followed by Texas, North Carolina, Colorado, Idaho and Wyoming.
Nevada has been among the four fastest-growing states each of the last 23 years.
State demographer Jeff Hardcastle said the slowdown began with a pop, as the housing bubble burst and took more than 15,000 construction jobs with it.
"It's pretty much the construction slump," he said.
Migration has generally slowed across the nation as the economic crisis makes it more difficult for people to change jobs, sell their homes and move.
So what does Utah have that Nevada doesn't? Clean living and lots of babies.
"It's the Utah factor," said Juliette Tennert, demographer for the Beehive State. "We have the highest fertility rate in the nation and one of the lowest mortality rates."
As a result, the state continues to see a "natural increase" in population even while economic forces slow the number of people moving there.
Tennert said the reason can be traced to two key factors: Utah's "very high quality of life" and the heavy influence of the Mormon church.
"There is more focus on family. People marry at a younger age and have more children," she said.
Utah is now home to more than 2.7 million people. Nevada's population stands at slightly more than 2.6 million.
At this time last year, the Silver State sat atop the Census Bureau's rankings with a growth rate of 2.9 percent from July 2006 to July 2007. Those estimates have since been revised to show Utah in first place, Arizona in second and Nevada in third.
Arizona was the fastest-growing state from July 2005 to July 2006. Before that, Nevada topped the rankings 19 years in a row.
Hardcastle said the state grew by its fastest rate, 5.5 percent, in 1993-94. Its largest numerical increase came in 2003-04, when Nevada added more than 90,000 new residents.
Despite the recent slip, Nevada still ranks as the fastest-growing state of the current decade with a population increase of more than 30 percent since July 1, 2000.
Only Arizona comes close with a growth rate of 26.7 percent over the past eight years. Utah is third at 22.5 percent, followed by Georgia at 18.3 percent and Idaho at 17.8 percent.
"The other part of the story is we're still a growing state," Hardcastle said. "The good news part of the story is we still have net migration moving into Nevada."
That should help the state reduce its housing inventory and speed the recovery of the construction industry, Hardcastle said.
Predictably enough, much of the state's housing troubles have played out in Clark County, which is home to more than 70 percent of Nevada residents.
Most demographic experts expected the county's population to surge past the 2 million mark sometime within the past year.
Instead, the most recent estimates indicate the county's population actually fell by more than 10,000 residents to 1,986,146 as of July 1.
Hardcastle said Nevada might never return to its days of topping the Census Bureau's list almost every year.
Several factors helped drive the state's explosion, especially during the 1980s and 1990s, he said: Nevada's near monopoly on large casinos; low housing prices; plenty of available land for development; and a stable national and international economy.
"That's all changed, and it's been changing over time," he said.
Ultimately, what happens to Nevada's growth rate in the future will depend on the economy as a whole, Hardcastle said. "It's hard to say where things are going to settle out."
The Census Bureau estimated the total U.S. population at 304 million on July 1, up about 1 percent from 301.3 million the previous year.
Six of the 10 fastest-growing states are in the Mountain West — the geographic region, not the college athletic conference.
In addition to having the third-fastest growth by percentage, Texas was once again tops numerically with more than 480,000 new residents.
California remains the nation's most populous state with about 37 million people. It attracted about 380,000 new residents, second to Texas numerically, but 17th fastest by percentage.
The bureau's estimates are reached by measuring births, deaths and migration into and out of each of the 50 states, the District of Columbia and Puerto Rico.
Only two states, Michigan and Rhode Island, declined in population. Michigan shed almost the exact same number of residents that Nevada gained over the past year.
Contact reporter Henry Brean at hbrean@ reviewjournal.com or 702-383-0350.