Nevada colleges welcome academically gifted youth
December 1, 2013 - 7:52 pm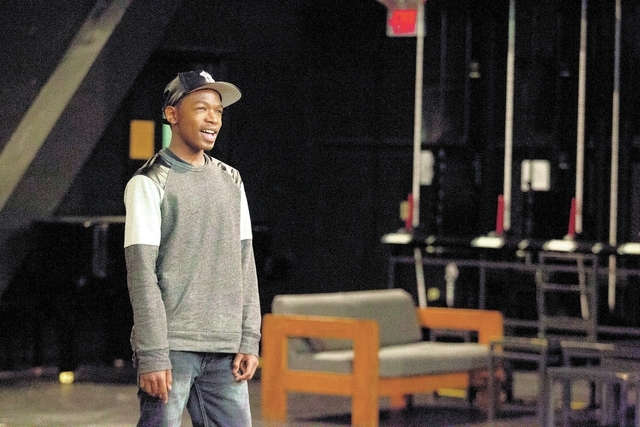 Ke'Andre Blackston Jr. was multiplying by the time he was 5 years old.
At 13, he was a senior in high school. At 14, he was already in college.
"He's very bright," his mother, Ceavaya Robinson of Las Vegas, said Monday. "He's always been driven. He likes to be challenged."
Blackston, 15, is one of several academically gifted students taking courses at Nevada's four-year institutions. The University of Nevada, Reno and the University of Nevada, Las Vegas have strategies in place to help attract the best and the brightest, including those younger-than-average students.
University officials say those students help raise the "intellectual caliber" and reputation of the institutions. After graduation, officials hope those students will stay in Nevada to help diversify the state's workforce.
The full-time college student began at the University of Nevada, Las Vegas, this fall. He is majoring in theater.
Blackston was home-schooled by his mother after 6th grade. When he was 13, he was placed at Sunrise Mountain High School in Las Vegas for his last year so he could experience high school before heading to college.
"A lot of the people I've met are almost 10 years older than me," he said last week of his UNLV friends. "I'm giving more advice than they are giving me."
It takes a group effort to recruit those high-achieving students, college officials said.
More than 50 years ago, UNR started offering honors classes for students looking for a more challenging experience, said Tamara Valentine, director of UNR's honors program.
On the UNR campus, there's also a public high school for gifted students, the Davidson Academy of Nevada. And many of the high school students also take college courses while completing their high school diploma, Valentine said.
"We want to find these students and get them in Nevada and keep them in Nevada," she said. "We are in desperate need of this brain power to remain in Nevada."
Of the 133 students at the Davidson Academy, 40 percent to 50 percent are also taking college courses.
The Honors College at UNLV has 451 students enrolled. This fall, the college welcomed 135 new students, said Marta Meana, dean of the UNLV Honors College.
Six of them were National Merit Finalists and over 30 were valedictorians, Meana said. That's up from one National Merit Finalist last year, she added.
This fall, the UNLV Honors College incoming class averaged being in the top 4.86 percent of their high school graduating class, said Gregory Stephany, director of advising and recruiting at UNLV's Honors College. Those students help raise the university's reputation, he said.
"Recruiting this kind of talent to the university takes a team," Meana said. "The Honors College works closely with admissions to try to attract these students."
UNLV offers those academically gifted students an alternative educational experience, Meana said. The Honors College courses are more challenging and hold no more than 24 students per class, she said.
"We offer small classes of very high achieving students who kind of make each other better," Meana said.
They also get priority registration, among other perks, she said. Some of those students end up with full ride scholarships and many qualify for the state-based Millennium scholarship.
In addition, the UNLV Honors College raises money to provide additional smaller-scale scholarships. This year, it awarded more than $250,000 in scholarships, Meana said.
But UNLV would like to improve the financial assistance it offers to those students.
"We can't fund every student to the extent that we would like to," Meana said. "We have to do better. We are working very hard to be competitive in terms of scholarships, but we are not where we need to be yet."
In the past, the focus has been on devoting more money to help students with remediation and academic need, Meana said.
"We also need to be giving a boost to high-achieving students so we can keep them," she said.
UNR offers its National Merit students about $15,000 a year, Valentine said. Those students are also eligible for the Millennium scholarship, the state-based scholarship for bright Nevada high school graduates.
UNR has 46 National Merit Scholars.
It's not just financial packages that attract bright students to a university. For many, the programs themselves are the magnet, Valentine said.
"They are clearly getting a great experience here," she said.
Sarah MacHarg, 13, is a student at the Davidson Academy at UNR and is currently taking her eighth college course.
She was only 9 when she took her first university Spanish course.
"That was kind of strange," she said last week. The other students "stared at me on my first day… Ever since, I've been less shy. Now I'm 13, and I look less small."
MacHarg is not receiving credit for her college courses. Her parents made that decision because they didn't want to pressure her, she said.
Most of her college classes have been Spanish courses.
"I've always been interested in foreign languages," she said. "I want to be fluent in Spanish."
Blackston aspires to be an actor.
"I want to get out (of UNLV) and get into acting," he said. "I want to have jobs lined up."
By that time he graduates from UNLV, he'll be 18.
Blackston, who is too young to drive, tries to be a normal kid when he is not inside a classroom.
"I play basketball in my free time, I play video games like a normal kid," he said. "Nothing too different."
Reporter Yesenia Amaro can be reached at (702) 383-0440, or yamaro@reviewjournal.com.