Nevada controller: Double-check Tesla deal
September 7, 2014 - 8:54 pm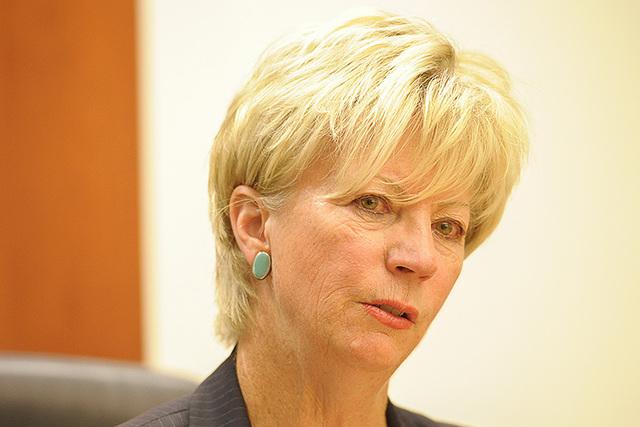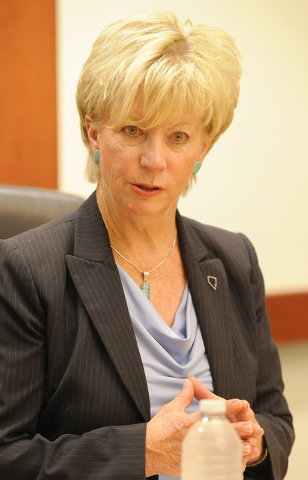 Nevada Controller Kim Wallin, a certified public accountant, said she's glad that Nevada made a deal with Tesla to build a $5 billion battery plant in the state, but she's worried officials won't hold the company publicly accountable for meeting its end of the bargain in exchange for a generous package of tax breaks.
Under the deal, which must be approved by a special session of the Nevada Legislature this week, the electric car manufacturer essentially would pay no taxes for nearly a decade. The tax breaks and credits could reach $1.3 billion as the gigafactory promises to hire 6,500 high-paid workers as it invests up to $10 billion over time.
In exchange for some tax breaks, Tesla must meet hiring goals, for example.
GOP Gov. Brian Sandoval, in announcing the deal last week, said that for every $1 of investment, Nevada would get $80 back. But Wallin wonders what he means by that — a direct or indirect impact on the local economy, for example.
"We have to make sure there's true accountability in this deal," Wallin said Friday in an interview with the Review-Journal editorial board. "Oftentimes we give out money, and we don't get reports back. It's exciting for Nevada to have that, but being the accountant, I would like to see the other side."
Wallin, a Democrat running for Nevada treasurer in the Nov. 4 election, said she hopes lawmakers add some conditions to the Tesla deal to require an annual accounting of whether hiring, economic and other goals are being met. She said an annual report would show if the company is meeting its side of the bargain.
Wallin said that if she is elected treasurer, she would consider introducing a bill to require such accountability on future economic development deals if it isn't part of this one. She said the Board of Finance also could be required to sign off on any such business deals the state makes. The governor, controller and treasurer are members of the five-member board.
Wallin, who also sits with Sandoval on the Transportation Board, said she also has concerns about another part of the Tesla deal: the state pledge to pay for the right-of-way to link Interstate 80 and U.S. Highway 50 through the Tahoe-Reno Industrial Park, where the Tesla factory would be built.
The right-of-way will cost the state highway fund about $43 million but could go higher. Wallin said that the board has just signed off on a $1.3 billion Project Neon to widen Interstate 15 from Sahara Avenue to the Spaghetti Bowl in Las Vegas.
Also, the Interstate 11 project to link Phoenix and Las Vegas, and possibly go north through Nevada, is in development, putting even more pressure on transportation funding.
"Do we have the money to buy that right-of-way?" Wallin asked of the Tesla deal.
Wallin said she wants to see backup numbers to determine the cost-benefit ratio of the projects, including the right-of-way and Project Neon, to help determine Nevada's priorities.
Officials have been told that the cost-benefit ratio for the right-of-way is 9-to-1 and for Project Neon about 3-to-1, but she doesn't know how those conclusions were reached.
"I think we really have to make sure we have accountability," she said.
Despite her questions, Wallin said that she gets along very well with Sandoval and he often seeks her expert advice as a fellow member of both the transportation and examiners boards.
The governor's office also asked her advice a couple of years ago about replacing the state's old accounting software, which has outlived its usefulness. Wallin recommended studying exactly what the state's needs were first. Now, she said, one of her first priorities as treasurer would be to get approval from the Legislature to put in a new statewide accounting system.
She said every office, including the treasurer's office, needs to update how it handles accounting. Despite the electronic system, she said, some people still make paper printouts to get four or five different agencies to sign off on electronic purchase orders — a waste of paper and of time.
"We need to gain efficiencies," Wallin said, explaining that Nevada has to give up its old ways when a new system is in place.
Another priority, she said, would be a new funding source for the Millennium Scholarship Fund, which is expected to run out of money by 2017 with its source tobacco settlement money running low. She said the college graduation rate is higher for those with scholarships than students without, about 44 percent compared to 37 or 38 percent.
She said the program also might be tailored to reward students studying subjects that align with Nevada's economic development and business needs.
Wallin's Republican opponent is Dan Schwartz, an experienced Wall Street investor and international businessman.
"I think I'm the most qualified candidate for this office," Wallin said, citing her experience from her two four-year terms as controller working closely with the treasurer and her objectivity. "I have not made the office a political office."
Contact Laura Myers at lmyers@reviewjournal.com or 702 387-2919. Follow @lmyerslvrj on Twitter.