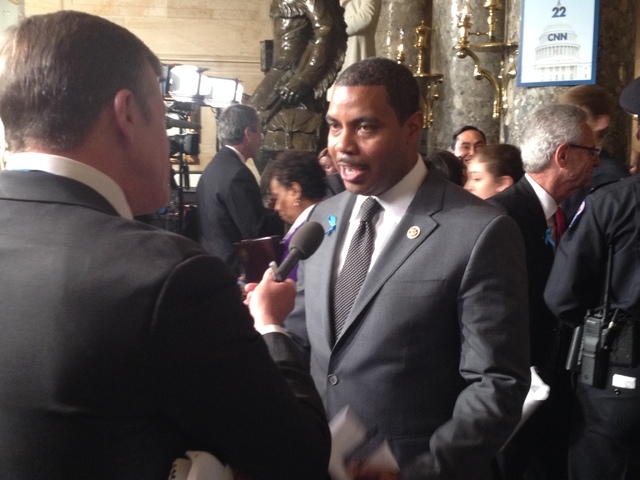 WASHINGTON — Nevada Democrats said President Barack Obama hit the right notes Tuesday in his State of the Union speech, even when he told Congress he was prepared to act on his own to help boost middle-class Americans.
Republicans were less impressed, saying Obama served notice he was going to work around Congress with proposals that were merely "more of the same."
Democratic Sen. Harry Reid said Obama "pointed the way to where we need to go," starting with his call for an increase in the minimum wage and his action to raise minimum pay to $10.10 an hour for federal contract workers.
"I hope Republicans will join us in turning this and other common-sense proposals into law," Reid said.
But Republican Sen. Dean Heller, said he was troubled by Obama's go-it-alone approach.
"The president has called for a 'Year of Action,' and I agree with him that more must be done," Heller said. "But rather than using this call for action as a tool to bypass Congress, I hope that the president will join my colleagues and me to push for policies that will make growing jobs easier and more affordable."
Said Republican Rep. Joe Heck: "The Republican-led House also has an aggressive legislative agenda for 2014." But "none of it will get accomplished if everyone talks past one another trying to score political points."
Democratic Rep. Dina Titus said Obama's actions were understandable with Congress unable to get much done on its own in recent years.
"I support separation of powers, and I don't want to see Congress lose power to the executive branch, but I understand his frustration if Congress isn't going to act and everything is stalemated," Titus said. "He has certain power, and he should use it."
Obama touched on issues of concern to Nevada, calling for Congress to pass immigration reform, to extend unemployment benefits that have expired and to invest more in solar energy.
Titus said she was satisfied with Obama's emphasis on immigration reform, in which he noted the Senate already has acted.
"He's made his position very clear," she said, adding any further detail would have dragged out the presentation.
It didn't sound that way to immigration activists back in Las Vegas, who said Obama was not as forceful on the topic as he was in his State of the Union speech last year
Astrid Silva, an organizer with the Progressive Leadership Alliance of Nevada, said Obama's call for reform "would have been even stronger if he said he was going to to use his pen and phone to stop deporting immigrants."
Democratic Rep. Steven Horsford said he was encouraged by Obama's focus on raising the minimum wage, growing the economy and putting people back to work.
"Those are all the key points that are around providing economic mobility for all Americans, not just for those top one-percenters," Horsford said.