Nevada Democrats rally, emphasize restore 'American Dream'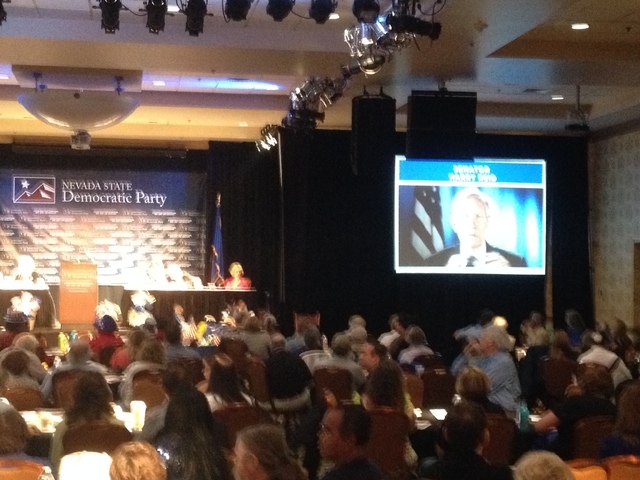 RENO — "A fair shot for everyone, not just the wealthy" was the theme at the Nevada Democratic Convention on Saturday at Circus Circus Reno.
Candidates for public office this year rallied an already energetic crowd of about 250 Democrats. Multiple speakers appeared in person and via video.
The convention began with a video message from U.S. Sen. Harry Reid, who welcomed delegates and praised various Democratic candidates. The Senate majority leader from Nevada said it is vital that the party expand its majority in the state Senate.
The keynote speaker, U.S. Sen. Amy Klobuchar of Minnesota, then spoke.
"It is time to tell Speaker Boehner and the Republicans in the House that it is time to clean out the 'deep freeze' in Washington," said Klobuchar, referring to House Republican leader Rep. John Boehner.
She said Congress faces no bigger challenge than to restore the "American Dream" and touched on the importance of renewable energy and the potential that Nevada has to harvest solar energy and lead the way in alternative energy.
Legislation to raise the minimum wage to $10.10 per hour and to extend federal unemployment insurance was discussed during the convention, as were same-sex marriage equality and immigration reform. Some of Nevada's hot-button issues, such as medical marijuana and the proposed business margins tax for education, were not.
The convention comes just days after Republican Gov. Brian Sandoval kicked off his re-election campaign with a barbecue luncheon at Rancho San Rafael Regional Park in Reno. Sandoval's Democratic challenger, Bob Goodman, who was absent from the convention and received fewer votes than the "None Of These Candidates" option in the primary election, is not being brushed off by the governor as a candidate who doesn't stand a chance in November.
"There's a lot of work to do, and I'm not taking anything for granted," said Sandoval. "I'm going to work hard in the summer and into the fall to seek re-election and gain the confidence of the voters, but I'm also going to help up and down the ticket. I'm going to help the constitutional candidates, and I'm going to help the legislative candidates. So, we have a lot to do in terms of getting the vote out and getting people registered."
Contact Capital Bureau reporter Whip Villarreal at wvillarreal@reviewjournal.com or 775-687-3901. Find him on Twitter: @WhipVillarreal.