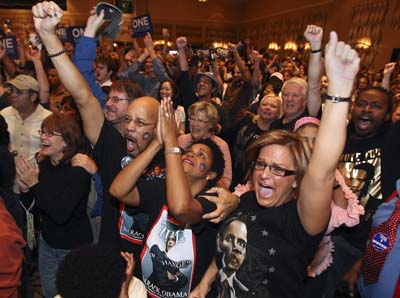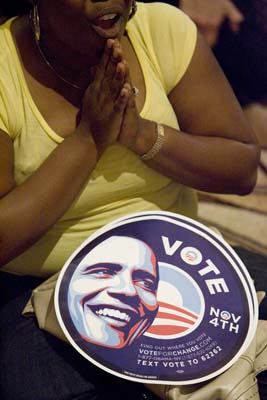 A Democratic tidal wave swept over Nevada on Tuesday, carrying Democrats to Congress, the statehouse and the Clark County Commission in the course of giving a majority of the state's votes to a Democratic presidential candidate for the first time since 1964.
Democratic presidential nominee Barack Obama carried by more than 120,000 votes a state that President Bush won by 20,000 votes four years ago, taking 56 percent of the vote to Republican John McCain's 42 percent on the strength of a grass-roots organization of unprecedented scope, with most precincts reporting late Tuesday.
Three-term Rep. Jon Porter, R-Nev., was ousted by his Democratic challenger, state Sen. Dina Titus, in the suburban 3rd Congressional District, overpowered by the Democratic voter registration trend and the Obama campaign's operation.
Rep. Dean Heller, R-Nev., managed to hang on in the rural and Northern Nevada 2nd Congressional District. But Washoe County, once reliably Republican, turned blue this year, throwing its votes to Obama and Heller's Democratic challenger, Jill Derby.
Democrats took control of the state Senate for the first time since 1991 as two Clark County Republican incumbents, Bob Beers and Joe Heck, succumbed to first-time candidates whose party boosted them with a massive and largely negative independent advertising campaign.
In the Democrat-controlled Assembly, the party lost one seat and picked up two, giving Speaker Barbara Buckley a two-thirds majority in the lower house.
With the gain of two open seats formerly held by Republicans, Democrats will hold every seat on the seven-member Clark County Commission.
In the ballroom at the Rio where about 1,500 local Democrats were packed to watch returns come in, a roar began to build and roll through the crowd at 7:59 p.m. Tuesday night.
The network prognosticators had given Obama 284 electoral votes, 14 more than he needed to claim the White House. The chant went up: "Yes we can! Yes we can!"
Ear-splitting screams, cheers and whistles followed and continued for nearly 10 minutes, quieting only for a few seconds as the crowd listened to TV announcers project Obama as the 44th U.S. president.
The Democrats cried, made cell-phone calls and threw their arms in the air as Stevie Wonder's "Signed, Sealed, Delivered" played over the PA.
Clara Thomas, 64, stood with her daughter, Edina Flaathen, her son-in-law, William Flaathen, and her two-month-old granddaughter, Ayden Flaathen.
"When she's older, we'll tell her she was there while history was being made," Thomas said. "We'll tell her everyone was so energized, it just gave us all goose bumps every time those numbers went up on the screen. People are so electrified."
Thomas, a New York native who moved to Las Vegas 26 years ago, said she never thought she'd see a black U.S. president.
"My nation has finally become one nation under God," Thomas said. "Our country has grown. We can all embrace each other. I believe Martin Luther King Jr.'s dream will come true. I can see it now."
At the GOP party at the Palazzo, demoralized Republicans milled about in the hip but cramped environs of the Sportsbook Bar and Grill, formerly the 40/40 Club owned by rapper Jay-Z.
As McCain began his concession speech, the audio from the giant televisions had been turned off in favor of music. So while McCain, clearly emotional, thanked his supporters and admitted he'd lost, the rock band Switchfoot's "This Is Your Life" played.
"This is your life," go the lyrics. "Are you where you want to be?" About halfway through McCain's speech, the music went off and the party's standard-bearer could be heard.
Dan Hickey, wearing a Veterans for McCain baseball cap, noted the subdued atmosphere.
"This is like a wake," the retired Air Force man said. "The comments that we hear are all negative. What I tell people is, the magic of America is we get to choose. People can choose to put a .45 to their head — and maybe America has done that."
Nevadans voted in droves. Turnout in Clark County was nearly 80 percent of active registered voters, with about 650,000 ballots cast. Statewide, nearly 1 million Nevadans weighed in on the historic contest.
With more than half the turnout in the form of early votes, few polling places reported lines over the course of the day, and the election's mechanics were largely smooth.
McCain and Obama had fought over Nevada as if the state could have been a deciding factor in the presidential election. But in the end, it was an afterthought to a landslide.
The presidential election had already been decided and McCain was preparing to concede when news organizations began calling Nevada's five electoral votes for Obama around 8:20 p.m.
But historians may look back on 2008 as the year Nevada, and the West, hit a political turning point, analysts said. The other Western swing states, New Mexico and Colorado, also went for Obama, while Montana and Arizona were relatively close, considering the last is McCain's home state.
Republicans were blown out of the water in Nevada by superior organization that they didn't have the resources, or seemingly the will, to match, said David Damore, a political scientist at the University of Nevada, Las Vegas.
McCain's campaign was so weak in the state that it could probably be blamed for the losses further down the ticket, while the Democrats put together an effort like none the state had seen before, an infrastructure that stands to keep the party's prospects strong going forward.
"Losing by 100,000-plus votes in a state your party carried in the last election is incredible," Damore said. "It's just amazing how much the McCain campaign blew off the West. It hurt the Republicans all the way down the ticket. And then the Democrats finally did what they had to do here."
Damore noted that the Democrats' two newly minted state senators, Allison Copening, who defeated Beers easily, and Shirley Breeden, who pulled out a squeaker against Heck, were unimpressive candidates who largely hid from public scrutiny, but the partisan trend put them over the top.
"That's impressive, considering the candidates they ran and the tone of the campaign," he said.
Democrat Richard Bryan, a former Nevada governor and U.S. senator, called it a "historic night for Nevada."
"The Obama campaign ground game was remarkable and efficient. I never saw anything like it," Bryan said. "The Obama people got so many new people energized. We have so many more people involved now."
At Del Sol High School in Henderson, friends Tamira Delacruz, 35, and Danielle Hurd, 32, went together to cast votes for Obama mid-morning. Delacruz, who is black and works for an online retailer, was voting for the first time in her life. Hurd, who is white and works in an off-Strip casino, is a registered Republican who crossed party lines.
"I listened to both sides very carefully. I went to rallies for both candidates," Delacruz said. "I think I made a good decision. I'm just really proud right now."
Hurd, a Henderson native, said her vote was "about getting our economy back on track." Obama, she said, "is right. We need a change. This is going to take eight years to fix."
Review-Journal writers Alan Choate, Alan Maimon, Jennifer Robison and Howard Stutz contributed to this report. Contact reporter Molly Ball at mball@reviewjournal.com or 702-387-2919.
ON THE WEB Las Vegas Democrats Celebrate Las Vegas GOP Election Night Las Vegas Democrats Celebrate at the Rio Nevada GOP election night party