Nevada Department of Corrections Director Greg Cox quits
September 14, 2015 - 8:30 pm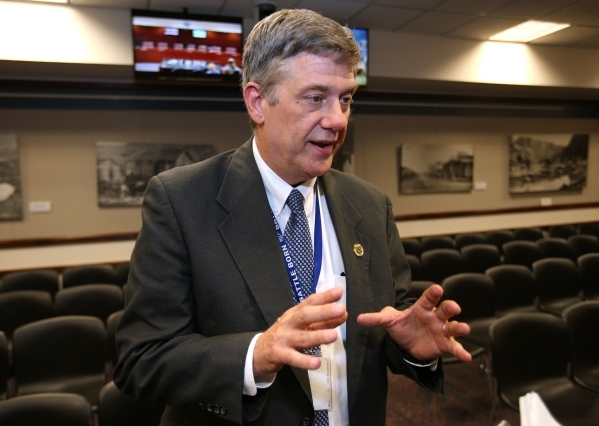 Embattled Nevada Department of Corrections Director Greg Cox resigned abruptly Monday under unknown circumstances.
Gov. Brian Sandoval said in a statement he accepted Cox's resignation and appointed E.K. McDaniel to serve as interim director of the department, which has come under scrutiny for use-of-force issues leading to inmate injuries and one prisoner fatality.
"I would like to thank Greg for his service to our state and I appreciate his hard work serving the people of Nevada," Sandoval said.
No reason was given for the Cox's resignation, but John Witherow, head of the NV Cure prison reform organization, has a laundry list of problems with the way the department treats inmates.
"I don't know why he resigned, but I suspect it was his inability to control his subordinates," he said.
NV Cure had met with Cox to discuss retaliation against prisoners who file formal grievances against the department. Witherow said Cox told him he would not tolerate that kind of treatment.
"The retaliation did not, in fact, stop. It increased," Witherow said.
Cox's resignation follows months of high-profile conflicts at Nevada prisons, beginning with a fatal inmate shooting in November at High Desert State Prison, just outside of Las Vegas, that wasn't revealed until four months later when the Review-Journal discovered the Clark County coroner's office had ruled it a homicide.
Inmate Carlos Manuel Perez, 28, died Nov. 12, 2014. A second inmate, Andrew Arevalo, was injured.
More recently, seven inmates were injured in August at Warm Springs Correctional Center in Carson City when a fight broke out during dinner and guards opened fire with rubber pellets. One inmate who was not identified was flown to a Reno hospital, though details of his injuries remain undisclosed.
In July, three inmates suffered minor injuries when guards fired rounds to break up a fight at Lovelock Correctional Center. One inmate at Ely State Prison was taken to a hospital in Las Vegas in April after he was shot by a guard during a fight. Eight other inmates were injured.
Cox's resignation came the night before he was expected to present the findings from a study on the department's use of force at Tuesday's Board of State Prison Commissioners in Carson City. The prison board, comprised of the governor, Attorney General Adam Laxalt and Secretary of State Barbara Cegavske, requested the study at the last meeting after Perez's death led to controversy.
On Monday, an unnamed spokesman for the department told the Review-Journal "there is no final report as of yet" in the study conducted by the Association of State Correctional Administrators.
Staffing at Nevada prisons is a chronic problem, and lawmakers this year approved about $7 million to hire an additional 100 correctional officers. Lawmakers also updated a shift-relief formula used to ensure there is sufficient staff to cover vacations and other absences. Nevada's formula has been in place since 1979.
Sandoval thanked McDaniel in his statement.
"As we move forward, E.K. will help provide a smooth transition while we work to find new leadership for the Department," Sandoval said. "I am grateful that he stepped up during this critical time and would like to thank all of the dedicated men and women of the department for their continued commitment to service."
McDaniel has worked for the department for more than 20 years. His work in Nevada began as the warden of the Ely State Prison in 1993. He remained in that role until 2011, when he was promoted to deputy director of operations for the department. In that capacity, McDaniel supervised all state facilities, oversaw training and helped manage the department's legislative agenda.
Prior to working in Nevada, McDaniel was a correctional officer for the Oklahoma Department of Corrections in 1975. He worked his way up to deputy warden of the Oklahoma State Penitentiary.
Witherow said McDaniel has no credibility among prison activists. He said he hopes the next director focuses on improving health care standards in Nevada prisons.
Contact Wesley Juhl at wjuhl@reviewjournal.com and 702-383-0391. Follow him: @WesJuhl. Contact Sandra Chereb at schereb@reviewjournal.com or 775-687-3901. Follow her: @SandraChereb