Nevada driving card rollout: Many immigrants already have car insurance
December 29, 2013 - 7:58 pm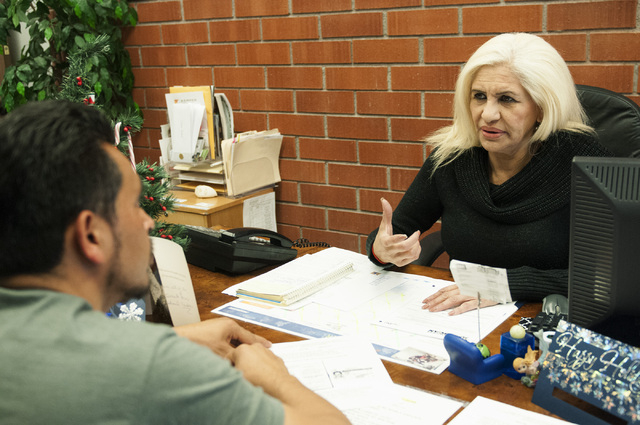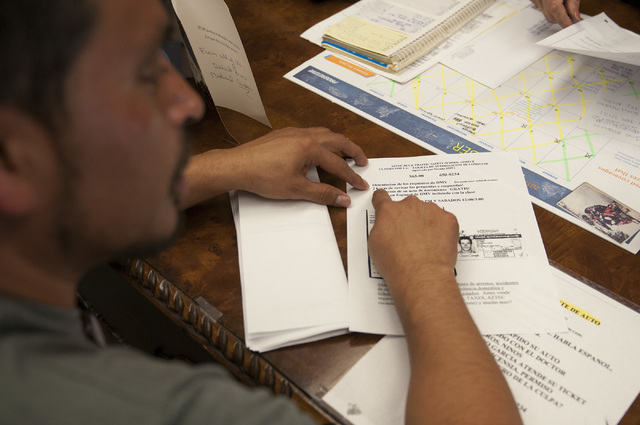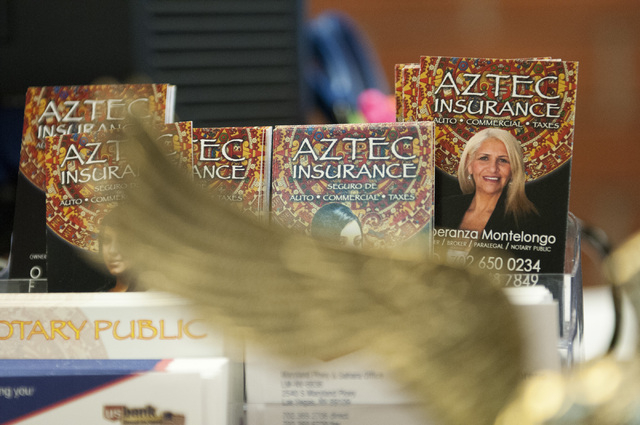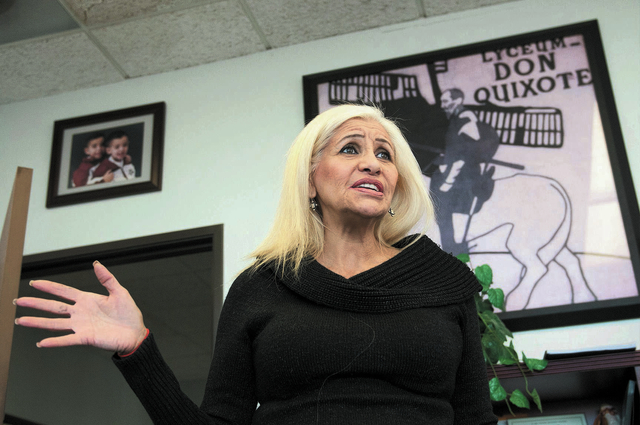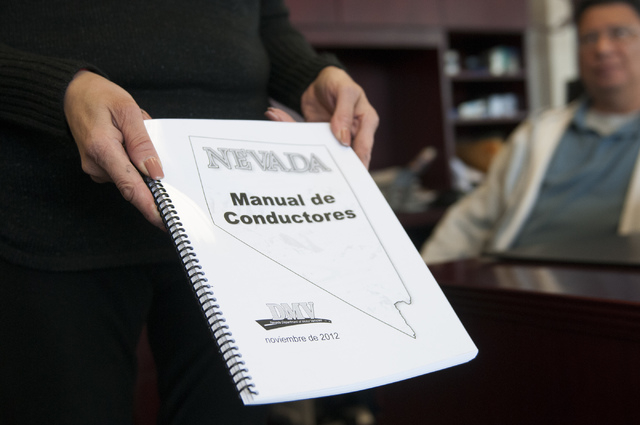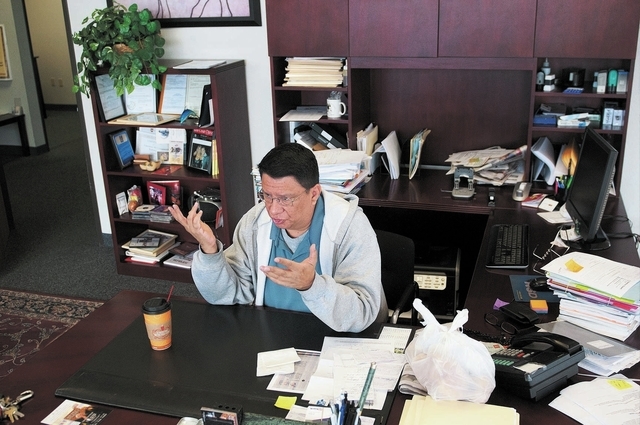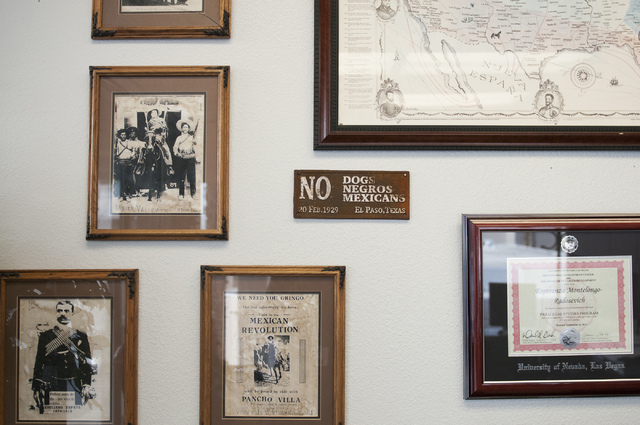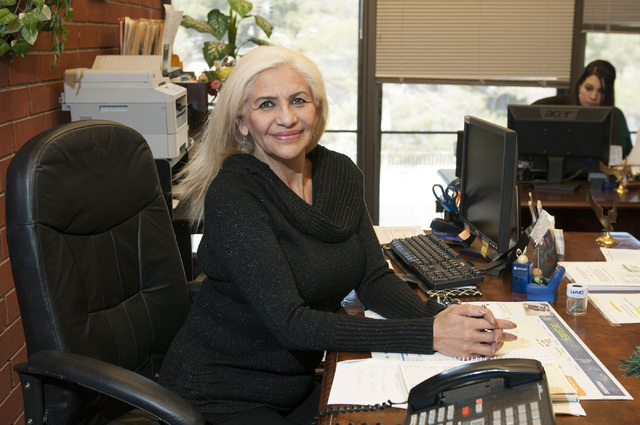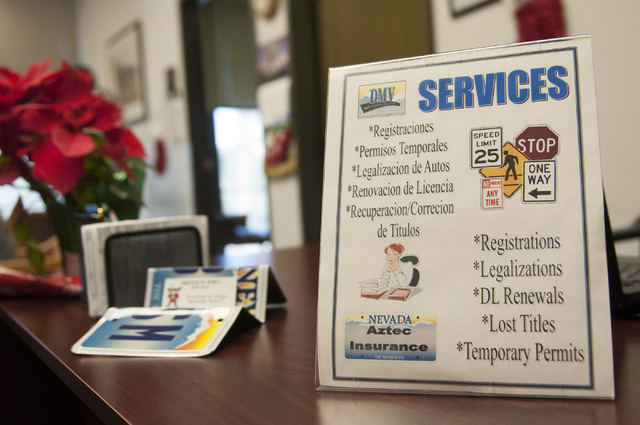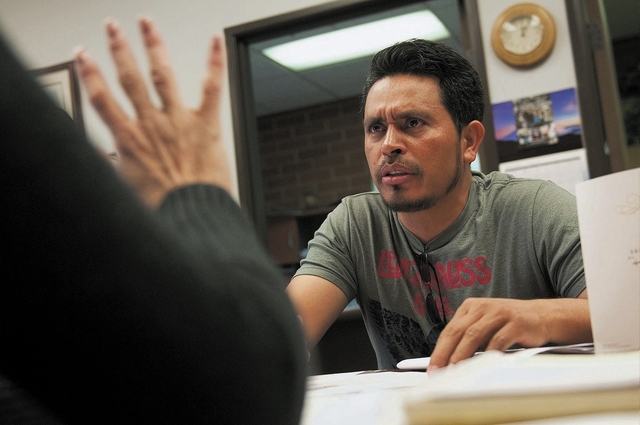 The notion that people who live in Nevada illegally don't purchase auto insurance stops at the stairwell that leads to the second floor of Aztec Insurance just east of the Strip.
It is there, inside a tiny office, that bilingual businesswoman Esperanza Monte­longo sells at least a dozen policies for liability coverage a month.
She has sold more than 5,000 policies in the past eight years for American Access, a Chicago-based insurance carrier that saw a profit in providing auto insurance to a segment of people who have been ignored by mainstream insurance companies. These immigrants have been considered a high risk because they can't produce a valid driver's license.
Asked whether from a business standpoint she's looking forward to Nevada's new driver authorization card, which will allow immigrants in the country illegally to legally drive in Nevada starting Thursday, the 58-year-old Nebraska-born woman sat back and chuckled.
"Gosh, I can only hope that there's a huge fluctuation in business. But I'm not anticipating it because most of the Mexicans here are already insured," she said, referring to Las Vegas.
"And I say Mexicans because we're talking about Mexicans. Nevada is Mexican country. They're the majority of my customers, and they're fiercely loyal."
And yet the general public is unaware that these immigrants on a regular basis purchase insurance for as little as $30 a month and as much as $200 for their older model vehicles, their 1990 sedans and pickups, their Toyota Corollas and Camrys. It's a hefty sum for only liability coverage, but it meets the state's requirements, even if they're illegally driving the roads.
It's an interesting approach to doing the right thing and yet such purchases have been upstaged by the political hype surrounding the new card and the boon that an estimated 60,000 card-carrying customers are expected to bring insurance companies across the Silver State under Senate Bill 303, Montelongo said.
The legislation was designed to make the roads safer on the premise that motorists will not only be required to purchase insurance but also to pass DMV tests demonstrating that they know how to drive and understand the rules of the road.
But Montelongo estimates that at least 80 percent of the undocumented population in Las Vegas already have insurance.
Aztec isn't the only insurance agency doing business in the valley. Nearly 50 such companies, most licensed and registered under the Nevada Department of Insurance, can be found in and around predominantly Latino neighborhoods. There's Insurance for Less down the block from the Aztec Insurance office. There's El Sol Insurance about a mile away. Estrella Insurance a little bit farther.
Many of these insurance companies here have been selling liability policies for years to immigrant motorists who want to be covered in case of an accident. In the absence of a license, the immigrants want to have proof of insurance should they be cited for a traffic infraction and wind up in court.
Alfonso Garcia, a criminal attorney, has represented hundreds of immigrants who have had to explain to Las Vegas judges why they don't have a valid driver's license. Many times that proof-of-insurance card brings leniency, not only from the traffic cop but also from the judge.
"We're talking about people who are already on the radar for being in the country illegally," he said. "The last thing they want to do is get stopped and not have proof of insurance."
Mostly, Garcia said, the judges accommodate them by reducing charges and fines for first-time offenders.
"They know that just about any of us can get cited for a traffic infraction, and so they give them a chance," he said. "Just like they'd give you or me a chance."
But because they are living in the country illegally, it can be difficult to produce a driver's license without first producing proof of legal residency. This fact has led some offenders trekking across state lines to apply for driver's licenses in the more lenient states, such as Oregon, Washington and New Mexico.
"But all that's about to change," Garcia said. "Now every­thing will be above board with the new law, and the judges are hip to that."
And yet not all insurance companies are hip to insuring those with the new cards.
Farmers Insurance Group of Companies, for example, is still taking a wait-and-see approach as to whether it will insure the new motorists, according to Robert Compan, the company's government and industry affairs manager. He figures it will take at least three years to figure out whether there's a profit in the business.
"The law doesn't mandate that we sell it," said Compan, an executive board member for the Nevada Insurance Council, an educational and public policy arm of the industry.
"But if there's a profit margin to be made, of course we're going to sell it, but how do you rate it if they don't have a driving history? How do you rate it if somebody doesn't have a credit history? If we don't know how they manage their daily lives, it could be difficult providing insurance.
"Normally, what we'll do is take a look at the driving history and predicate the rates on that, but in this case it's hard to rate somebody who doesn't exist in the system," he said.
Compounding the problem, Compan said, is that insurance is rated on a number of variables, and one of them is where the policy buyer lives, referred to as a "territorial rating."
"How does one know where they live?" he asked. "A lot of people will falsify where they live, and insurance companies have gotten pretty savvy to it by asking for the utility companies in their name."
And yet in order for the new driving cards to be viable, insurance must be maintained and renewed along with the card and vehicle registration.
So somebody's going to have to provide it. And Montelongo, whether the customer base becomes a windfall or remains the same, is happy to provide it.
"I'm happy that Nevada stepped up and did something nice for the Mexicans after 150 years," she said.
Contact reporter Tom Ragan at tragan@reviewjournal.com or 702-224-5512.