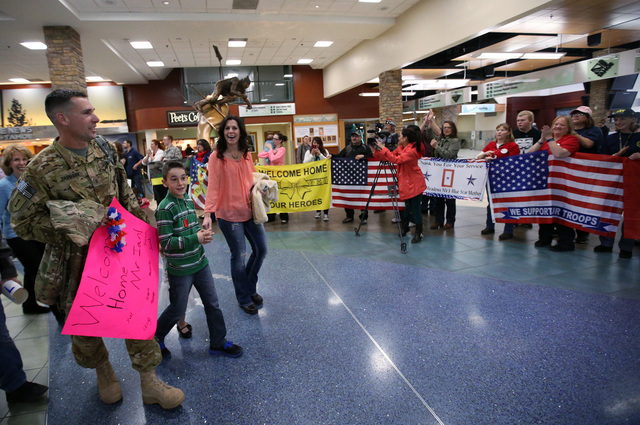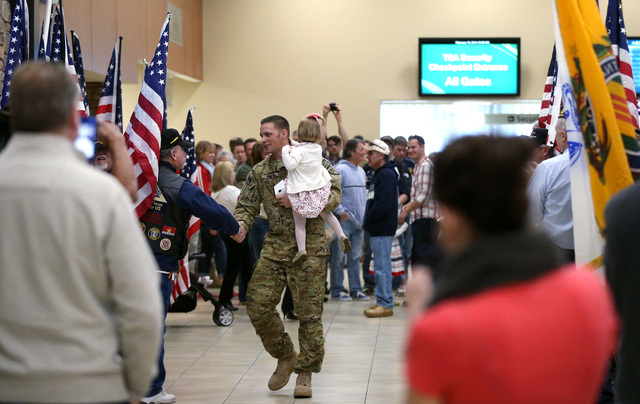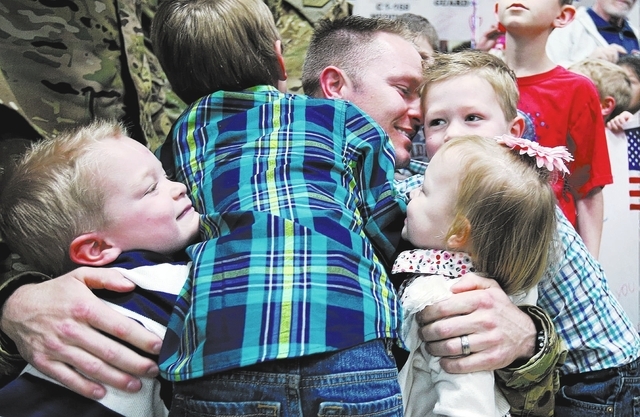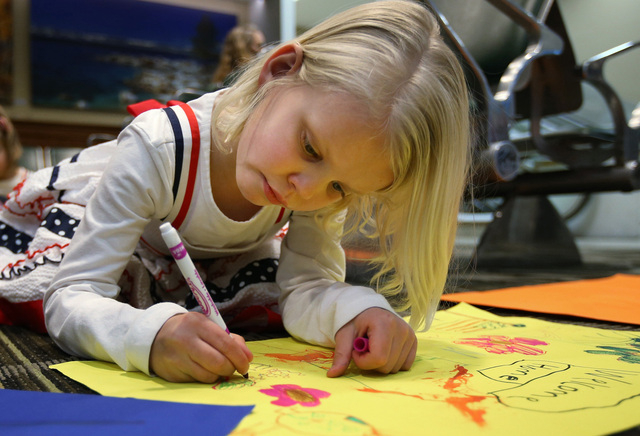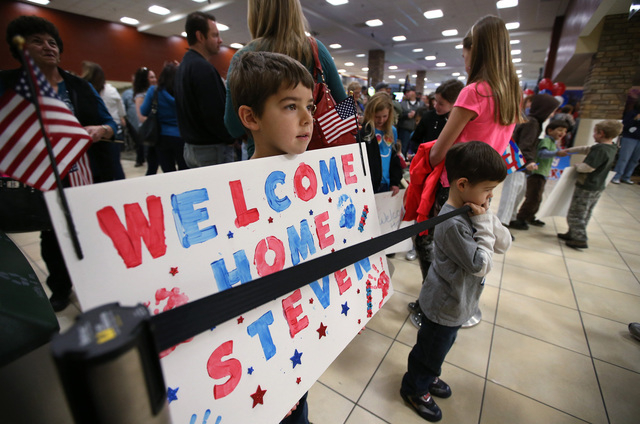 RENO – It was a joyous homecoming here Sunday when 13 members of the Nevada Army National Guard C Company returned to family, friends and comrades after a 10-month deployment in Afghanistan.
Children were held close and more than a few tears were shed as the members of the 1-168th General Support Aviation Battalion made their way down a staircase at Reno-Tahoe International Airport to a cheering throng.
Another 22 members of the battalion were to arrive late Sunday.
Chief Warrant Officer II Josh Groth and Lt. Nigel Harrison, brothers-in-law who served together on the deployment, arrived on the flight from Dallas-Fort Worth flight to a big reception of extended family.
"This is indescribable," he said of the greeting. "This is amazing. I can't believe the reception we got. This is what we were waiting for. This is why I love Northern Nevada."
Asked about his tour in Afghanistan, Groth said only: "It was an experience."
Harrison was being hugged by his children and wife, Alyssa, as he took in the scene.
About 300 people, including members of VFW Post 3819 of Reno, which adopted the unit last year, were at the airport for their return.
Jordon Summers, 12, of Roseville, Calif., drove to Reno with her family to welcome Groth and Harrison back home. She was working on a poster to greet them.
"I missed them a lot," she said. "The last time I saw them was 18 months ago."
Asked how long she had been waiting for the reunion, Alyssa Harrison said: "348 days, but no one is counting."
Nigel Harrison said words could not describe the greeting at the airport.
His son Halen, 9, could only say: "I'm so excited."
The family is planning a Disneyland trip to celebrate the reunion.
Alyssa Harrison said she only received about two days notice that her husband was on his way home.
Sherri McGee, of Minden, was anxiously waiting for her son, Sgt. Steven Minifie, after the long absence.
While she tried not to worry, McGee said she "never got used to the idea" of him serving in such a dangerous place.
Minifie and his unit spent time at a forward operating base called Farah Airfield before relocating to Camp Bastion in Helmand Province. He served as a crew chief on a Black Hawk helicopter medevac team.
McGee said she joined the Asia press corps just to get information about what was going on in Afghanistan during his deployment because news was hard to come by in the U.S.
The soldiers left Nevada on March 31, 2013, performing their medical evacuation missions in western Afghanistan. The unit's eight helicopters already have been returned to Nevada.
The unit is headquartered in Reno, and the majority of the unit's soldiers live in Northern Nevada. The unit has completed five deployment missions since Sept. 11, 2001, including three to Afghanistan.
The return of the unit was a tangible sign of the drawdown of U.S. troops in Afghanistan now under way.
Contact Capital Bureau reporter Sean Whaley at swhaley@reviewjournal.com or 775-687-3900. Follow him on Twitter @seanw801.