Nevada justices scrutinize warrantless use of cellphone GPS data
November 15, 2013 - 7:50 am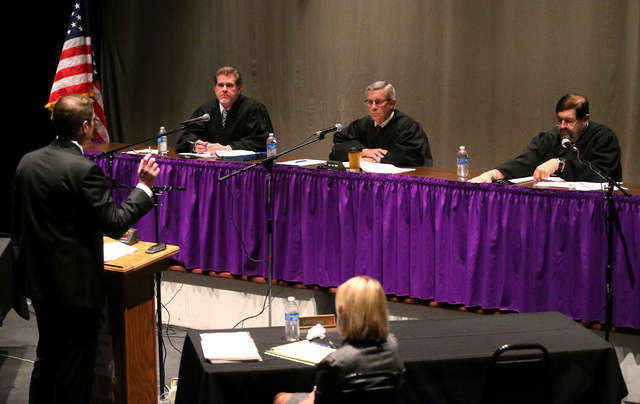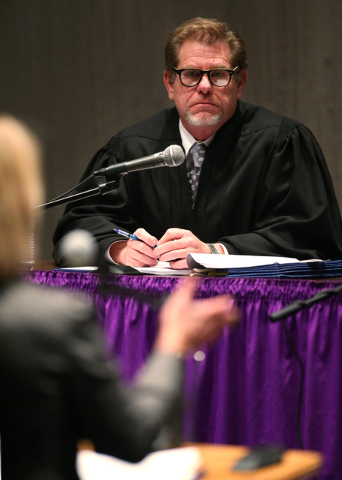 YERINGTON — A court-appointed lawyer argued Thursday that her client's constitutional rights were violated when a Douglas County sheriff's deputy did not secure a search warrant before using a man's cellphone global positioning system to locate and arrest him.
Lawyer Kristen Brown told the Nevada Supreme Court that sheriff's investigator Nadine Chrzanowski violated Michael Meisler's Fourth Amendment right against illegal searches by securing from his cellphone company the information needed to find his location so he could be arrested, without a warrant.
Meisler, a disbarred lawyer, had a previous conviction for stalking, and the investigator had secured a warrant for his arrest on charges he was stalking a former girlfriend, Janice Tebo, and her 17-year-old son. State and federal laws permit police to use cellphone information without warrants in cases where someone is lost or in imminent bodily danger.
Brown argued the text messages Meisler sent to Tebo did not rise to the level that his cellphone records could be checked without a warrant. She said his threats were "more like making her life miserable." Because Chrzanowski secured an arrest warrant, Brown said she should have asked the judge also for a search warrant for his phone records.
Justices gave no indication on their leanings in the case.
Justice Jim Hardesty said they will make a decision in the next 60 to 90 days.
The case is important because it might be the first of its kind in Nevada involving police making warrantless use of cellphones.
Similar cases are cropping up across the country, with some courts ruling police need warrants and others saying they do not.
The hearing was conducted in the Jeanne Dini Cultural Center, a converted old school in Yerington, 80 miles southeast of Carson City, before a crowd of 65 government students from the nearby Yerington High School. The Supreme Court periodically holds oral argument hearings in rural Nevada.
Thomas Gregory, the chief Douglas County deputy district attorney, argued that there were more than enough reasons for the investigator to quickly secure the cellphone information so she could arrest Meisler.
Meisler, 62, was sentenced last winter to a 4- to 12-year prison sentence for stalking Tebo. He is serving the sentence in Lovelock State Prison. He appealed that conviction, and the hearing Thursday was to present arguments in that appeal.
Gregory said Meisler's texts to Tebo did involve threats of imminent danger. They included: "Look at your drawn sagging 59-year-old face in the mirror and know that you'll look far worse sooner than later. There is no pardon fore coming" and "I come from a San Francisco Italian family, although I'm not Sicilian.
"I've met the Sicilians who were sent from LV to watch you and they are not pleasant people. You are on their radar 24/7 and you're clueless as to what events may unfold. Good luck to you and you should be hearing to North Carolina yesterday."
Three 17-year-old high school seniors who attended the hearing all said Tebo faced imminent danger and police did not need a search warrant to secure Meisler's cellphone information.
Contact Capital Bureau Chief Ed Vogel at evogel@reviewjournal.com or 775-687-3901. Follow him on Twitter at @edison vogel.