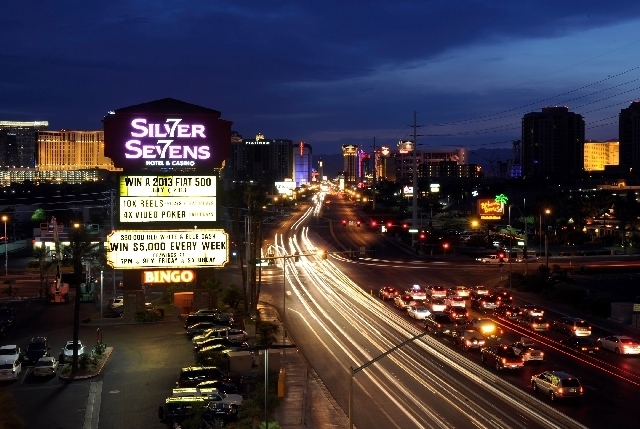 CARSON CITY — Exploring new ways to generate revenue for Nevada's roads is fine, but such a review should not be used to avoid raising fuel taxes to move forward with critical construction projects, a legis­lator said this past week.
"The gas tax is one of the few taxes that is actually paid for by the user and the proceeds go to roads," said state Sen. Tick Segerblom, D-Las Vegas. "In theory the gas tax is great."
The state Transportation Department is moving forward with a study of the VMT — or "vehicle miles traveled" — concept for increasing road improvements funds.
Better fuel mileage, hybrids and electric cars are contributing to a decline in fuel tax revenue. VMT would attempt to reverse that decline by charging motorists for the miles they drive rather than a flat tax at the pump.
But Segerblom said concerns that electric vehicles and hybrids do not pay their fair share of fuel taxes is not a major short-term concern: "I don't mind studying the concept, but it shouldn't be used as an excuse to wait 10 years to rebuild our roads."
Nevada Department of Motor Vehicles statistics suggest that alternative fuel vehicles are not yet a significant factor in the amount of fuel taxes collected. Just more than 1 percent of Nevada's nearly 2.2 million registered vehicles are hybrids (24,773) or electric (486). The Transportation Department board, which includes Gov. Brian Sandoval, was briefed on the VMT study this past week.
Sandoval said he would like the study completed in time for the 2015 Legislature to consider.
"It's too important to wait until 2017," he said after the briefing. "These are very important policy implications in terms of investment in infrastructure. I would prefer to have them consider it sooner rather than later."
A SKEPTICAL PUBLIC?
Segerblom introduced a bill in the 2013 session to raise the state's gas tax rate, now at 17.65 cents per gallon, by 2 cents per year through 2023.
The bill had a hearing but went nowhere, despite support from some business and labor groups.
Nevada motorists also pay federal and local fuel taxes at the pump. The state and federal fuel taxes have not been increased since 1992. Yet from 1990 to 2010, the annual vehicle miles traveled on Nevada roads jumped from nine billion to 22 billion, a 144 percent increase.
Instead of a statewide hike, lawmakers and Sandoval approved a bill authorizing the Clark County Commission to increase the county's fuel tax at a rate matching the growth of inflation. The commission has not yet acted on the proposal, which mirrors an indexing provision already in place in Washoe County.
Paul Enos, chief executive officer of the Nevada Trucking Association, testified in support of Segerblom's bill.
In an interview this past week, he expressed serious doubts whether a skeptical public will ever accept a vehicle miles traveled tax.
Enos said he was surprised to hear during the Transportation Board hearing that a VMT tax could be implemented without using a GPS-like tracking device in each vehicle, a requirement that has raised privacy concerns by some members of the public.
He questioned how the tax could be fairly administered without such a device.
A VMT tax would require a tremendous amount of technology, at tremendous cost with the potential for privacy violations, Enos said.
Compare that, he said, to the current gas tax, where 97 percent of every dollar collected goes to roads:
"The fuel tax is a great tax as far as having a low administrative burden and no large bureaucracy to collect it. We've been collecting the fuel tax since the 1950s. Why would we jettison it for an unproven and potentially unfair tax system?"
Even so, Enos said the VMT study, performed in cooperation with Nevada's two universities, Oregon and Washington states, will give policymakers an opportunity to get some solid facts.
"Sandoval did ask some pertinent questions that had not yet been asked at that level," Enos said. "He said we should take a look. That does not suggest support." Enos said that he supports a hike in the fuel tax as long as the money is spent wisely.
Tod Story, executive director of the ACLU of Nevada, said the organization would be opposed to the use of any type of GPS device to administer such a tax.
The only other option Story said he has heard mentioned in reference to the concept is some type of smartphone app, which carries with it privacy concerns as well.
"Asking the driving public to allow the government to know where they are at any given time and subject themselves to that type of surveillance is completely unacceptable," he said. "It still ends up being GPS, whether it be on the vehicle or carried in your pocket."
Steve Davis of Reno, who commented on an earlier Review-Journal story on the VMT tax proposal, said in a telephone interview that the idea would appear to create a disincentive for drivers to purchase more fuel-efficient vehicles: "It's counterproductive. The last thing we want to do is to encourage people to drive larger vehicles. Our smog problems are only going to get worse."
If more money is needed for roads, then raise the gas tax, Davis said. And since larger vehicles generate more wear and tear on the roads, Nevada's registration fee could be graduated to charge them more, he said.
THE REVENUE LOSS
The report to the state Transportation Board said that the combined impact of increased fuel efficiency standards and the increased number of hybrid and electric vehicles will result in about 18 percent less revenue to the highway trust fund per year by 2016.
"This will translate to about $40 million less revenue for the state of Nevada roads and highways," the report said. "The impact will continue to grow higher as the number of alternative fuel vehicles grow and increased fuel efficiency standards increase."
Revenue from the state fuel tax has dropped from a high of $200 million in 2007 to $185 million in 2012, according to the Department of Transportation's "Fact Book."
But the technology required for a VMT tax remains problematic, particularly if a GPS-type device is not installed in all vehicles.
In Oregon, the first state to authorize a VMT tax on a voluntary basis, options for tracking without GPS include using a smartphone application or a reporting device without GPS. The final option has not yet been determined.
But it was acknowledged in the report to the Nevada board that recording miles traveled outside the state remains an issue without the use of a GPS-type device.
The VMT study will include public outreach and education about future funding shortfalls and limitations of the current fuel tax; assessment and evaluation of any privacy impacts; analyses of institutional, policy, legislative, and legal aspects; and the development of economic models to assess and recommend an equitable VMT fee. The study will also include outreach to lawmakers and other stakeholder groups.
Contact Capital Bureau reporter Sean Whaley at swhaley@reviewjournal.com or 775-687-3900. Follow him on Twitter @seanw801.