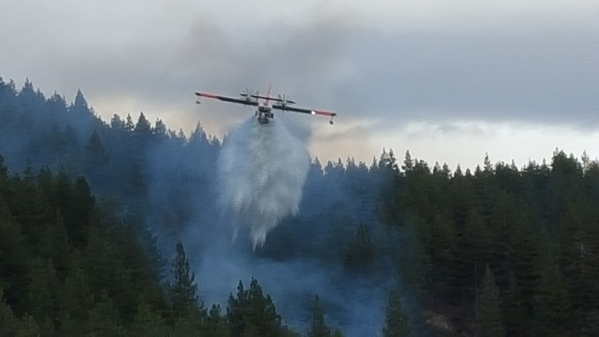 CARSON CITY — Wildland fires don't discriminate by geography, but due in part to some help from Mother Nature and just plain old luck Nevada has so far avoided the carnage seen elsewhere out West this summer.
For the season to date there have been 501 fires that have burned 42,153 acres in the Silver State, said Mike Klug with the Nevada Division of Forestry. Lightning caused 326 of the blazes while human activities accounted for the remainder.
The state saw 59,252 acres burned in 2014 and 162,841 acres burned in 2013, which was significant for Southern Nevada because of the Carpenter 1 fire. Nearly 30,000 acres of the Mount Charleston area burned in that fire in July 2013.
By comparison, nearly 1.9 million acres burned in Nevada in 1999, a record year for wildfires.
Nevada has so far been fortunate in all four years of the record drought in Western states.
Luck extends to lawmaker
State Sen. Pete Goicoechea, R-Eureka, counts himself among those with some luck, but he also credits fast fire agency response times that have kept small fires from becoming big ones.
The Diamond Fire, the most recent Nevada wildfire of note, came within 100 yards of his family's homes on his ranch in the central part of the state.
"It was a big fire," Goicoechea said. "It was burning 1,000 acres an hour for seven hours."
Then came 2 inches of rain which flooded his shop. It helped contain the blaze, but the ground is so dry the fire still is not completely out, he said. The moisture also resulted in snowfall on Diamond Peak making a black-and-white contrast.
"So we've had the fire and the flood, we're just waiting for famine," Goicoechea said with a laugh.
Located 15 miles northeast of the town of Eureka, the fire started Sept. 14 with a lightning strike. It has burned about 7,100 acres and was expected to be contained over the weekend.
Kidding aside, Goicoechea, a rancher, said most of the lightning that has hit this year came with moisture, so the worst-case dry lightning scenario did not happen like in 1999. But he also credited the state Division of Forestry and the Bureau of Land Management for a fast response when fires did start.
"Everyone is more focused," he said. "The initial attack has caught a lot of small fires before they could grow."
How dry is it?
Klug said the estimate is that one full year's worth of rain and snow has been lost over the four dry years, with this year being one of the driest on record.
"Certainly a bit of it was luck," he said in an interview last week. "The stage was set for a bad fire season. It was extremely dry and it looked like we would have a long summer."
Well-timed summer rains, both in Northern and Southern Nevada, combined with fewer lightning strikes and higher humidity, have helped get the state through with a limited amount of burned acreage so far, he said.
But the season isn't over and much of Nevada is exceptionally dry. Fire restrictions will likely remain in place for several more weeks unless rain and snow comes early. Restrictions include prohibitions on campfires or using off-road vehicles without spark arrestors.
Klug said that with the drought, wildfires can be a concern well into winter if there is inadequate moisture. A fire in Reno in January 2012 was whipped by winds and destroyed 29 homes. More than 3,000 acres burned. An earlier fire in Reno in November 2011 destroyed 32 homes and burned 2,000 acres.
Other states not so lucky
Nevada's good luck has allowed the state to lend support to its neighbors who have not been as fortunate this year.
Four Nevada Division of Forestry crews from the state's minimum-security conservation camps are working the Butte fire in the Sierra Nevada foothills in California, Klug said. Two Nevada National Guard helicopters with NDF support were on their way back from the Valley Fire in California north of San Francisco.
Earlier this summer at the first major Lake County fire, the state sent six Nevada crews to help out, Klug said. Help was also provided to Utah and Idaho this season, he said.
The Butte fire in the Sierras and the Valley Fire north of San Francisco have resulted in five deaths. As of Friday the fire in Lake County had charred 73,700 acres and was 40 percent contained. An estimated 585 homes and hundreds of other structures have burned. The fire in Amador and Calaveras counties has burned 70,760 acres. It was 60 percent contained after destroying 252 homes.
Washington, Idaho and Oregon have also been hard hit this season with three firefighters dying in a Washington blaze earlier this summer.
Nevada has also been fortunate on the injury front, with only one serious incident this year when a U.S. Forest Service firefighter suffered burns while refueling a chain saw at a tree fire at Mount Charleston, Klug said.
As to what the upcoming winter holds for the West, nothing is certain.
An El Niño weather pattern has been forecast for the region, but as a National Weather Service update on Thursday explains, it does not mean the drought is over.
"Since the 1930s, we've had six strong El Niño winters — some have been dry and some have been wet," says the Sierra edition of the forecast. "The two strongest were quite wet. The official forecast for this coming winter slightly favors above normal precipitation for the Sierra, with more precipitation in mid/late winter. With the strong El Niño in place, the risk of another dry winter is less, but not zero."
Contact Sean Whaley at swhaley@reviewjournal.com or 775-687-3900. Find him on Twitter: @seanw801