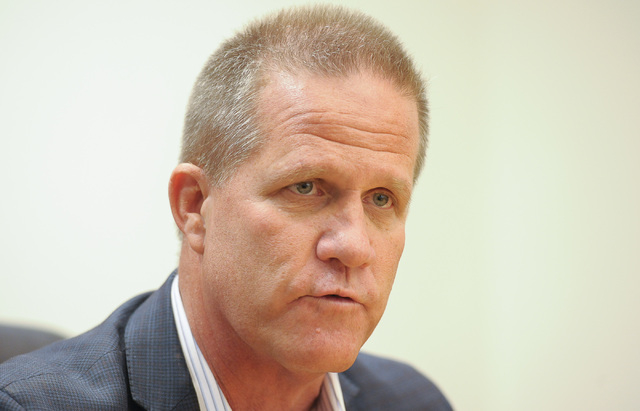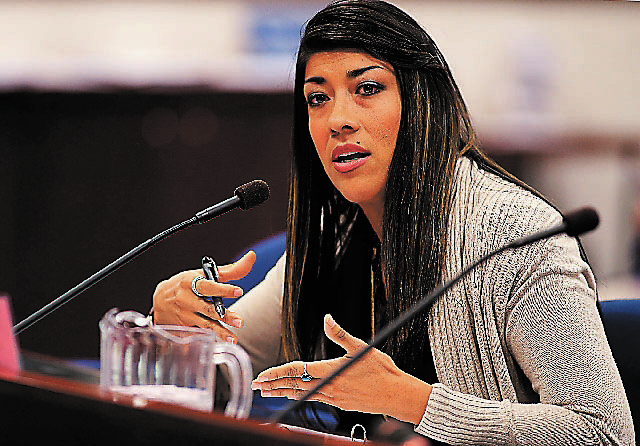 Assemblywoman Lucy Flores' hard-knock life might end up helping her political career.
That's the upshot of a poll conducted in November for the Las Vegas Democrat. It suggests she would lose the lieutenant governor's race to Republican state Sen. Mark Hutchison if the election were today: 41 percent of the vote for him, 35 percent for her. But if voters learn more about how Flores overcame a troubled upbringing, she would eke out a narrow victory over Hutchison — 46 percent to 43 percent — according to the survey by the Garin-Hart-Yang Research Group, a Democratic polling firm.
Flores, a 34-year-old, two-term assemblywoman, hasn't officially announced she's running for lieutenant governor, but leaking the poll suggests the Hispanic candidate is gearing up to run.
So what is Flores' story? This is what the pollster read to potential voters:
"Lucy grew up as one of 13 children in a low-income Hispanic family. Her mother left home when she was nine years old, and she was raised by her father. Lucy got involved with gangs and was sentenced to juvenile detention for stealing a car. She dropped out of high school, and at age 16 she became pregnant and had an abortion because she did not want to be a teenage mother like her sisters.
"Lucy decided to turn her life around, earned her GED, attended community college, earned a scholarship to the University of Southern California, and graduated from law school at UNLV."
After hearing those details, 59 percent of voters said her life story makes them more favorable toward electing her as lieutenant governor and 17 percent said it makes them less favorable, the pollster said in a memo.
Those polled described her as "strong," "determined" and "a go-getter," the pollster said.
And what about Hutchison's attributes? The 50-year-old attorney represented Nevada for free in its lawsuit against President Barack Obama's health care reform law. Given the law's recent website difficulties and growing unpopularity, that would seem to boost his chances. Not so, said the pollster.
"Not surprisingly, voters in Nevada, like voters elsewhere, are more unfavorable than favorable in their opinions of Obamacare. What is somewhat surprising, however, is the negative reaction voters have to Mark Hutchison's hardline opposition to the Affordable Care Act. Indeed, this turns out to be one of the most significant negative arguments against him we tested."
The pollster didn't release more specific details about findings on Hutchison and did not release the full poll.
Other possible areas of vulnerability for Hutchison, a conservative Mormon with six children, are his social views, according to the pollster. He doesn't favor same-sex marriage and is against abortion, whereas most Nevadans are more "socially tolerant," the pollster wrote.
What the poll did not test is what Flores' chances would be against Sue Lowden, the other Republican in the race who will face Hutchison in the GOP primary.
Lowden is a more well-known figure than either Flores or Hutchison, having served in the state Senate and after losing a high-profile U.S. Senate race in 2010. She also had a long career as a television news personality. GOP Gov. Brian Sandoval, however, has endorsed Hutchison and is expected to help his campaign.
A 2010 poll showed that only 4 percent of Nevada voters didn't know Lowden's name. According to Flores' poll, only 19 percent knew who she was and 31 percent recognized Hutchison.
WHEELER: Foes twisted words
Assemblyman Jim Wheeler has posted a new video on the standwithjim.com website calling for contributions to help him beat political foes, lobbyists and the media that allegedly twisted his comments about how he would support slavery if his constituents wanted that.
Wheeler, R-Gardnerville, became the subject of national rage last month when the news media reported how he told a Republican group in August that he would hold his nose but back voters if they wanted to re-establish slavery. In the video, Wheeler says that was a "stupid" remark and an "extreme example" of how he would support his voters.
But in the video he does not rescind his slavery remark. Wheeler took an oath when he was sworn into office to support and defend the state and U.S. constitutions. To gain admittance to the union, Nevada was required to put an anti-slavery provision into its constitution.
Wheeler did not respond to an email last week asking why he does not simply rescind his slavery comment.
Former state employee and Gov. Jim Gibbons' Chief of Staff Robin Reedy has announced she will face Wheeler in next year's Republican primary.
On the cutting edge
If Nevada is selected as one of six sites to test the commercial application of drones for the FAA, it won't be the first time the state has been on the cutting edge of new technology.
Nevada became the first state in the nation to legalize the use of driverless vehicles with legislation passed in 2011.
Gov. Brian Sandoval, who has been advocating for Nevada's unmanned aerial vehicle testing application, was the nation's first governor to take a ride in one of the self-driving vehicles, a modified Toyota Prius being developed by Google.
Sandoval took the ride in the capital in 2011 after the legislation took effect.
Google in 2012 became the first company to receive a license from the Nevada Department of Motor Vehicles to test the autonomous vehicles. It was believed to be the first such license issued in the country.
Sandoval said last week that Nevada is again poised to help lead the way in new technology as the state moves to diversify its economy.
The Federal Aviation Administration is expected to announce its drone selections by Dec. 31. There are 25 finalists for the six sites.
After the state Board of Examiners on Tuesday approved $1.46 million in funding to ramp up Nevada's drone testing program should the FAA select Nevada, Sandoval talked about the opportunities for the state in these new technology frontiers.
Sandoval on Thursday also visited a drone development and manufacturing firm in Reno, Drone America, to see the technology firsthand.
"Nevada is at the forefront of this," Sandoval said. "If somebody would have told me you would hold a computer in the palm of your hand 15 years ago, none of us would have believed it.
"The fact that Nevada is on the ground floor of the self-driving cars, as well as UAVs, I think is an exciting opportunity for our state," he said.
Contact reporter Laura Myers at lmyers@reviewjournal.com or 702-387-2919. Follow her on Twitter @lmyerslvrj. Contact Capital Bureau Chief Ed Vogel at evogel@reviewjournal.com or 775-687-3901. Follow him on Twitter @edison vogel. Contact Capital Bureau reporter Sean Whaley at swhaley@reviewjournal.com or 775-687-3900. Follow him on Twitter @seanw801.