Nevada power broker Whittemore now a pariah
February 26, 2012 - 1:59 am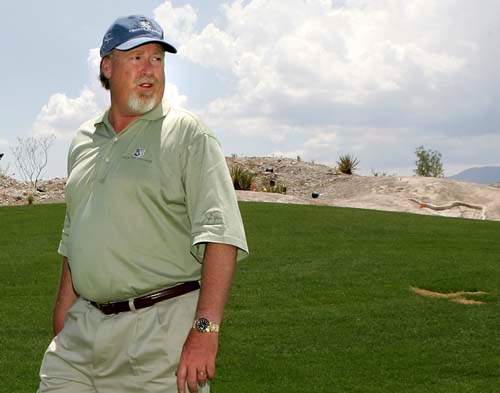 CARSON CITY — Throughout the 1990s and early 2000s, people would stare when the big burly guy who resembled home run slugger Mark McGwire walked into the Legislative Building, took his place by the lobbyist table and displayed a broad grin.
Harvey Whittemore seldom ventured into legislative hearing rooms. He didn't need to stoop that low. Whittemore, now 55, was the supreme legislative lobbyist.
He represented the gaming, tobacco and liquor industries and was managing partner of the Reno office of Lionel Sawyer & Collins, the state's premier law firm. He could get legislators to pass the legislation his clients wanted and then help the same legislators finance their next political campaigns.
Sometimes called the 64th legislator, Whittemore, at the request of legislative leaders, even wrote much of the bill in 1991 that led to the imposition of the state's first business tax.
But like McGwire, whose grandeur faded once it became known he used steroids, Whittemore today is a pariah. A grand jury is looking into allegations that he violated federal campaign contribution law while channeling money to some high-profile officials, including Harry Reid, the U.S. Senate majority leader from Nevada.
Whittemore has not been found guilty of anything, and the campaign finance violations he may have committed could lead only to civil fines assessed by the Federal Election Commission.
But people who were his friends no longer want to be mentioned in the same sentence with him. Almost all of a dozen former legislators and lobbyists called by the Las Vegas Review-Journal refused even to talk about him on the record.
That happens when the FBI raids your businesses as it has done with Whittemore, and business partners hurl multimillion-dollar lawsuits at each other.
WHITTEMORE THE MAN
Born on Aug. 17, 1956, in Carson City, Whittemore grew up in places like Sparks, Yerington, Las Vegas and Tempe, Ariz.
His father was a school counselor. He graduated from the University of Nevada, Reno, and then from Arizona State University Law School.
He met his wife, Annette, the daughter of a rural Nevada doctor, at UNR.
They have gained acclaim for their good works on behalf of their five children. They have heavily supported Western Nevada College in Carson City, where their son, D.J., coaches the baseball team, one that frequently is ranked as a national power.
They also have funded the Whittemore Peterson Institute in Reno, a research institute that looks into the causes of chronic fatigue syndrome, which has afflicted their now-adult daughter, Andrea, since age 11.
One Whittemore friend said he had another trait. He always was giving money to friends and fellow lobbyists. If he heard a sad story, then he would be generous with his help.
LOBBYIST WITH POWER
As a 26-year-old lawyer in 1983, Whittemore became a lobbyist at the request of his boss, former Gov. Grant Sawyer.
"Grant asked me to try," Whittemore said in a profile . "He gave me a couple of assignments. I never felt I had a natural affinity."
His move into lobbying also was helped by his friendship with longtime Assembly Speaker Joe Dini, D-Yerington, who knew his family and took him under his wing.
"I knew his dad," Dini said. "Harvey lived in Yerington when he was 4. When he started as a lobbyist, we worked together. I remember we had a hard time with one bill and Harvey came up with an amendment. He wrote it on a napkin at Jack's Bar. It is really tragic he is in this mess."
When large glass barriers were placed between legislators and the public seating gallery in the Legislative Building in 1997, they were dubbed "Harvey's walls" by the press because of his tendency to lean over and talk with lawmakers during floor voting sessions. Most legislators, however, defended Whittemore and said the 7-foot barrier was meant to keep down the crowd noise.
"He could keep in mind what 20 or 30 legislators wanted and find a way for them to get their bills passed," recalled Las Vegas City Councilman Bob Coffin, a former legislator. "He could do it better than calculus. He had a photographic mind."
For example, within a couple of days in the 1999 session, Whittemore lobbied the Senate Taxation Committee to kill Sen. Joe Neal's bill to impose a 2 percentage point increase in the gaming tax, persuaded the Senate to back a bill that gave then-Mirage Resorts Chairman Steve Wynn tax breaks on his $300 million art collection, and killed a bill to allow Clark County to impose stricter anti-smoking regulations.
The power exerted by Whittemore that session caused Neal to speak of how a "shadow government" of the gaming industry and lobbyists controlled what happened in Carson City.
"If he is associated with something, then I'm suspicious," Neal said at the time. "I look for the Harvey Whittemore loophole. A lot of people don't know if he is a lobbyist or a legislator."
Whittemore could walk directly into the private offices of legislative leaders of both parties. Then during the evenings he would make the points of his clients over dinner and drinks at the pricey Adele's restaurant, where lawmakers often gathered. At the end of the sessions, he would carry messages from one house of the Legislature to the other. Legislators trusted him to carry instructions on proposed deals needed before they could adjourn.
Reporters did question him about why he exerted so much power over legislators. Whittemore's response was he just wanted to help them.
"Lobbyists aren't evil," said Whittemore in a past interview with the Las Vegas Review-Journal. "Some of the people who say I am the bogeyman do that because it is politically expedient. At the end of the day, let people decide whether the legislation we supported was for the good of the citizens."
But Whittemore didn't win all his battles. In 1999 he ran afoul of Assemblywoman Barbara Buckley, D-Las Vegas, when he sought to use his juice to end legal obstacles that prevented him and a friend, Las Vegas liquor distributor Larry Ruvo, from building a private pier on property they owned at Lake Tahoe. Neighbors protested construction of the pier.
The state Senate passed the bill unanimously, but Buckley refused to hear it in her Assembly Commerce and Labor Committee.
"Piergate," Whittemore admitted later, was a mistake.
"I made a cardinal error," he said. "As a lawyer, I probably had a fool for a client. The blame falls on me."
COYOTE SPRINGS
Although he continued to register as a lobbyist, Whittemore seldom was present in the Legislative Building after the 2005 session.
He had another dream to bring to reality. He acquired land at Coyote Springs, 60 miles north of Las Vegas, and planned to create a 160,000-home golfing community in the high desert.
As the economy boomed, and Las Vegas Valley was running out of inexpensive land for new homes to be built, Whittemore looked like a genius. Soon Coyote Springs would be bigger than Reno, some predicted.
During a break in a Nevada Division of Water Resources' hearing on Coyote Springs several years ago, Whittemore was asked what he would be doing when he grew old.
He said he could see himself as an 80-year-old man sitting under the hot sun in a cart on one of Coyote Springs' golf courses.
He would not be golfing, just looking out contentedly over the burgeoning city that he created.
But the great recession rolled into Nevada in 2007. Whittemore sought help from partners, and development at Coyote Springs halted.
In January, partners Thomas Seeno, Albert Seeno Jr. and Albert Seeno III filed a $40 million lawsuit that accused Whittemore of embezzling and mis­appropriating $40 million from Wingfield Nevada, the primary Coyote Springs company. They accused him of using funds for private jets, entertainment and a lavish lifestyle.
Days later, Whittemore filed a $60 million countersuit against the Seenos, alleging they defrauded him. He also said his life has been threatened.
Then in February, the FBI raided Wingfield Nevada and businesses associated with Whittemore. Sources said they were looking into whether Whittemore's company illegally reimbursed employees who made contributions to candidates favored by Whittemore.
Reid, Sen. Dean Heller, R-Nev., and Rep. Shelley Berkley, D-Nev., quickly donated to charities more than $100,000 in contributions made to them by Whittemore and his associates.
A Federal Election Commission spokeswoman said Thursday that the allegation Whittemore faces would be a civil in­fraction that results in fines, not a criminal penalty and jail time. In the 2008 election campaign only, the commission received 2,000 complaints of the same type of violation across the nation.
WEATHERING THE STORM
Whittemore left Lionel Sawyer & Collins during the Coyote Springs years. Today he operates a tiny one-lawyer office in Reno.
He might have been bucked to the ground, but those who know him say he will brush himself off and ride again someday.
"Give him a few years and he will be a millionaire again," Coffin said. "It is the economy that did him in. He borrowed to the hilt. It was a gamble. He made the mistake of so many Americans but at a much grander scale."
One longtime friend, who requested anonymity, said he has seen Whittemore recently and thinks he is holding up well.
"I told him to keep his chin up," the friend said. "He wasn't the only one who thought the hot economy would last forever. He isn't the first accused of violating campaign contribution laws."
But the friend lamented, "Now that he is in need, people are bailing on him."
Contact Capital Bureau Chief Ed Vogel at evogel@reviewjournal.com or 775-687-3901.