Nevada power brokers flex muscles
November 21, 2010 - 12:00 am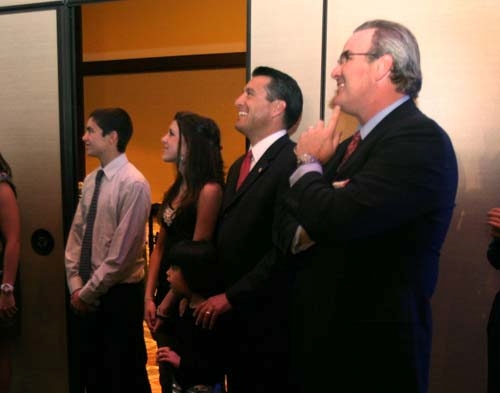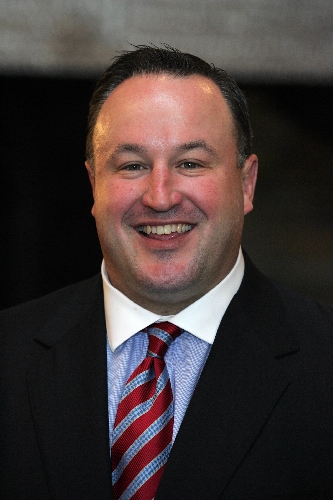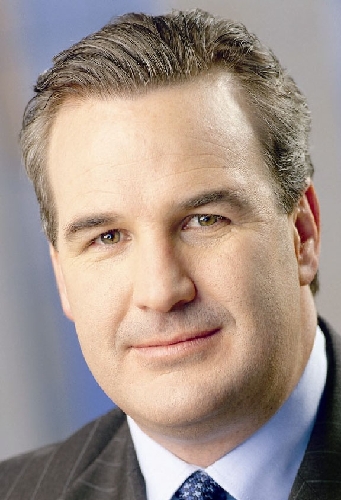 As Gov.-elect Brian Sandoval celebrated his election night victory onstage at Red Rock Resort , his two key campaign advisers, waiting in the wings, received congratulations, too.
Later, at the Aria on the Strip, U.S. Sen. Harry Reid basked in applause while two veteran political operatives vital to his re-election gave behind-the-scenes interviews about how he had won a fifth term.
The men backing the candidates — Pete Ernaut and Greg Ferraro for Sandoval, Billy Vassiliadis and Sig Rogich for Reid — are among Nevada's top power brokers who for years have played important roles in electing the state's leaders and in shaping public policy.
A Republican and successful ad man, Rogich has played on the national political stage as well, working on the campaigns of former presidents Ronald Reagan and George H.W. Bush.
Now, the men are turning their attention back to their main jobs. In the case of Ferraro, Ernaut and Vassiliadis, that is lobbying on behalf of the state's top industries: gaming, tourism, mining, construction and energy.
The dual roles of political consultant and legislative lobbyist, which could lead to conflicts of interest and ethical minefields, are not unusual in Nevada's close political community. Here, kingmakers have a tradition of backing and sometimes recruiting candidates who might favor their interests, especially for a part-time citizen Legislature that often relies on lobbyists to help write the bills that become law and negotiate the final deals.
"Whether it's good or bad is in the eye of the beholder," said Eric Herzik, political science professor at the University of Nevada, Reno. "It largely reflects that Nevada's a small state. The core power brokers in this state are, yes, very self interested, but they're also usually very pragmatic."
On the positive side, Herzik said, "instead of knock down, drag out fights among powerful groups, it's often the case that the groups get together and figure out a common ground."
"Now the bad side of that is, are they working for their interests or for the interests of Nevadans?" he added. "Both sides will say, 'We're working for Nevadans because what's good for gaming is good for Nevada, and what's good for mining is good for Nevada.' "
Herzik pointed to one recent example of powerful interests — the casino industry and the Nevada State Education Association teachers union — working behind closed doors during the 2009 session to negotiate legislation that raised more than $200 million in revenue without increasing gaming taxes.
Instead, lawmakers raised room taxes by 3 percentage points in Reno and Las Vegas after the casinos and teachers delivered more than 130,000 signatures from voters supporting the tax increase with the revenues going into the general fund initially and then in later years going directly toward education.
Then-Gov. Jim Gibbons, a Republican who lost re-election this year, had vowed not to raise taxes and vetoed other tax bills, but supported the higher room tax given the public support, he said.
At the same time, the power brokers don't always win. The best example came in 2003, when 15 conservative members of the Assembly blocked a proposal to tax gross business receipts, a levy the gaming industry badly wanted to broaden the tax base and ease the burden on casinos.
The tax proposal came from then-Gov. Kenny Guinn, the late Republican heavily backed by the gaming industry. His campaign advisers included Rogich, who had urged him to run, Ferraro, Ernaut and Vassiliadis, CEO of R&R Partners, the influential company they all have in common.
Ernaut, who ran Guinn's 1998 gubernatorial campaign and served as his first chief of staff, has been a principal in R&R's Reno office since the mid-2000s. Ferraro left the company to start The Ferraro Group. And Rogich founded the business before selling out to Vassiliadis in the 1980s.
During the gross receipts fight that led to two special sessions, one rumor said Ernaut would get a $1 million bonus if he could get the tax passed, a tale he called a "ridiculous urban legend" and illegal since lobbyists aren't allowed to accept bonuses for getting specific legislation approved.
"It's a good story," Ernaut said with a laugh, dismissing it as myth surrounding the power brokers.
Ernaut, 46, a former assemblyman from a Basque family in Elko, said the most influential political operatives and lobbyists in Nevada have spent years developing relationships built on trust and straight-shooting, which helps keep the system honest because reputations are at stake.
"There's a familiarity that develops and that creates a higher level of integrity from the standpoint that there are no secrets," said Ernaut, who like all lobbyists must publicly disclose who he represents.
"The challenges that confront this state are only going to be overcome — by the governor, the Legislature and the major industries — by working together regardless of party or geography. So I think, in the end, more people are going to agree on the direction and want to be part of the solution than disagree.
"In this close-knit community, you have your word and your reputation, and if you are unethical or untrustworthy, you don't last very long," he added.
Ferraro, a former fraternity brother of Ernaut's at the University of Nevada, Reno — which Sandoval also attended with them in the early 1980s — agreed the state's insular political network is unique. It's partly because of Nevada's small population, about 2.6 million, and its narrow industry base. Ferraro, 47, comes from a political family: his father is former Boulder City Mayor Bob Ferraro.
"Everybody knows who I represent and who have asked me to advocate for them," said Ferraro, noting the system is transparent. "So you work hard and you try to build a coalition of support, and the same is true if you're trying to defend something. It still takes, 22, 11, 1 — the equation doesn't change."
That's the majority vote needed to pass bills in the Legislature: 22 of the 43-member state Assembly, 11 of the 21-member state Senate and one governor to sign the measure into law.
Sandoval has yet to show his hand, except to pledge he would not increase taxes or fees to balance the budget. It's a promise that might be difficult to keep without deep budget cuts given the two-year shortfall expected of at least $1 billion with biennial spending now at $5.4 billion.
Speculation so far has centered on the possibility that increases to sales, payroll and business license taxes imposed in 2009 could be extended instead of expiring after two years as scheduled. Retailers who don't want to see sales taxes rise on goods already are pushing instead for a new tax on services — from gardening to accounting to legal work — to raise revenue from a fresh source.
Vassiliadis, who represents the Nevada Resort Association, said the gaming industry hasn't yet come up with a legislative game plan and is waiting to see Sandoval's budget proposals.
Like most Nevadans, Vassiliadis said casino owners are concerned about the state's future as Nevada suffers a recession-driven economic decline that has resulted in record unemployment of 14.4 percent as well as record high home foreclosure and bankruptcy rates. At the same time, the state's education system is among the worst in the country, making it difficult to attract new business.
And Vassiliadis, 54, knows something about bringing in business. His R&R Partners came up with the ad slogan for the Las Vegas Convention and Visitors Authority: "What Happens Here, Stays Here."
"We're no longer just the gaming industry. We're part of the business community," said Vassiliadis, whose native Chicago accent hasn't disappeared in the years since he came here to attend the University of Nevada, Las Vegas. "There's nothing like shared pain to bring people together. And there's a concern in gaming and all business that we have to both be able to get and keep employees. We need quality education, good public safety and transportation and all the basics that make for a good quality of life."
As for whether Vassiliadis will get any special treatment because of his election-related work, the Democrat pointed out that he personally backed Sandoval's Democratic opponent, Rory Reid, the son of Harry Reid, in the governor's race, although his GOP partner Ernaut up North supported Sandoval.
Vassiliadis also said his dealings change as his role shifts from political advisor to lobbyist.
"A dramatically new relationship needs to be forged" after a campaign, he said. "And the level of influence and impact that some of us have on the legislative process is directly related to who our clients are. I didn't help Brian Sandoval win. And I've been on the losing side of governor's races before.
"The key player is the industry, not me," he added, referring to clients he represents.
Nonetheless, Vassiliadis, because of his stature and longevity, is perhaps the most powerful lobbyist in Nevada today. He was once known as the "shadow governor" during the 1989-1999 administration of Gov. Bob Miller, whom he closely advised as part of his kitchen cabinet.
Being a key adviser for Sen. Reid's hard fought re-election could boost his influence and ability to shape public policy, although Vassiliadis said he helped the senator for free and out of friendship.
Like his father, the younger Reid, who's chairman of the Clark County Commission, received advice from Vassiliadis as well as financial backing from most major casino operators in Nevada, in particular MGM International, one of the biggest donors to the senator's campaign as well.
Reid family ties and loyalty may have played a role, although Sandoval also enjoyed broad support from gaming, including donations from Wynn Las Vegas, Boyd Gaming, The M Resort, the Las Vegas Hilton, Station Casinos and Bally Technologies, as well as a long list of major lobbyists.
In fact, the potential for conflict often runs both ways in Nevada.
For example, Sandoval spent the past year working for the law firm Jones Vargas, which has one of the most prominent lists of lobbying clients in the state, representing mining, gaming and developers.
When Sandoval took the job after resigning from the federal bench to run for office, he said he would not work in the government affairs side of the firm to avoid any conflicts of interest if elected.
State Sen. Bill Raggio, R-Reno, works at the same firm and has been a Sandoval mentor. As the longest-serving state legislator in Nevada history, Raggio said he and others who work in the state's major law firms with lobbying arms have learned to separate their "dual functions."
"As a legislator, you certainly have to recognize that your primary objective is your obligation to the people that you represent," Raggio said. "You have to build a Chinese wall between what you do as a legislator and how you deal with some of these individuals" lobbying you.
"I'm sure the perception is difficult because lobbyists, to a lot of people out there, are not looked on kindly," he said, pointing out they can offer a rich resource for industry-specific information. "The majority of lobbyists serve a very good purpose. A responsible lobbyist will give you all sides."
Raggio, who is termed out heading into his final legislative session in 2011, recently lost his Senate minority leadership job after angering some of his fellow Republicans during the 2010 election. He crossed party lines and backed Sen. Reid over Republican Sharron Angle, a staunch conservative and former Reno assemblywoman who lost to Raggio in 2008 during a bitter primary.
But crossing party lines isn't that unusual in libertarian Nevada, a fickle swing state. Exit polls showed that 15 percent of those who voted for Sandoval also backed Sen. Reid in the ballot box.
Vassiliadis and Rogich are both examples of how party doesn't matter much when it comes to power brokers backing candidates they believe are good for Nevada and for their own interests.
Vassiliadis crossed party lines to support Guinn, for example, while Rogich organized "Republicans for Reid," a who's who of Nevada industry and civic leaders as well as high-profile lobbyists, to support the Senate majority leader, the most powerful Democrat in Congress.
The list included major casino executives from Harrah's such as Marybel Bajter and from MGM International including CEO Jim Murren, as well as Station Casinos' Lorenzo and Frank Fertitta III. Displaying such powerful figures behind Reid helped him peel away GOP support from Angle and demonstrate one of his campaign arguments that Nevada couldn't afford to lose him.
"The most interesting thing about that group is they're prime people who raise money in the Republican Party," Rogich said of the list. "And they looked at this race and set aside partisanship and ideology and said to themselves, 'For the sake of Nevada, we need to support Harry Reid.' "
Rogich, 66, was perhaps the most surprising member of "Republicans for Reid," given his long-standing work promoting GOP causes and candidates. But his deep ties to the Nevada community, where he rose from a "dirt poor" family and casino worker to multimillionaire adman, won out over partisan politics. Bush had even appointed Rogich, a native of Iceland, the U.S. ambassador to the country in 1992.
Still, a cynic might note that more than half of the 400 people on the "Republicans for Reid" list have major investments or interests at stake, and backing the senator could gain them favor.
Rogich himself has had to battle the perception of a quid pro quo when Reid announced in July 2009 that he was backing his GOP benefactor's $5 billion, private DesertXpress train project between Southern Nevada and California. Reid's turnabout came after years of supporting a competing $12 billion elevated maglev train proposal that had gone nowhere after 30 years of planning.
"There's a reason it's not being built: It's too costly and the cost of maintaining it is too extraordinary," Rogich said of the maglev train, adding that the Government Accounting Office had determined his project was better for the state while the high-speed project wasn't practical. "So it's not a quid pro quo. This is too transparent and public for me to be expecting something out of this."
Contact Laura Myers at lmyers@reviewjournal.com or 702-387-2919.