Nevada representatives split on GOP fix for Obamacare
November 15, 2013 - 1:45 pm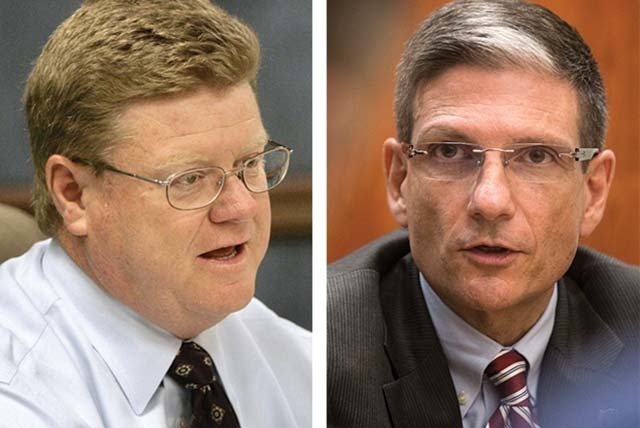 WASHINGTON — Nevada's representatives split along party lines as the House passed a bill on Friday that would let insurance companies continue to sell health plans that were being canceled under Obamacare rules.
The Republican-written "Keep Your Health Plan Act" passed 261-157. The vote came a day after President Barack Obama announced he would use his administrative powers to fix the problem.
Nevada Republcan Reps. Joe Heck and Mark Amodei voted for the bill. Democrat Reps. Steven Horsford and Dina Titus voted against it.
Republicans argued they were stepping in to fulfill the promise they said was broken by Obama that "if you like your health plan, you can keep it." Instead, millions of customers were receiving cancellation notices because their policies did not meet new minimum benefit standards set by the health care law.
"Americans were promised they could keep their current health insurance under the Affordable Care Act and we now know that is clearly and sadly not the case," Heck said. "This legislation restores that promise to those who were kicked off their existing plans."
Republicans further challenged whether Obama had the authority to act unilateraly, saying any changes must be passed by Congress. But with Obama moving forward, Senate Majority Leader Harry Reid of Nevada said there was no plan to take up the House bill.
Amodei noted that while the House was acting to uphold Obama's promise, the president had threatened to veto the bill.
"While there is no credibility abundance in this town, the White House has won the Pinocchio sweepstakes for the week," he said.
"In the face of 24,623 Nevadans, pretty much the entire population of Fallon, and nearly five million Americans who received cancellation notices from their insurance carriers due to the ACA, a number predicted to rise significantly, the administration continues to stubbornly go it alone," he said.
Democrats argued during debate that Obama's solution would be more beneficial to consumers than what was in the GOP bill. Still, 39 Democrats crossed party lines to vote for it.
There were several differences. Obama would allow insurance companies to renew policies only to customers who held them previously and were being canceled. The Republican bill would allow the firms to sell the policies to new customers.
Further, Democrats noted Obama is requiriing insurance companies to notify customers where their benefits were falling short of what Obamacare requires, and where they can go to learn more about signing up for new policies. They said the GOP bill does not have similar consumer-friendly provisions.
"The bill allows health insurers to continue selling predatory health insurance plans that have high deductibles, high out-of-pocket costs and provide very little coverage," Horsford said. "The ACA is not perfect, but Congress must work to fix the law, not undermine it."
Titus said she supported Obama's approach, and opposed the Republican bill because it allows insurers to sell outdated policies to new customers.
"I want people to go onto the exchanges, where they will have better policies," she said, and also might qualify for subsidies to help pay their premiums.
"We are trying to wean people off of those plans and into better health insurance," Titus said. "If people look at the alternatives they are going to find what is available to them through the exchanges is a lot better."
Contact Stephens Washington Bureau Chief Steve Tetreault at stetreault@stephensmedia.com or 202-783-1760. Follow him on Twitter @STetreaultDC.