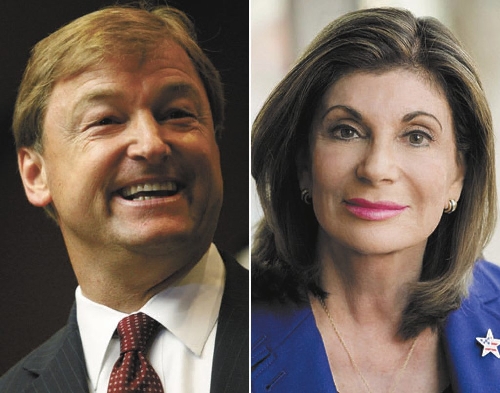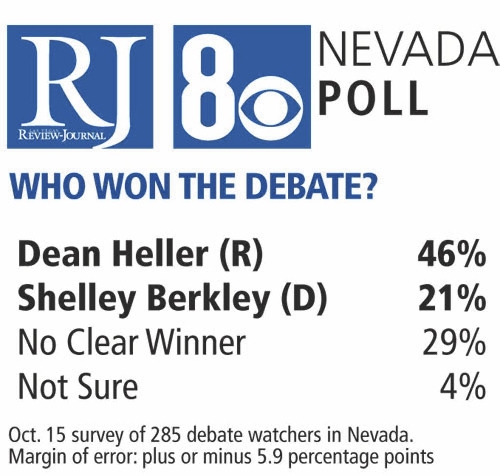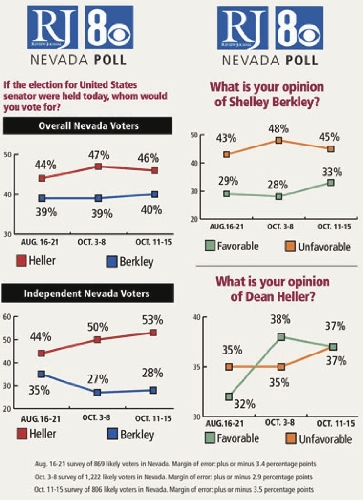 By a 2-to-1 margin, more likely Nevada voters thought U.S. Sen. Dean Heller won a widely televised debate last week against Rep. Shelley Berkley, according to a new poll that shows the Senate race tightening just days before early voting begins Saturday.
Heller, a Republican, was leading his Democratic challenger 46 percent to 40 percent, found the SurveyUSA poll commissioned by the Las Vegas Review-Journal and 8NewsNow. That compares with a 47-39 Heller lead over Berkley in a survey the same polling organization took in the week leading up to the Oct. 11 debate.
About 46 percent of those polled who watched the Nevada Broadcasters Association debate judged Heller the victor, 21 percent said Berkley came out ahead, and 29 percent said there was "no clear winner." Four percent weren't sure.
The debate at VegasPBS studios was broadcast by dozens of TV stations statewide. It was the second of three debates ahead of the Nov. 6 election.
"The debates really didn't move the needle," said Eric Herzik, a political science professor at the University of Nevada-Reno. "Berkley did fine and Heller didn't hurt himself in those debates. And when you're the front-runner, that's all you need to do. Now they just have got to make sure their base turns out."
The Oct. 11 debate was held two days after former President Bill Clinton campaigned in Las Vegas and touted Berkley, a factor that could help her with core Democratic voters.
She is scheduled to attend a rally today with Vice President Joe Biden at the Events Center at the Culinary Academy of Las Vegas.
Berkley needs to shore up support among key Democratic voters who strongly back President Barack Obama but have yet to pledge their vote to her, said SurveyUSA pollster Jay Leve.
"Right now, it doesn't look like Obama is going to sweep Democrats into office," Leve said, adding that the president's coattails aren't as long as four years ago. "And right now, Berkley is still underperforming Obama at the top of the ticket among traditional Democratic coalitions of women and minorities. She needs to do better."
Nevada voters appear to be warming up to Berkley, who nonetheless is viewed unfavorably by 45 percent of those polled compared with 33 percent who view her favorably. That's an improvement from early October, when the SurveyUSA poll showed Berkley at 48-28 on the popularity meter.
In comparison, Nevada voters are equally divided on Heller, who got a 37-37 rating in the most recent poll, not much changed from early October when it was 38-35.
Berkley is under investigation by the House Ethics Committee for advocating on medical funding issues that may have profited her physician husband, a probe fueling attack ads against her by Heller and outside GOP groups. Heller, too, has been under attack for backing a GOP budget that would have dramatically changed Medicare for future retirees, making it a government insurance reimbursement plan.
As more voters decide, Heller has continued to make gains with independent voters, who favor him 53 percent to 28 percent for Berkley in the new poll.
He also gained support among self-described "moderates," edging Berkley 44-41. In the poll before the debates, he was behind Berkley among moderates, 37-46.
In his campaign, Heller has portrayed himself as a bipartisan lawmaker, although Berkley noted in the debate that he has voted with his party more than 90 percent of the time. Berkley, too, has voted with Democrats more than 90 percent of the time while representing the heavily Democratic 1st Congressional District since 1999.
The latest poll shows Berkley making gains on her Las Vegas home turf, where she leads Heller 49-42. Voters in the rest of Clark County were split, 43-42, giving Heller a bare edge, according to the poll.
In Washoe County, where Heller is far better known, the Republican led Berkley 50-34. Across the rest of the state, he held a commanding 63-24 lead. Heller represented most of Nevada outside Clark County for three terms in Congress before he was appointed last year to replace U.S. Sen. John Ensign, R-Nev., who resigned in scandal.
The poll showed Heller leading among men, 50-39, and splitting the women's vote, 42-42, with Berkley.
The survey also showed him leading among Hispanics, 48-40. Most if not all other polls on the Senate race show Berkley with a 2-to-1 lead over Heller among Latinos, a key voting bloc in Nevada.
In the face of public surveys showing Heller ahead, the Berkley campaign this week released an internal poll that showed Berkley leading Heller, 42-39. It also showed her with a big lead over Heller among women, 46-33. The survey, by pollster Mark Mellman, found independents evenly split at 33-33.
Mellman's polls tend to carry weight because he correctly predicted the outcome of the 2010 Senate race. U.S. Sen. Harry Reid, D-Nev., won re-election against Republican Sharron Angle, a tea party favorite. Reid won by nearly 6 percentage points, while public polls – including a survey commissioned by the Review-Journal – had him 4 points down before Election Day.
The Democratic Party is counting on a registration advantage over Republicans of about 90,000 statewide to score wins for Berkley and Obama.
"The Democrats need a big turnout in Clark County for Berkley to win," Herzik said, citing conventional wisdom in statewide races. "If that doesn't materialize, she's in trouble."
The telephone poll of 806 likely Nevada voters was conducted in English and Spanish between Oct. 11 and Monday. It has a margin of error of plus or minus 3.5 percentage points.
Those questioned included 20 percent Hispanics, which is several points higher than the Latino turnout in the past two elections.
About 40 percent of those surveyed are Democrats, 31 percent Republicans and 27 percent independents, which roughly matches voter registration in Nevada, although nonpartisans are less than one-fifth of the electorate.
The Heller campaign responded to the poll by focusing on his message to voters.
"As we move forward into early voting, Dean Heller will continue to work hard and talk with voters all across the state," said Heller campaign spokeswoman Chandler Smith. "He will continue to make the case why his pro-growth policies and ability to work across the aisle will benefit middle-class Nevadans. Shelley Berkley, on the other hand, will be forced to explain her long record voting the party line to bail out Wall Street, pass the trillion-dollar stimulus, create a new national energy tax and cut $1 trillion from Medicare."
The Berkley campaign lashed out at the Review-Journal.
"No credible poll shows Shelley Berkley losing Hispanics or this race anything but very close," Berkley's campaign manager Jessica Mackler said in a statement. "However, what do you expect from a right-wing publication with a political agenda like the Las Vegas Review-Journal that has a history of making up sources and whose 2010 Senate race polls were off by an astonishing 10 points?"
Mackler's comment about "making up sources" apparently refers to a Saturday report that Heller had $1 million more cash on hand than Berkley after the latest fundraising quarter.
Heller's campaign raised $1.9 million during the period ending Sept. 30 and had $1.9 million in cash on hand. The Berkley campaign raised $1.65 million and had $925,000 cash on hand, according to a source familiar with reports each campaign filed with the Federal Election Commission.
Neither campaign disputes the accuracy of the numbers, but Berkley's campaign questions the report because it did not provide the figures to the newspaper.
Contact Laura Myers at lmyers@reviewjournal.com or 702-387-2919. Follow @lmyerslvrj on Twitter.