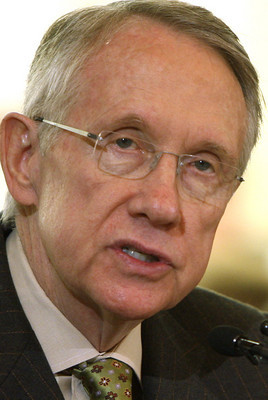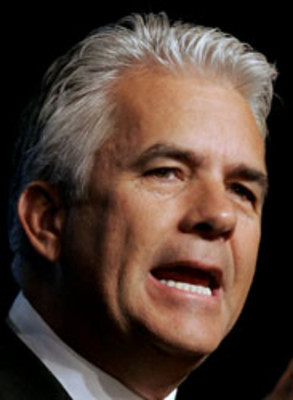 WASHINGTON — Nevada's senators staked out opposing sides Thursday as the Senate began positioning for the big debate next week over President Barack Obama's economic stimulus plan.
"We have a real serious crisis on our hands," said Senate Majority Leader Harry Reid, calling on the Senate to "complete the work that the House did" when it passed a stimulus bill on Wednesday.
But Sen. John Ensign said the bill the Senate is scheduled to consider, at a cost of $888 billion or more, will not deliver its bang for the buck.
"Many of us believe it may stimulate a few jobs here and there, but at what cost?" Ensign said at a news conference with other Republicans.
It was no surprise that Reid and Ensign differ on the stimulus bill as their philosophies on taxes and spending are rarely in sync.
But as leaders in their respective parties both Nevadans are playing a prominent role in this debate over the nation's economic recovery.
The stakes are high. Appearing before reporters with other Democratic leaders, Reid said that more people lost their jobs on Monday than will be watching the Super Bowl in Raymond James Stadium in Tampa, Fla.
"They're going to play in a stadium that holds 75,000 people," Reid said. "One day this week, 85,000 people were laid off in America."
The House passed an $819 billion stimulus bill on Wednesday by a partisan vote of 244-188.
All but 11 Democrats voted for it while 177 Republicans voted against it.
Critics said the bill contained too little for tax incentives to spur business growth and too little for road building and other infrastructure improvements that create jobs.
They also complained about spending for education and the arts that appears to have little to do with generating employment or sparking the economy.
Supporters said the stimulus will inject money to boost the economy in the short run while laying the groundwork for economic expansion in the long run.
Reid said Thursday parts of the bill will create jobs while other parts "will save Americans tremendous amounts of money."
Addressing complaints that the bill contains items that will not boost the economy, Reid said, "Stimulus is in the eye of the beholder."
"It is easy to sit back and nitpick, but we have done the best we can," Reid said, adding that Republicans will be able to offer amendments during debate.
Ensign, a member of the Senate Republican leadership through his chairmanship of its policy committee, voted against the Senate bill when it emerged from the Finance Committee on Wednesday.
Later, he said, "I think its important that we try to change the bill as much as we can."
"We don't need to have everything Republicans want, but we at least have to feel good enough that the bill actually will grow the economy, create jobs so it's just not a massive spending bill," Ensign said Thursday.
Ensign said he is preparing amendments to offer larger tax relief to companies that negotiate down their debt as a strategy to get bad investments off their accounting sheets.
Ensign said Republicans also are considering an amendment that would have the government subsidize home mortgages for qualified borrowers at a 4 percent interest rate for up to two years.
Contact Stephens Washington Bureau Steve Tetreault at stetreault@stephensmedia.com or 202-783-1760.