Nevada State Prison starts shutting down
September 3, 2011 - 12:59 am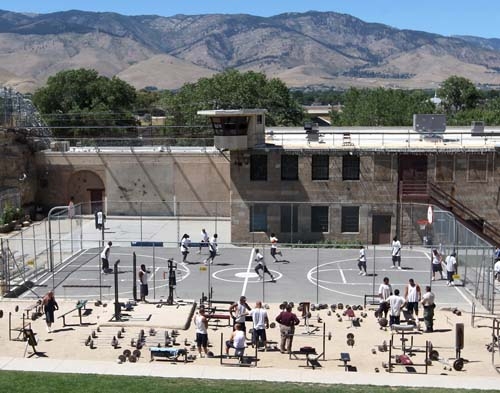 CARSON CITY — About 200 inmates have been moved to prisons in Southern Nevada as the Department of Corrections carries out a directive to close the 144-year-old Nevada State Prison by next spring.
Since the Legislature and Gov. Brian Sandoval approved the closure of the old Carson City prison in May, all but 246 of the 700 inmates have been transferred to other state prisons.
Most are going to High Desert State Prison near Indian Springs, where two new prison wings that can house 600 inmates are ready for occupancy.
The old prison is known as the Max, though it has been a medium-security facility since 1989.
It remains home of the state's only execution chamber, where 43 people have been killed by gas or lethal injection since 1924.
By closing the old prison, the Sandoval administration anticipates saving
$15 million a year, most of it coming from personnel costs.
The governor initially proposed closing the facility this October, but state Senate Majority Leader Steven Horsford, D-Las Vegas, won support for a delay until April to give the department more time to find jobs for displaced state workers.
Prisons spokesman Steve Suwe said the savings comes from the fact that it costs less to feed and manage inmates in newer prisons. The annual cost per inmate at High Desert is $14,000, compared with $23,000 at Nevada State Prison.
Fewer correctional officers are needed at the newer prisons, and filling all existing prison staff vacancies can lower overtime costs, he said. The Nevada State Prison guards are filling vacancies created when staff members quit or retired from other prisons.
No one has lost a job. Employment has been found for 65 correctional officers in other state prisons in Northern Nevada. Corrections Director Greg Cox told legislators he wants to keep layoffs at fewer than 30.
The rapid closure of the prison has led to griping by a couple of veteran officers who fear staff needlessly will be laid off if the old facility is vacated too rapidly. They think jobs can be found for all staff members through retirement and resignation at other prisons if a slower closure process is followed.
"They were told to close it next April," said one officer, who has been transferred to another prison. "They are moving too fast. It looks like they will just keep a piece of it open. They ought to leave it alone and not touch anything until next year."
But Suwe said that the last prisoners will be transferred out March 31 and that no attempt will be made to close the facility early.
Ten of the guards, however, have been moved to the Lovelock State Prison, more than 100 miles north of Carson City. Guards say these officers are young and don't have much seniority or bidding rights to determine where they can work.
While the correctional officers are upset, the American Federation of State, County and Municipal Employees Local 4041 finds no fault with the closure process. The union, which under state law lacks collective bargaining rights, represents 4,000 total employees, including 500 prison workers.
Vishnu Subramanian, chief of staff for Local 4041, said initially he and his staff were concerned that inmates were being moved too quickly, but he met with prison officials and now is satisfied with the closure process.
The prison, built in 1867, predates even construction of the state Capitol. Except for California's San Quentin, opened in 1852, it is the longest continually operating prison in the West. The Auburn prison in New York is the nation's oldest, having opened in 1816.
Nevada State Prison has housed the state's license plate making factory since 1928.
Gus Nunez, the state Public Works Board manager, said it would cost
$29.9 million to bring the prison up to modern code standards. He said the execution chamber doesn't meet Americans With Disabilities Act standards, and he is not sure what will happen if an execution must be carried out.
He has looked at putting the execution chamber at the maximum-security Ely State Prison, which has housed the state's most dangerous inmates and its death row since 1989.
The last execution was conducted at the Nevada State Prison in 2006.
Contact Capital Bureau Chief Ed Vogel at evogel@reviewjournal.com or 775-687-3901.