Nevada tanked under Gibbons
December 27, 2010 - 12:00 am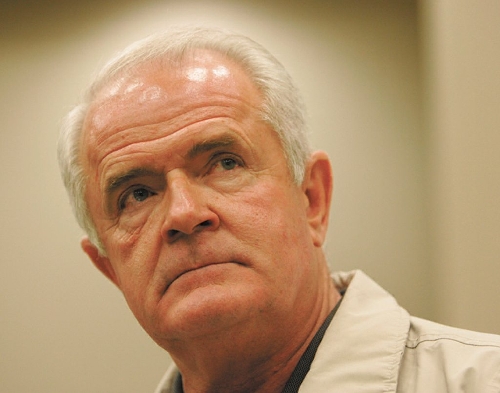 CARSON CITY — "My fellow Nevadans. Our economy is robust, our work force is teeming, our job growth is healthy and the unemployment rate is low; and for the first time as governor, I am proud to announce the state of our state is strong."
Who said that?
Jim Gibbons.
Nevada's governor uttered those fateful words to the cheers of legislators and hundreds of others who pushed into the Assembly chambers for his State of the State address on Jan. 22, 2007.
Little did he or anyone else imagine at the time that by the end of 2007 the state would be buried in a recession that would become the crucible of his administration.
Now Gibbons knows how President Herbert Hoover felt.
Hoover forever will be remembered as the president who did little to help when the burgeoning United States economy crashed into the Great Depression.
Gibbons will be remembered as the governor on whose watch the booming, ever expanding Nevada sank into the Great Recession.
His solution to everything was no new taxes.
He failed to stop a recalcitrant Legislature from boosting taxes and, perhaps even more importantly, failed to lift the spirits of a demoralized population.
Gibbons called disengaged
"I think he will be judged as the worst governor in the history of Nevada," said Fred Lokken, a political science and Web professor at Truckee Meadows Community College in Reno. "A terrible recession was made worse by his lack of leadership."
Lokken said everyone realizes Nevada cannot tax or spend itself out of a recession, but Gibbons tried to sit it out by refusing to deal with the Legislature. He often failed to get his message out because of his mindset that he was "persecuted and hounded by the press."
"It started with his midnight swearing-in (at his Reno home on Jan. 1, 2007) and got worse from there. He had more personal scandals than any other governor. He couldn't keep a staff. What did he accomplish?"
Eric Herzik, a political science professor at the University of Nevada, Reno, echoed those views.
"Gibbons had a message, but he would say it, walk away and say that is how it is going to be. He was disengaged. Kenny Guinn loved to be governor. He worked with the Legislature, got out among the people, while Gibbons often was missing in action. It was, 'My way, or the highway.' He wanted to be governor, but he didn't want to govern."
Assembly Minority Leader Pete Goicoechea, R-Eureka, also uses the word "disengaged" when he judges Gibbons' performance as governor. Goicoechea said Gibbons' inability to communicate led to his downfall.
"Jim was being Jim. He really couldn't engage, even with his own party," Goicoechea said. "At times, he was brilliant; at other times he was nonexistent. It wasn't his fault the state of Nevada is in a recession, but he just didn't engage as governor."
During the 2009 legislative session, Gibbons vetoed a record 48 bills, with 25 vetoes overridden by the Legislature. He vetoed more bills in 2009 than the previous five governors combined.
Under Gibbons, Nevada became the foreclosure capital of the nation, the state with the nation's highest unemployment rate and the state that lost population for the first time in 90 years.
Even Herbert Hoover was considerably more popular than Gibbons. Depression or not, Hoover actually took the electoral votes in six states and won 40 percent of the popular vote in the 1932 election, which he lost.
Gibbons didn't even get past the primary. He garnered 27 percent of votes from his fellow Republicans in losing to Brian Sandoval in June.
Gibbons' decision not even to show up at the Capitol on Dec. 17 when his portrait was hung on the wall next to other governors showed he no longer even cares what people think about him, Lokken said.
"Who really cares about him anyway anymore?" Lokken asked.
News media is the enemy
Gibbons despised the news media. He refused repeated requests from reporters for interviews after his June defeat.
He would not even consent to repeated requests for interviews about his years in office, something past governors considered an obligation to the public to solidify their legacy as an important part of Nevada history.
Daniel Burns, his spokesman, said Gibbons doesn't want "any fanfare" and intends to move quietly to a home he has purchased in Reno. Burns added Gibbons wants nothing more to do with the news media.
Gibbons was a little-known legislator from Reno until 1991 when he was called into active duty as a pilot with the Nevada National Guard during Operation Desert Storm. He was temporarily replaced as a legislator by his wife, Dawn.
Gibbons returned from Kuwait a hero. He was well-liked by reporters covering the Legislature. Republicans wanted him as their standard bearer. Gibbons lost the 1994 gubernatorial race to Bob Miller, but by then he was one of the best known politicians in Nevada. In 1996, he won the first of five straight elections as the 2nd Congressional District representative.
Then in 2006, he gave up a chance for sure re-election by announcing his candidacy for governor.
Gibbons beat Democrat Dina Titus by 4 percentage points that November. But he also was accused by Las Vegas cocktail waitress Chrissy Mazzeo that October of trying to rape her outside a parking garage. Authorities decided not to charge Gibbons with any wrongdoing, although Mazzeo continues to purse a lawsuit against him.
Gibbons' antipathy toward the media likely started with coverage generated by Mazzeo's charges. At a Nevada Day parade that year, Gibbons refused to talk to a Carson City-based reporter. Instead, while bystanders watched, Dawn Gibbons, his communications director Brent Boynton and Gibbons himself began shouting angrily at the reporter over Mazzeo coverage in the Review-Journal, which had endorsed him as governor.
A year and a half later, Gibbons filed for divorce from Dawn Gibbons, who had been his biggest defender in the Mazzeo incident.
Boynton left the administration eight months later, one of three spokesmen who would depart in the first two years of Gibbons' administration.
When he became governor, Gibbons did not hold regular press conferences and refused to release to the media a schedule of the public events he would be attending. He talked with reporters only when they caught him after public meetings or when he announced a major budget cut or called a special legislative session.
The man who becomes a former governor on Jan. 3 also will be looking for a job. That might not be easy.
Gibbons is 66 and still recovering from a broken pelvis suffered in a Sept. 21 horse riding accident. But he lost some of his assets in the divorce finalized in the summer, and must continue to work.
"Like everyone else who is losing one job, he will be looking for another," Burns said.
History to be the judge
Burns predicts history will judge Gibbons kindly, seeing him as the best possible governor for his time.
"People are so shortsighted right now," Burns said. "They are dwelling on the negative. This administration to a large degree is a victim of its economic times. But the state is still functioning. Not many state employees have been laid off. Teachers are still working."
Without Gibbons, Burns said, legislators would have increased the state sales tax rate, now 6.85 percent, to 10 percent, and increased the payroll tax, now 1.17 percent of each worker's wages, much higher. Burns would not speculate how much higher the payroll tax would have been without Gibbons as governor.
"History will figure out having Jim Gibbons in office was the best thing to happen to the state," he said.
That the poor economy, more than anything, caused Gibbons' political demise is shown by the polls, according to political experts from both parties.
A Review-Journal poll by Mason-Dixon Survey & Research Inc. asked voters to rate Gibbons' performance through his four-year term.
In December 2007, 41 percent of voters graded Gibbons as an excellent or good governor. Six months later, that number fell to 21 percent.
That low rating largely remained the same for two years.
What happened between December 2007 and June 2009?
The economy tanked.
December 2007 is considered the month that the recession began nationwide, although there are signs it started in Nevada that April. Legislators had to go into special session in 2008 and cut spending by more than $900 million.
"When bad economies come along, the popularity of governors falls off," said Brad Coker, Mason-Dixon managing partner. "They either have to cut spending or raise taxes. When they cut spending, they cut out someone's adored program."
Divorce and more
In May 2008, Gibbons filed for divorce from his wife of more than 20 years. For the next two years, media reports of the details of their divorce were consumed by the public.
She accused him of having at least two affairs, one with the married wife of a Reno doctor and the other with a former Playboy magazine model. He denied being anything more than their friend.
But Gibbons also had to apologize and pay the state $130 for sending more than 800 text messages on a state cell phone to married Reno housewife Kathy Karrasch in a five-week period.
Gibbons even texted Karrasch at 2 a.m. from the Governor's Mansion while his wife was sleeping.
A Mason-Dixon survey found 38 percent felt the divorce was affecting Gibbons' ability to govern.
"His poll numbers dropped after he announced the divorce," Herzik said. "He was governor at a bad time, but he made the situation worse."
Even conservative political consultant Chuck Muth finds little positive to say about Gibbons as governor.
He noted Gibbons had been critical of the taxes backed by Guinn in 2003, but when he became governor in January 2007 he refused to make many changes to the proposed $7 billion budget Guinn had prepared.
"He should have lopped $704 million off the budget. He said Guinn should have cut spending; but when he had an opportunity, he didn't do it. He never lived up to his promises."
Herzik credits Gibbons with being ahead of legislators in realizing by the end of 2007 that Nevada was headed into a long recession that would require drastic budget cuts.
But Gibbons again failed to curry favor from the media and failed to communicate that message to the public and state workers, Herzik added.
Guinn was just the opposite as a communicator. He would talk to anyone from the dishwasher to the casino CEO and win them over to his thinking, Herzik said.
As an example, Herzik remembers how Guinn once telephoned him. Herzik had been critical of something Guinn had done. But rather than chew him out, Herzik said Guinn called to explain the reasons for his actions.
When Gibbons didn't like what someone said, he just stewed.
"Any time you are a one-term governor and you have the popular support numbers Gibbons generated, you can't say it was great tenure in office," Herzik said.
Contact Capital Bureau Chief Ed Vogel at evogel@reviewjournal.com or 775-687-3901.