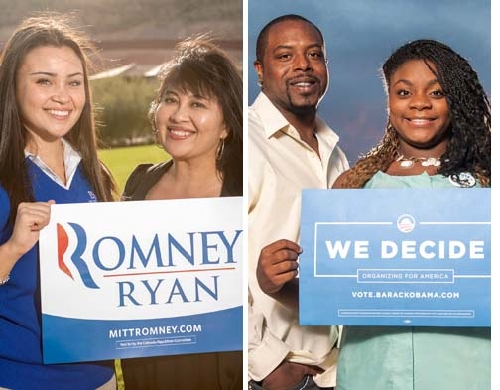 They're 18 and voting for the first time. They're minorities. And they're paying close attention to the presidential campaign. But Corinne Gross, of Filipino heritage, is voting for Republican Mitt Romney, and Jasmine Griffin, an African-American, is voting for President Barack Obama, a Democrat.
The two are true believers. They both showed up at October political rallies with their families to cheer on their White House picks. They're the faces of this year's divided Nevada electorate as voters, young and old, go to the polls Tuesday in one of the closest presidential elections in U.S. history.
Besides first-time voters, there's the older woman who voted for John F. Kennedy, a Democrat, and then a string of Republicans ever since. And the Hillary Clinton booster who switched allegiance to Obama for her grandmother, now 80, who wished to live to see the first African-American leader in the Oval Office.
And there are Hispanics with stories to tell: the Romney backer of Cuban heritage and the Obama supporter who cannot vote but brought her 16-year-old granddaughter to see Vice President Joe Biden because the president promises U.S. citizenship to immigrant children like her, brought here without papers.
Behind the campaign signs, beyond the political slogans, the ballots are in the hands of the people.
Here are snapshots from the Nevada campaign:
THE GROSS FAMILY
For Corinne Gross, the date worth circling on the calendar this year was Nov. 1, the day she turned 18, just in time to vote in the 2012 election. She planned to cast her ballot for Romney.
The senior at Bishop Gorman High School is on the la crosse and golf teams and is considering colleges – Kansas University, San Francisco University or maybe the University of California, Irvine.
Typical teenage stuff, except Gross said she's worried about her future if Obama wins.
"I'm concerned about whether I'll have a job after college," said Gross, who wants to be a physical therapist.
She braved chilly winds to attend an Oct. 23 rally at the Henderson Pavilion featuring Romney and his running mate, U.S. Rep. Paul Ryan, R-Wis., in their first joint appearance in Nevada. About 6,000 cheering people crowded under the pavilion and spread out on the lawn.
Gross knows most young people back Obama, who rode a wave of first-time voter enthusiasm to victory in 2008. She learned the hard way during government class and a student debate. She said there's only one other Republican in her class.
"When you have everybody against you, it's hard," she said. "But Barack Obama has no new ideas."
Sharon Gross said she kept her daughter and 16-year-old son out of school that Tuesday to hear Romney and Ryan speak because she believes Romney can restore the limping economy.
"I'm very conservative. It's all about the economy for me and he's a businessman," Sharon Gross said.
THE GRIFFIN FAMILY
Jasmine Griffin graduated from Cimarron-Memorial High School in June and turned 18 on Sept. 14. She's from a "Democratic family." They joined her for a late-night Obama rally at Doolittle Park on Oct. 24 in a central Las Vegas neighborhood where lots of low-income and struggling Nevadans live.
Singer Katy Perry was the opening act. Teenage girls waved and screamed at eardrum-busting levels.
The Griffins were in front of the stage, taking cellphone photos.
"Everyone I know is on Team Obama," said Griffin, one of 13,000 people at the rally. "My mom, dad, best friend, aunt, uncle. Obama's going to win. I know it wholeheartedly."
Griffin said she watched all three presidential debates, including the first one where Obama didn't do well against Romney. She said she knew Obama would come back strong.
"I was not at all worried," she said.
Griffin said she wants to be a journalist, attending classes at the College of Southern Nevada and the University of Nevada, Las Vegas. She believes Obama will do more to lift up the middle class and help people like her.
"I decided I'm 18 now and it's my time now," said Griffin, an African-American who said she can't imagine sitting out an election when so much is at stake. "I know what Obama is about and what he has in store for us."
Her father, Darrian Griffin, said his family has been fortunate. Both he and his wife work. He's a telemarketer. His wife, who has a college education, has a good job, too.
Griffin said Republicans are standing in Obama's way.
"Obama's got a lot of flak, but no help from Congress," Griffin said. "You can't blame him for that."
KENNEDY TO ROMNEY
Kay Milzer, 75, remembers the first time she voted for president. She cast her ballot for John F. Kennedy, the handsome Democrat who won in 1960. Milzer has voted Republican ever since.
When the Henderson resident looks at Romney, she said he reminds her of GOP icon Ronald Reagan.
"I think he's a sincere person," she said of Romney. "He has morals and principles."
Obama, well, Milzer hesitated before she answered.
"Oh, I'll say it," she finally said. "I think he's a socialist, and he's leading us into socialism."
It's a common charge from conservatives who oppose expansion of federal programs under Obama, particularly the Affordable Care Act that critics see as a government takeover of health care.
Milzer knows that Democrats scoff at the socialism charge.
"I do not think he's a good president," she said. "I think he's leading us in the wrong direction."
A part-time real estate broker, Milzer said she agrees with Romney that the private housing market needs to "straighten itself out" and government shouldn't intervene as much as it has under Obama.
She also believes in Romney's plan to create 12 million jobs in his first term.
"He can get us the jobs we need," said Milzer, who also bundled up against the chilly wind at the Oct. 23 Romney-Ryan rally in Henderson. It was her first political rally. "We are going to be victorious."
THE BUS RIDE
Lillie Grisby, 70, took a 30-minute cross-town bus ride to hear Obama speak at Doolittle Park. She stood in line for four hours. Unable to find a seat, she wandered across the grass in the dark.
"My feet is killing me," Grisby said, her hand supporting her aching back. "This is my first time and my last time seeing a president. But I wanted to see my president. I know he'll win, with God's help."
Grisby has been in Las Vegas for 18 years. She moved here after retiring from United Parcel Service in Los Angeles, where her family lives. She's independent, strong-willed and persistent.
She said Obama spent his first four years in the White House fixing the broken economy left by President George W. Bush. Voters need to give Obama more time to finish the job, she said.
"They have to give him a chance," Grisby said. "He cleaned up Bush's mess, and he's not done."
Grisby stopped several people and asked if they could find her a chair so she could rest. It was getting late and the president wasn't going to speak until about 10 p.m. that Wednesday night.
She said she took the Regional Transportation Commission Route 105 bus to get to Doolittle from her home near Decatur and Charleston boulevards. And she planned to catch the RTC Route 206 bus to get back home, arriving past her bedtime.
"Oh, I'll never do this again, stand in line this long," she said, smiling and obviously glad to be there.
HISPANIC HOPE
Blanca Robles supports Romney, but her heart is with U.S. Sen. Marco Rubio of Florida. He's the Cuban-born Hispanic hope of the Republican Party who may run for president some day.
"I think he's going to be, God willing, the first Latino president of the United States," Robles said.
Robles, a Republican, attended Rubio's Oct. 2 rally in Las Vegas. He talked up the Romney-Ryan ticket, which Robles supports wholeheartedly. For her, it's a matter of conservative ideals.
"I vote my morals first," said Robles, the mother of children ages 8 and 4. "I'm very afraid for my kids and their future. It's the economy. I'm just concerned about the state of the country."
Born in Mexico, her father brought her to the United States when she was young "so we can get a good education." The family didn't depend on anyone for help, said Robles, a U.S. citizen since 2000.
"I'm all for charity, but there are so many people who are defrauding the system," Robles said. "I think the Democratic Party is keeping people down, especially minorities. I think they're really pandering to the Latino community. Obama promised immigration reform and he did absolutely nothing."
A Republican Hispanic president, on the other hand, could lead the way on immigration, she said,
"I can't wait," she said.
WAITING FOR HILLARY
Four years ago, Deborah Robinson was ready to back Hillary Clinton, a Democrat caught in a hot political contest with the man who would be president.
Robinson's heart was with Clinton because she wanted to see the first woman president. But then her grandmother, now 80, called from Little Rock, Ark., to talk up Obama.
"I just couldn't make up my mind," recalled Robinson, who is black. "I really wanted Hillary, but my grandmother said she wanted to see an African-American president. And so I voted for Obama. I'm glad I did."
Robinson attended an Oct. 26 rally featuring first lady Michelle Obama, another icon for Democratic women, but not a White House hope. Clinton is Obama's secretary of state and the wife of former President Bill Clinton.
Robinson said she hopes Clinton runs for president again in 2016 so both she and her grandmother can see their wishes come true. It's time, she said, for leaders who reflect America's diversity, with minorities and women taking their rightful place in the nation's highest office.
"I believe in Obama. He's a humanist," Robinson said. "I think he really cares about people in the world, here and all around the world. But I'll take Hillary in 2016. Then I can get both of them."
CUBAN CONNECTION
Maria Caminero was born in Cuba but grew up in Mexico and the United States. She is one of more than 20,000 Cuban-American Navadans. Like her, most live in Las Vegas. And she is one of more than 700,000 Nevada Hispanics, who account for 26 percent of the state's population.
Most Latinos align themselves with Democrats, but Caminero is a conservative Republican who supports Romney as well as U.S. Sen. Dean Heller, R-Nev., in his race against Rep. Shelley Berkley, D-Nev.
Caminero said many Hispanics who fought communism or socialism in Cuba, Colombia and Nicaragua see Obama and the Democrats engaging in class war and government expansion.
"We come from communist countries and so we know how it all begins," Caminero said. "First they create a class struggle. And then there's a shrinking middle class and more poor people who hate the rich."
Caminero, an event planner, is president of the Cuban House of Culture. She was volunteering at a Team Nevada office in a Hispanic neighborhood when Romney's Spanish-speaking son, Craig, dropped by Oct. 26.
Caminero said she wants Romney to find a way for young undocumented immigrants to stay in the United States, where they grew up after their parents brought them here. But she said Obama's plan for temporary, two-year work permits doesn't promise U.S. citizenship.
"He's not giving them a guarantee," she said. "To me, it looks like more of a trap."
LATINO DREAMS
Maria Arreola, wearing a "Latinos for Obama" button, brought her 16-year-old niece, Victoria Ruiz, to see Vice President Joe Biden at a Culinary union rally in Las Vegas. They were lost in a crowd of 450 people. It was Thursday, Oct. 18, and Ruiz skipped school to come.
Arreola is a legal resident. She introduced her niece as a "DREAMer" – no papers, no U.S. passport, no legal status in the United States. Obama has given them a two-year reprieve from possible deportation after Democrats were unable to pass the DREAM Act to give students and military personnel a path to citizenship.
Five weeks earlier, Ruiz had climbed over the fence on the U.S.-Mexico border with her mother to return to Las Vegas. They had been visiting her father, who had been shot. Her mother slipped and hurt her ankle, then was caught by U.S. immigration agents. Ruiz continued on her own, following their "pollero" guide to Nogales, Ariz.
From there she was passed from person to person over 475 miles until she arrived back in Las Vegas, which she has called home since she was 8. She said she fought tears as the Strip came into view. She started her junior year at Desert Pines High School three weeks late.
"I want to go to college. I want to study medicine," Ruiz said, speaking shyly. "I want to stay here."
Ruiz said she talks to her mother most nights by cellphone.
"I think she's OK, but she won't really tell me," Ruiz said with a shrug. "She wants me to be here."
When Biden came onstage. Arreola and Ruiz, at the back of the room, clapped and stood on tip-toes to see.
Contact Laura Myers at lmyers@reviewjournal.com or 702-387-2919. Follow @lmyerslvrj on Twitter.