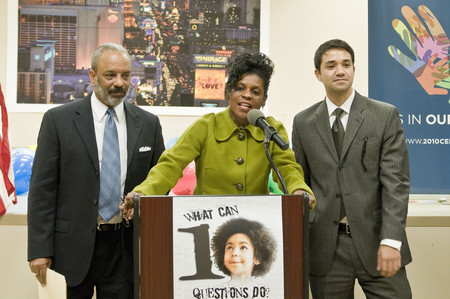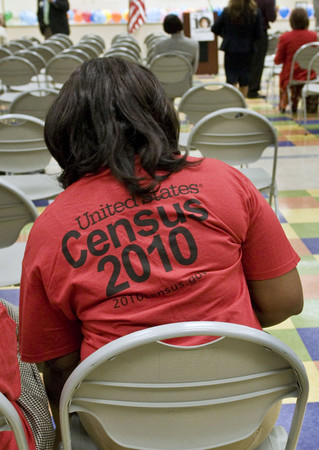 Nevada residents: The state's leaders want you to be counted in the 2010 census — every last one of you.
Why? Well, for one reason, each of you is worth $917 a year to the state for the next decade.
Nevada and U.S. Census Bureau officials held a "Spirit of Community Celebration" on Wednesday to stress the importance of participating in next year's census.
"There's probably nothing that we as Nevadans can do that will have more impact on our day-to-day quality of life for the next 10 years," said David Byerman, the Census Bureau's chief government liaison for Nevada.
Officials said Nevada's growth during the past decade means its residents have much to gain from participating in the census. They said a high response rate could equate to more power and money for the state.
"This is an opportunity," Byerman said at Wednesday's celebration. "Most states have to look at the census as an obligation, a chore."
Byerman said Nevada had a population of about 2 million when the last census was conducted in 2000, but the state demographer estimates the population now has reached 2.8 million. If that proves true, Nevada could receive another seat in Congress.
The census also means 4,800 more jobs for Nevada, Byerman said. That's how many employees the Census Bureau will hire to help with the count of Nevada's residents. A Las Vegas census office opened in January, and additional offices opened Wednesday in North Las Vegas and Henderson.
Job information can be found on the Internet at 2010censusjobs.gov or by calling 1-866-861-2010.
As chairman of the state's Complete Count Committee, Nevada Secretary of State Ross Miller said he is coordinating marketing efforts "to try to overcome the natural tendency for residents to think that the census is an effort by the federal government to find out where people live, when in fact Nevada's participation in the census has critical consequences on the amount of federal funding that we'll receive and our representation in Congress."
Census forms with 10 questions will be mailed or delivered to all Nevada households in March. The goal of the census is to count everyone living in the United States on April 1. That includes illegal immigrants. "We're not asked to show proof of citizenship when we drive on roads, when our kids go to school, when we engage in many social services, and that's why we count everybody," Byerman said.
He said census information remains confidential for 72 years. Not even law enforcement agencies can access the details during that time.
Byerman said the elimination of a long form, sent to about 15 percent of the population in 2000, will help the 2010 response rate. However, he added, Nevada's foreclosure crisis could hurt it.
"We're going to have a lot of census forms sent out to vacant homes," he said.
Beginning in May, census takers will visit households that did not return a questionnaire by mail. Byerman said Nevada had a 61 percent response rate in 1990 and a 66 percent response rate in 2000. That gave Nevada the biggest gain of any state in the country.
The U.S. Constitution requires a national census once every 10 years. The first census took place in 1790.
Contact reporter Carri Geer Thevenot at cgeer@review journal.com or 702-384-8710.
2010 U.S. Census form