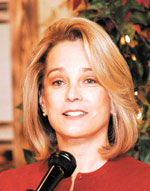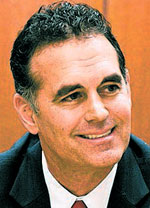 Right after the House narrowly passed health care reform, the fundraising hands went out.
Within seconds of Sunday night's vote, Sue Lowden issued an e-mail appeal to supporters to donate to her U.S. Senate campaign so she could defeat Sen. Harry Reid in the fall. GOP rival Danny Tarkanian made a similar pitch, headlining his Internet outreach, "A call to arms."
The two top Republicans competing to unseat Democrat Reid were among major candidates, incumbents and political parties on the state and national levels who sent emergency pleas for new donations, taking advantage of the hot button issue that has become a powerful money-raising tool.
And the pleas appeared to be working. The Republican National Committee posted a Web site ticker showing money flowing in over the course of a 40-hour fundraising effort. On Monday, the RNC doubled its initial goal to more than $840,000, a figure it surpassed late Monday.
"Candidates are trying to cash in at a time when voters are paying attention," said Nathan Gonzales, political director of Rothenberg Political Report. "It's harder to raise money when voters aren't paying attention and when they don't think anything is at stake."
Another thing driving the bid to bring in money fast: Federal candidates are facing a March 31 deadline for reporting their quarterly fundraising totals, which is a sign of a campaign's vitality.
"I have until March 31 to show strong fundraising results if I'm going to stay competitive with Senator Harry Reid and his campaign war chest funded largely by Washington, DC lobbyists and special interest groups," Lowden said in her e-mail plea, which included a direct link to donate $50, $100, $250 or more. "With your support we will send a strong message to Harry Reid and his allies that Nevadans oppose their government takeover of health care!"
Reid, who has made a pitch in the past for money to support his efforts to pass health care overhaul, did not send a fresh fundraising request. Instead, he e-mailed a request to his campaign supporters to add their names to an online petition backing his move to complete the overhaul through a "reconciliation process" that would send the measure to President Barack Obama's desk for his signature.
"Republicans are ramping up their efforts to 'kill the bill,' but with your help we'll finish the job and make a good bill even better," Reid said in the plea his campaign released Monday.
His Senate office, earlier in the day, added up what Reid said would be the benefits of health care change for Nevadans.
Republicans contend the measure is a vast expansion of a government program and an intrusion into people's private lives and private choices.
Reid said up to 518,000 Nevada residents who are uninsured and 132,000 residents who have individual market insurance will gain access to affordable coverage.
Tarkanian, who like former state Sen. Lowden and a dozen other Republican opponents of Reid in the race, said most Nevadans he has met on the campaign trail do not support the health care overhaul package as approved by the Democratic Party, and opinion polls bear him out.
"There's a lot of passion out there from people who don't like this bill," said Tarkanian, a businessman and former UNLV basketball star. "There's a movement around the country that's excited people who have never been involved in politics before. And these people are demanding better representation."
In his fundraising request, Tarkanian tells donors: "If at all possible, please consider doubling your support to my campaign right now so I can hold Harry Reid accountable."
Tarkanian said he has 11,000 contributors now, including some who have given the maximum amount allowed under federal law: $2,400 per person in both the primary and general campaigns.
Reid has set a $25 million fundraising goal and had hit $15 million by the end of last year.
His main GOP rivals had raised far less by the end of 2009. Lowden was at $800,000, Tarkanian was at about $650,000, former Reno Assemblywoman Sharon Angle had roughly $580,000, and former New York investment banker John Chachas, who grew up in Ely and has come back to run for office, was at $1.9 million, more than half from his own pocket.
In the House, Nevada Democrats Dina Titus and Shelley Berkley both voted for the health care measure after wavering as constituents hit the phones to complain about the legislation.
Berkley, who is in a relatively safe Democratic district, did not put out a fundraising appeal after her Sunday night vote, but potential Republican opponent Michelle Fiore did.
Titus, on the other hand, asked supporters for more money, recognizing that she is in a tight race given her freshman status in a district that was Republican before.
Titus' campaign Web site asked visitors to "help Dina Fight Back!" by contributing today.
In an e-mail to voters asking for money, a Titus campaign official said the congresswoman was proud to vote in favor of health care overhaul, saying it will "lower costs, strengthen Medicare and provide the largest health care tax break in history."
Republican Joe Heck, a former state senator and physician who hopes to challenge Titus in the fall, came up with a fast-paced approach to raise money in the day after the health care vote, saying, "join our 24-hour campaign to limit Dina Titus to 24 months by donating at least 24 bucks."
"If the voters don't like what happened and they want to make a change in November, they need to contribute early," Heck said. "You need financial resources to get your message out."
Stephens Washington Bureau Chief Steve Tetreault contributed to this report. Contact Laura Myers at lmyers@reviewjournal.com or 702-387-2919.