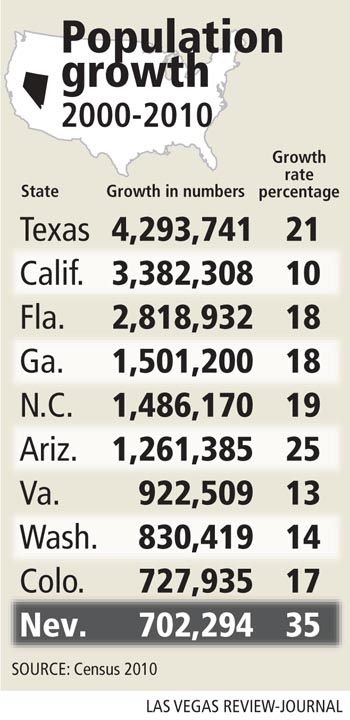 Much has been made in the past decade of the phenomenal growth we've experienced here in Nevada.
Fastest-growing state for 19 of the last 20 years!
It's so crazy the local governments can't keep up!
Low taxes and lots of jobs draw record crowds!
Except, of course, that's not the whole story.
We all know the recession stopped growth cold a couple of years ago. That has been well-reported. The population even shrank a little bit last year.
But what's often overlooked is this: Nevada started out tiny — it's still small, population-wise — so adding just a few people makes the growth rate high.
But in actual numbers of people added between Census 2000 and Census 2010? Not so much.
We're 10th.
Texas, California, and Florida each added more people over that decade than the entire current population of Nevada, which is 2,700,551, according to census figures released last week. Yet, because those states had so many people to start with, their population growth rate wasn't all that impressive when compared with ours.
You want more?
Georgia, North Carolina, Arizona, Virginia, Washington and Colorado also added more people than Nevada did over that decade.
That gives a little perspective, no?
Nevada officially grew by 702,294 people between April 1, 2000, and April 1, 2010, according to the census.
That's an impressive growth rate of
35 percent, which was indeed the fastest in the nation.
But the truth is, that's barely more people added over the decade than South Carolina or Pennsylvania, and you don't hear them crowing about their growth.
Texas added 4,293,741 people. That's 1.5 times Nevada's entire population. Poor, disrespected California added 3,382,308 people, 1.25 times Nevada's population.
Even Virginia, for goodness sake, added 922,509 people. Who's moving to Virginia?
A couple hundred thousand more people than moved to Nevada.
Contact reporter Richard Lake at rlake@reviewjournal.com or 702-383-0307.