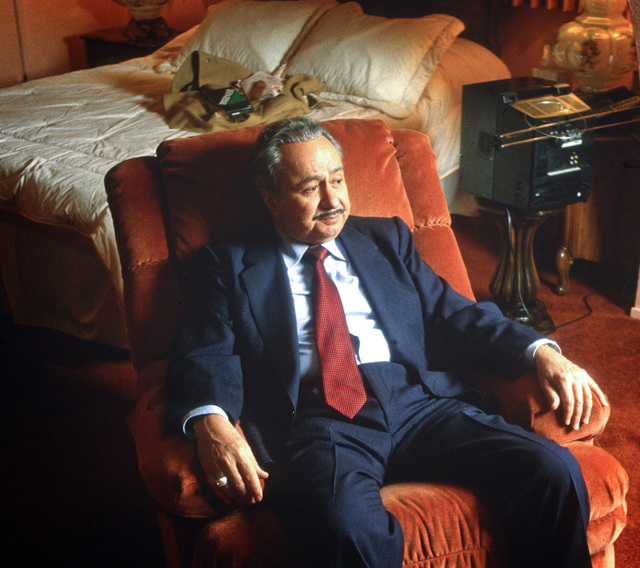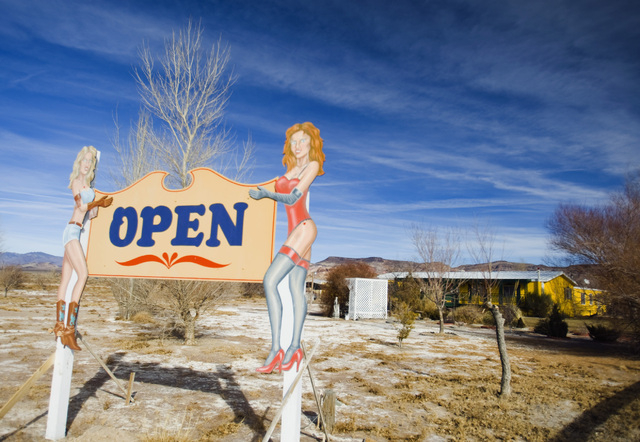 Editor's Note: Nevada 150 is a yearlong series highlighting the people, places and things that make up the history of the state.
On lonely highways from Pahrump to the state capital, you can still find signs of a rare and controversial business as old as the mining camps that helped put Nevada on the map. Just follow the trademark spinning red lights.
While recent decades have seen casinos sprout from coast to coast, Nevada still holds the distinction as the only state where brothels are legal.
Lately, though, this regulated version of the world's oldest profession seems a little long in the tooth.
"There's just nothing that's really working for this unique little industry," said George Flint, longtime lobbyist for the Nevada Brothel Owners Association. "I hesitate to say this, but I think legal, regulated sex for sale is on its way out."
The culprit isn't moral opposition or government interference, although U.S. Senate Majority Leader Harry Reid did call for an end to legal brothels during a speech to state lawmakers in 2011. What's really killing the houses is unfettered competition from illegal prostitution set loose on the Internet and the Strip, Flint said.
Clark County is one of five Nevada counties that prohibits brothels, and it is the only one barred from the practice by state law. But thanks to an endless barrage of handbills, mobile billboards and phone-book ads promising women on demand, many tourists — and a fair number of locals — are under the mistaken impression that prostitution is legal everywhere in the state, not merely at approved establishments far from its largest cities.
Flint said legalization is the only viable way to curb the rampant illegal sex trade in Las Vegas — a billion-dollar criminal enterprise he said the Strip resorts seem content to ignore or tacitly encourage in the name of customer service.
Replace "the exploiters and the pimps" with some legal, closely regulated bordellos, he said, and the county could bring in as much as $500 million in annual tax revenue while helping to curb crime, disease and the victimization of underage girls.
FROM PROSPECTORS TO PROSTITUTES
Nevada's "social experiment" with legal prostitution, as one brothel owner called it, is as old as the state itself.
Nevada's earliest population explosions were fueled by prospectors, laborers and businessmen drawn by the latest gold or silver strikes. Men dramatically outnumbered women in the boom towns and mining camps, so red light districts quickly sprang up to serve them.
For the better part of a century, the brothels operated in a gray area. Local officials tolerated them — or occasionally declared them public nuisances and closed them down — but prostitution was never officially sanctioned under the law, or banned outright as it was elsewhere.
Flint said many brothels were licensed as boarding houses, albeit the kind that served alcohol and occasionally offered slot machines.
Until 1942, Las Vegas had its own version of a red light district in a place called "Block 16," the present-day location of the California Hotel at First Street and Ogden Avenue downtown.
Although men dominated early Nevada in terms of both population and authority, they generally didn't run the brothels.
"Up until about 50 years ago, the only people really considered appropriate to run these places were women," Flint said.
The state largely left the houses alone, state archivist Jeff Kintop said. As a matter of Nevada law, "prostitution wasn't technically illegal until 1971," he said. That's when controversial bordello owner Joe Conforte persuaded Storey County to officially legalize his operation, and the Legislature responded with a measure meant to head off the same thing in Clark County by specifically banning brothels in the state's most populous county.
Before and since, Nevada lawmakers have regulated aspects of the business but mostly left the matter to local control. The state has never outlawed it entirely.
As far back as 1887, there was a law on the books prohibiting brothels within 400 yards of a church, school or "main business thoroughfare." In an effort to control the spread of venereal disease, the 1937 Legislature required regular health screenings for licensed prostitutes. Fifty years later, the testing regime expanded to include HIV.
Geoff Arnold owns what could be the state's oldest house of prostitution, still in operation in Wells. The certified public accountant from Boise, Idaho, bought Donna's Ranch 17 years ago after he got a look at its books.
Arnold said the brothel opened in 1869, a few months before the historical golden spike was driven to mark the completion of the nation's first transcontinental rail line. To keep its workers happy and productive, the Central Pacific Railroad built the bordello out of railroad ties "on the way" to Promontory Point, Utah, he said.
Donna's has operated under various names every day since, Arnold said, making it one of the longest-running businesses in Nevada, if not the West. It even stayed open "on the sly" during World War II, when the government ordered it closed to avoid distracting B-29 bomber crews training in nearby Wendover, Utah.
"Think about the number of guys who have visited Donna's," Arnold said. "It's been a true service to mankind."
These days, though, "business isn't what it used to be," he said. Technology has made it easier for sex workers to go it alone, even if doing so puts them at risk of arrest, or worse.
"Girls have their own websites and book their own dates and swipe their own payments on their smartphones," Arnold said.
PRESSURE FROM THE STRIP
Despite the new challenges, Nevada's undisputed brothel king insists he's doing just fine.
Dennis Hof holds seven bordello licenses around the state, although some of his properties are closed for renovation. He is perhaps best known as the boisterous star of the long-running HBO reality series "Cathouse," set at his Moonlite Bunny Ranch brothel just east of Carson City.
Hof said business is good at his places, especially the one that's on television all the time. He claims to have 540 licensed sex workers under contract, with about 130 working at any one time, plus 120 other employees who keep his empire humming 24/7.
But Hof said the industry as a whole needs to reinvent itself the way the Strip did when it replaced cheap motels with world-class resorts.
"This ain't your daddy's old cathouse anymore," he said.
In the past two decades, the number of licensed brothels in Nevada has dropped from 36 to 18, and there are counties where the practice is legal but no houses are open.
Flint said the top six or seven brothels account for about 90 percent of "dates." The rest are struggling to find sex workers willing to live, even temporarily, in trailers in the middle of nowhere when business is slow.
He knows of one house in particular that has seen its customer traffic decline by a third in the past year alone.
As far as Hof is concerned, the blame lies with "Las Vegas, sexual cesspool of America, not enforcing its own laws."
"Vegas isn't a gaming town with sex the way it was when the mob was running it. It's a sex town with gaming, and it's out of hand," he said. "You have publicly traded companies enabling sex trafficking. Go into any Strip resort after midnight, and it's hooker central.
"The casinos are just big brothels now. They're brothels, and nobody cares."
Meanwhile, things have gotten so bad in the legal sex trade that some owners can't even afford their biggest champion anymore.
"A lot of them have dropped out of the (Nevada Brothel Owners) association because they don't want to pay me the $200 a month," said Flint, who got his start as a lobbyist more than 50 years ago advocating on behalf of wedding chapels such as the one he owns in Reno. "The association has pretty well disintegrated."
Even so, the 80-year-old will most likely be back working the halls of the Legislature when the 2015 session starts in February. He might even make one last push for legalization in Clark County, although his chance of success is slim. Despite years of trying, Flint can't even persuade lawmakers to levy a tax on the bordellos still doing business in Nevada.
"In 1995, I said I wasn't sure that the brothels were going to survive too far into the 21st century," he said. "I hate to throw a lot of cold water on the future, but I just don't see much about the future that's very rosy."
Contact Henry Brean at hbrean@reviewjournal.com or 702-383-0350. Follow @RefriedBrean on Twitter.