New accusations of racism leveled at Pahrump tax assessor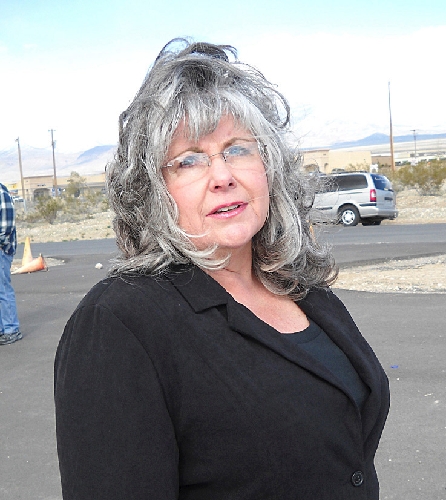 An elected Nye County official faces accusations of racism after questioning whether construction workers building a new jail in Pahrump are legally eligible to work in the United States.
In an e-mail sent Friday to Nye County Sheriff Tony DeMeo and County Manager Richard L. Osborne, tax assessor Shirley Matson asked whether the county had verified the workers' citizenship.
"My staff, me, taxpayers coming to our offices, other town and county employees can plainly see that the construction workers are all Mexican/Latino, non-English speaking and I'm getting complaints," wrote Matson.
Osborne didn't respond, but DeMeo said he was "sickened" by the e-mail and fired back in e-mails Monday and in person Wednesday.
"That's what we call racial profiling," said DeMeo, adding that he has no legal reason to investigate the workers' status.
NOT MATSON'S FIRST SUCH E-MAIL
Matson, 61, moved to Pahrump from San Diego in 2007 and was elected county assessor in November. She has described herself as a conservative Republican who has attended Tea Party events.
Her Friday e-mail was tame compared to one sent on her private account in October, before her election. In that widely circulated e-mail, which resurfaced this week, she described illegal immigrants as "dirty filthy Mexican/Latino illegals."
In another e-mail in the fall, Matson railed against federal law that gives citizenship to anyone born in the United States, writing, "These young girls will spread their legs to anyone to get an anchor baby growing in their bellies so they can illegally cross the border and suck up the U.S. citizen tax base resource everywhere they go in the U.S."
In yet another e-mail she wrote that illegal immigrants "are like locust crossing our great country destroying everything in sight."
Matson stands by those statements. She said her e-mail last week was sent out of concern for the safety of her staff, though she acknowledged there have been no incidents to support that concern.
On Wednesday the sheriff said Matson's comments were "blatantly racist" and were intended to "inspire hatred and divide communities."
"You don't have to be an American citizen to work in America," DeMeo wrote Monday in response to Matson.
ELECTED OFFICIALS ANSWER TO VOTERS
DeMeo made it clear he finds Maston's comments repugnant but said her future is in the hands of voters. The assessor is less than three months into a four-year term and can only be removed from office if convicted of a crime or recalled by the electorate.
While offensive to many, her speech is protected and there is no known movement toward a recall election.
However, the Pahrump Valley Times, like the Review-Journal a Stephens Media newspaper, declared Matson "neither fit for office nor a trustworthy servant of the public good" and demanded her resignation in a front-page editorial Wednesday.
"My response to the Pahrump Valley Times' editorial board is this: I demand Tony DeMeo resign immediately," said Matson, who insists she is not a racist. "I'm not going anywhere."
Matson called the editorial and news stories a "hit piece" orchestrated by DeMeo. She said the sheriff has a vendetta against her over past skirmishes in the immigration debate.
The sheriff, she said, favors designating Pahrump a sanctuary city where local officials refuse to assist in enforcement of immigration laws.
"That would be untrue," said DeMeo, who acknowledged there is bad blood between him and Matson over an unrelated disagreement about a band playing in a public park, but said the two of them have never discussed illegal immigration.
"I'm not in favor of making Pahrump a sanctuary city," he said. "I'm in favor of supporting the Constitution. People (like Matson) want to wrap themselves in the flag but they don't think the law should apply to anyone but them."
PAHRUMP 13 PERCENT HISPANIC OR LATINO
According to the 2010 Census, 13 percent of Pahrump residents identify themselves as Hispanic or Latino. Countywide, Hispanics make up about 14 percent of the population. Pahrump, 60 miles northwest of Las Vegas, is home to 83 percent of the county's 44,000 residents.
Matson said she received "a lot" of supportive phone calls Wednesday.
Pahrump is no stranger to the immigration debate. The town made national headlines in 2006 when the town board, a quasi city council with no substantial authority, declared English the town's official language, banned the flying of foreign flags, and denied any benefits to undocumented immigrants. The Nye County Commission later quashed the ordinance.
In January the Pahrump Libertarian Party held a rally for gun rights — ostensibly to honor Martin Luther King Jr. on the holiday marking the assassination of the civil rights leader.
The sniping between Matson and DeMeo sparked an instant debate on the local newspaper's website, on social media sites and on the town's sole radio station. A majority of commenters said they were offended by Matson's e-mails, but a substantial minority also agreed with her.
RADIO STATION DEVOTES DAY TO ISSUE
KNYE-FM suspended its normal classic rock programming for most of Wednesday to take calls about the controversy. Most people said the assessor's comments are offensive, said station owner Karen Jackson.
Matson said her most inflammatory e-mail, from October, was sent to the newspaper, radio station and dozens of people but was meant to be shared only with "like-minded individuals," not for public consumption.
"I have no problem with Latinos or Mexicans who are in the country legally," she said. "I have no problems with Mexican people here or there. My whole problem is with illegal immigrants and I don't care where they come from."
Matson said she was Nye County's contact person for former presidential candidate and fierce border fence advocate U.S. Rep. Duncan Hunter, a California Republican.
Like Hunter, Matson is from the San Diego area.
"When you live on the border that's what you see," she said in an interview Wednesday. "Dirty, filthy illegals."
Matson said that in California her daughter was nearly killed by an illegal immigrant who fled the scene after a car accident; that her own identity was stolen; and that illegal aliens stole the license plate tags out of her mailbox.
"It's true. I'm totally opposed to illegal immigration," said Matson. "I was featured on Fox News on the old Hannity & Colmes program (in 2008). My views aren't a secret."
Contact Doug McMurdo at dmcmurdo@review journal.com or 702-224-5512.