New Colorado River book recasts 'wasteful' Las Vegas as a monument to smart water use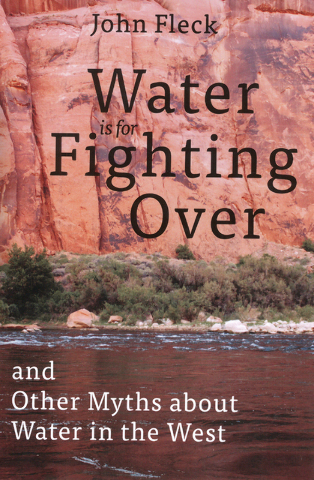 The dancing jets of water in front of the Bellagio have served as a convenient symbol of waste in countless news stories and documentaries.
Author John Fleck offers a different take in "Water is for Fighting Over," his new book about the Colorado River: The fountains, he writes, "represent one of the most economically productive uses of water you'll find in the West."
The resort corridor and Las Vegas as a whole get high marks for water management and conservation in Fleck's surprisingly upbeat look at the Colorado River and its future.
Fleck spent a quarter century writing about environmental issues for the Albuquerque Journal. He now serves as director of the University of New Mexico's Water Resources Program.
In a phone interview Thursday, he said the Las Vegas Valley still uses more water per capita than other Southwestern cities, but the community has made tremendous strides in both conservation and governance that have allowed it to keep growing without out-growing its limited water supply.
Despite a reputation for waste and excess, Las Vegas actually represents the way forward for everyone who depends on the Colorado River, Fleck said. The only way we're going to save the river and ourselves is by celebrating our successes, acknowledging our shortcomings and working together on solutions, he said.
"I hope the people of Las Vegas get that they should feel proud of how much they have done but recognize that they probably need to do more," he said.
As for those fountains at the Bellagio, Fleck notes in his book that they are fed not by the river but with brackish groundwater pulled from a well once used to irrigate the golf course at the Dunes. The attraction consumes about 12 million gallons of water a year, roughly the same amount used to irrigate 8 acres of alfalfa in California's Imperial Valley.
"Imperial County's farmers get ten times the water Las Vegas gets. Las Vegas makes ten times the money Imperial County farming does," Fleck writes.
And his view on Vegas isn't the only counter-intuitive take in "Water is for Fighting Over."
Most books about the Colorado River offer a pessimistic view, including the seminal work on the subject, Marc Reisner's "Cadillac Desert."
Fleck jokes that his book is more like "Volvo Desert." The future river he envisions is sturdy, reliable and built to survive a crash.
Contact Henry Brean at hbrean@reviewjournal.com or 702-383-0350. Follow @RefriedBrean on Twitter.