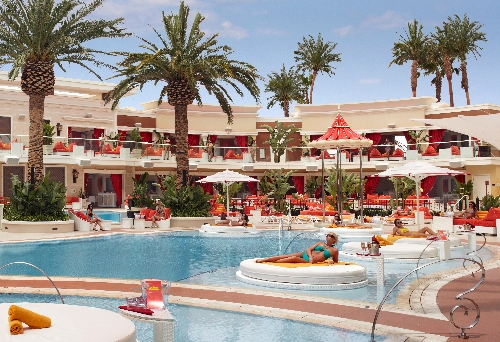 During the Christmas holidays, the joke around Aspen, Colo., was that a river of champagne ran through the mountain celebrity haven.
"If they had a river, we had a lake of champagne," said Sean Christie, managing partner of Encore Beach Club and Surrender nightclub.
Christie estimates in excess of 17,000 revelers, most of them paying a $100 cover charge, passed through the Strip-front venue for the champagne-soaked grand opening weekend.
He wouldn't divulge the revenue numbers but he allowed, "we had very high expectations and definitely exceeded all of those."
Crowds didn't start leaving until the sun came up, he said. "It was 5:30 a.m. the first two days and 6:30 a.m. on Monday," he said.
Christie said his nightclub-operating colleagues around town all agreed that "it was across the board the best Memorial Day weekend in five years" and bigger than New Year's. "It's by far the busiest weekend of the year," he said.
Everyone was pleased with what they saw, he said. "The universal reaction from people was 'it's one of a kind,'" he said. "The constant theme was that 'there's nothing like this in the world.'"
The cover charge started at $40 for men and $30 for women but later went to $100 and hit $200 past midnight, when many wanted to get in to see performances by Ne-Yo and LMFAO and Paris Hilton.
"There's still such a buzz around when she shows up," Christie said.
THE SCENE AND HEARD
Five local James Beard Award-winning chefs will team up with the Las Vegas Philharmonic on Saturday for an evening of fine dining and a special musical performance at the Ridges from 7 to 10 p.m. The star chefs include Luciano Pellegrini (Valentino Las Vegas at The Venetian), Francois Payard (Payard Patisserie & Bistro at Caesars Palace), Shawn McClain (Sage at Aria), Claude Le Tohic (Joël Robuchon/L'Atelier de Joël Robuchon) and Julian Serrano (Julian Serrano at Aria and Picasso at Bellagio). Tickets are priced at $300 with proceeds benefitting both the Las Vegas Philharmonic and the James Beard Foundation. …
Henderson resident Tony Hsieh, the force behind online shoe and clothing giant Zappos.com, is unveiling his new book — "Delivering Happiness: A Path to Profit, Passion and Purpose" — this week. Hsieh, pronounced Shay, went from adviser and investor at Zappos.com to CEO in the past decade, lifting the company from negligible sales to a deal worth $1.2 billion the day it was sold to Amazon.com in November. He was 24 and a co-founder of LinkExchange when it was sold to Microsoft for $265 million.
SIGHTINGS
First lady Michelle Obama, dining at Sensi at the Bellagio Monday night. … Heidi Klum and her husband, Seal, having a romantic champagne dinner early Tuesday evening at Joe's Stone Crabs, Prime Steak and Seafood. … Actor Jerry O'Connell and local attorney Marc Saggese, at the Las Vegas 51s game on Tuesday night. O'Connell and Saggese were in Justice Court in Henderson early Tuesday. O'Connell and Jim Belushi are shooting a CBS fall show loosely based on the lives and law practice of local defense attorneys Michael Cristalli and Saggese. … "Jersey Shore" stars Pauly D and Mike "The Situation" Sorrentino, dining and partying with friends at Lavo (Palazzo) on Tuesday night. Pauly D later checked out Moon (Palms). … Eva Longoria Parker and Tony Parker, riding the roller coaster at New York-New York on Sunday.
THE PUNCH LINE
"An American adventurer strapped himself to a bunch of helium balloons and floated from England to France. Immediately afterwards, people in Mexico asked, 'Exactly how many balloons?'" — Jimmy Fallon
Norm Clarke can be reached at (702) 383-0244 or norm@reviewjournal.com. Find additional sightings and more online at www.normclarke.com.